AnTuTu announced the most powerful smartphone models for December 2018. At the first of the list is Nubia Red Magic Mars with 320 thousand points.
2018 has just ended. AnTuTu released a chart of 2018's best-performing smartphones. An interesting name is on the list of smartphones like the monster.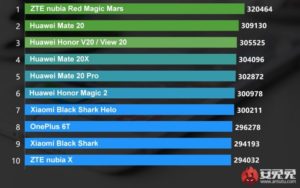 According to the CPU criteria, the first place with 320.464 points is Nubia Red Magic Mars. Even the Mate 20 couldn't beat Nubia with a Snapdragon 845 processor and 309,130 ​​points, but he came close. Third place is Honor V20.
 In fact, the second, third, fourth, fifth and sixth of the list includes smartphones with Huawei Kirin 980 processor. 
This table may vary with the launch of Snapdragon 855 devices. However, these phones should be available in January.
Also Read: Sony promises better face recognition with depth sensor lasers