When you are interested in buying 3d printers it can be hard to know where to start. Especially if you're new to 3D printing altogether you may not even know what to look for. Well, don't worry, because we have listed out some of your best 3D printers.
With a variety of styles and features, all of these have one common thread and that is they are awesome and will print you awesome 3D items.
Best 3D Printers 2020
1) Fusion3design
Fusion3 is a professional quality printer for small businesses and is meant to handle the demands of a small industrial setting or an office.
It has an enclosed print area that offers you the benefit of being able to print at top speed and still get completely accurate results with no errors. There are many online demonstrations where you can see why is an excellent printer.
2) Formlabs Form 2 Printer
If you are looking for a 3d printer for product design or small-batch manufacturing with resin then Formlabs Form 2 Printer is for you. When you print with resin you can create things that are extremely detailed making it a great choice for printing prototypes and jewellery.
With the ability to print items that are perfect for casting this printer is an excellent choice for someone looking to take their 3D printing up a notch. The resin is a slightly different process than typical filament and is interesting to learn about.
Also Read: Advantages of Rapid Prototyping in Design & Development
3) XYZprinting Da Vinci 1.0 AiO 3D Printer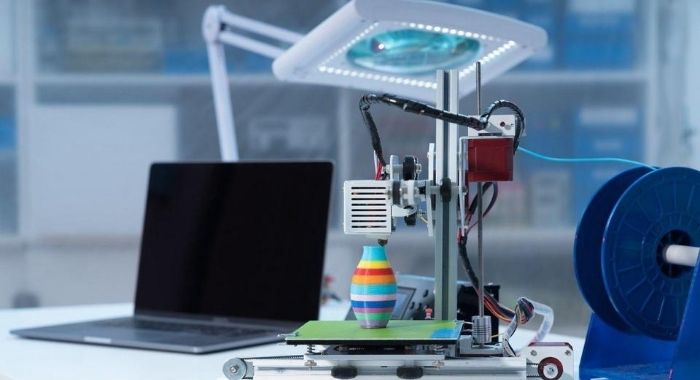 XY2printing Da Vinci 1.0 AiO is an easy to use 3D printer that can print high-quality materials right away. This printer is precalibrated and ready to use ​immediately. That's right, you can plug it in and start printing items right away.
The Da Vinci has a filament sensor to let you know when you're running low. So you don't have to pause and check at any point. This is very handy so that you can ensure that you always have filament on hand to print when the mood strikes.
4) Mattel ThingMaker 3d Printer
Mattel ThingMaker is an extremely family-friendly printer that can make learning fun and creative. The ThingMaker makes printing as easy a building with blocks and is even compatible with IOS and Andriod apps to make printing even easier for anyone especially kids.
If you're looking to engage in your printing hobby with your children or have just a minor interest in seeing what a 3D printer can do, Mattel's option is a great choice for you. With this printer, you will be able to learn the process in a fun and easy way.
5) Monoprice Voxel 3d Printer
A value printer that is capable of experimenting while still resulting in decent print quality, then Monoprice Voxel is an excellent printer.
This printer features a closed frame keeping you safe from the hot nozzle, makes the printer fairly quiet so it doesn't disturb your day. If you want to see what all the fuss is about in a really risk-free way, this is a great printer to try.
Conclusion:
Whether you're just starting out or ready to expand your business to the next level, there is certainly a 3D printer that will fit within your needs. Using this list as a jumping-off point you can find an excellent 3D printer to buy for your home or office that you'll love.