How often do you follow any Instagram account hoping that the user will follow you back? If you're one of those people who follow others to grow your Instagram account and the users don't wish to follow you back, keep on reading.
If you're not, you won't have to bother with checking all the time who followed you back on Instagram and who doesn't.
Unfortunately, Instagram doesn't mark the users who refuse to follow us with a special sign so that we could easily detect them and unfollow in a couple of clicks.
Luckily, Combin Growth can instantly detect who doesn't follow you back and unfollow them both selectively and a whole lot.
What is Combin Growth?
Combin Growth is a desktop tool that takes your Instagram marketing to the next level. With the app, you can find a relevant target audience or influencers and interact with them, analyse your competitors, and improve your account performance.
How to detect and unfollow those who don't follow you back on Instagram?
The first thing you need to do is download and install Combin Growth on your PC: Windows, macOS and Ubuntu are compatible. Then launch the application on your desktop and log in with your Instagram account.
If you're worried that the app collects your private data, you shouldn't be: Combin Growth doesn't store or transfer your information to third parties.
Once you launch the app, open the Users tab and choose Not Followers.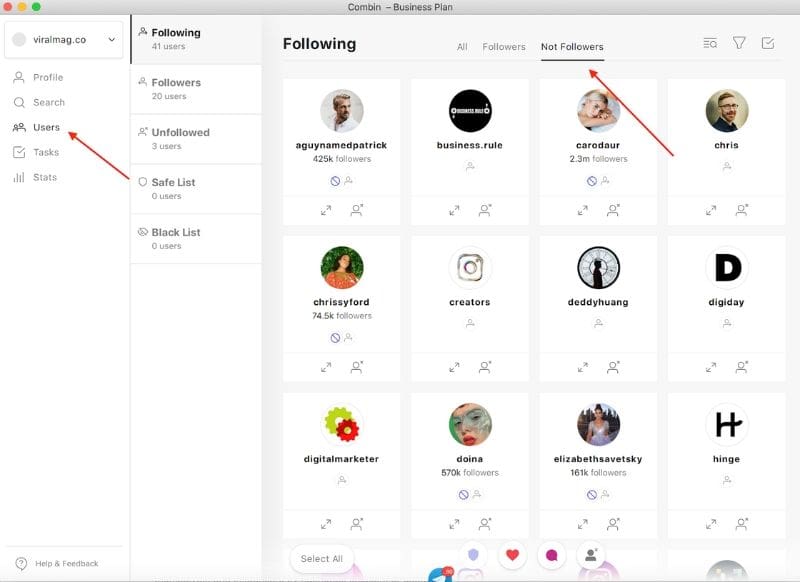 If you want to unfollow all users, press Select All at the bottom of the window, and if you want to unfollow just some of them, click on a particular user and then press Unfollow (the grey button with a cross sign).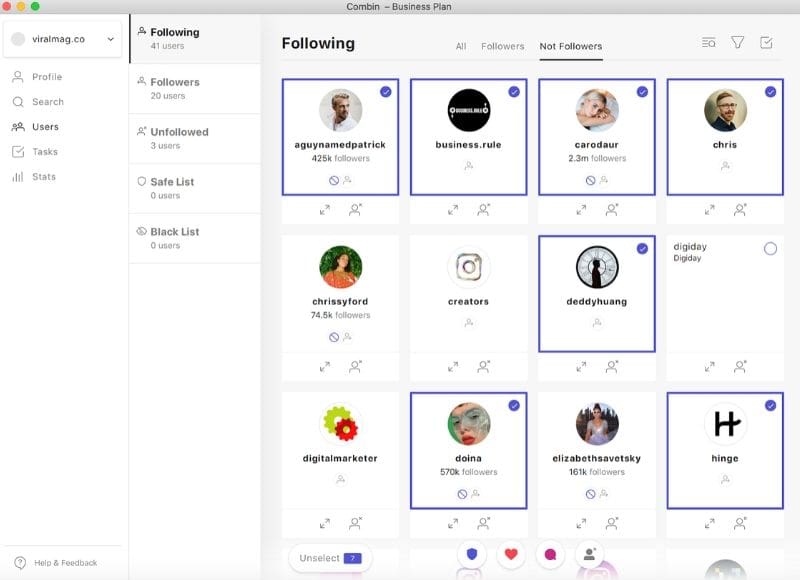 That's it! After you press the Unfollow button, the task will be created automatically and the users will be unfollowed. You can track the progress of the task in the Tasks tab at the sidebar.
What else can Combin Growth do?
As the name of the app entails, you can grow your Instagram account organically and very quickly. How? With its amazing features!
1) Search and interact with Instagram users
The tool has an advanced search with different sortings and filters. Combin Growth allows searching for your target audience, your competitors or their audience, and relevant influencers.
Searching by posts, you will find content with particular hashtags, locations, or even posts made by certain Instagram users.
Before starting a search, you can set the required parameters such as count of likes, comments followers and followings, users' gender, language, and activity.
When you find relevant posts, you can then like, comment, or follow users in-bulk in accordance with Instagram hourly and daily activity limits. Combin Growth stops all the activity once your limits are reached to avoid an account ban.
In the search by users, you can find an audience of a particular Instagrammer – followers, followings, commenters, and likers. To do so, type in a username, set the search criteria and here you have it.
Tip: You should pick likers or commenters since these users are the most active on Instagram and are expected to provide a high engagement rate.
While searching by bio, type any keyphrase that is associated with the users you're looking for. Here's a short guide on how to efficiently do so.
2) Sort the results as you like
All the search results can be sorted in accordance with your particular goal. You can sort the found users or posts by engagement rate, the vitality of their content, date posted, likes or comments.
The app also hides the irrelevant Instagram users by default, but you can easily switch the parameter off. Irrelevant users are Instagram stores, celebrities, accounts with many followings and those who will unlikely interact with your content.
3) Analyse your strategy
With Combin Growth, you can analyse your account's performance and adjust your marketing strategy.
The Stats tab displays the changes in the followers, likes, and comments count and shows your activity within Combin Growth, not Instagram or any other third-party tool.
By hovering your cursor through the activity tab, you'll see how much commenting, liking, or following you've performed in the particular window of time and how it impacted your engagement.
4) Manage multiple Instagram accounts
With Combin Growth, you can manage up to five Instagram accounts, But to ensure safety, we recommend you use proxies or VPN.
5) Repost content to Instagram
If you've found appealing posts within Combin Growth and you want to share them with your audience, you can easily repost them.
To do so, open the post in Combin Growth and press the repost button. Then download this app and publish your post for auto-publishing. The content will appear on your Instagram page.
Try Combin Growth for free to enjoy the functionality now!
More Interesting:
Tips for z shadow Instagram hack