Today, with over 85% of the senior business leaders prioritizing business digitization. It's no longer a matter of if your business should become digitized, but a matter of when.
As the world is becoming more and more digital. Your business will need to adjust and transform in order to survive. Statistics show that companies with digital-ready networks are growing profits and revenue 2-3 times faster. In addition, experts predict that the number of digital-ready networks will triple over the next 2 years.
For that reason, many companies are working to expedite their plans for digitization.
If you're one of them, here are 6 tactics that will help you expedite your plans for digitization, keep your competitive edge, and increase your company's profits.
1. Provide Mobile Support
When it comes to digitizing your business, mobile support is critical. Nowadays, over 90% of American adults own a cellphone so, if your target audience or customers are unable to access your digitization features on their mobile devices, it will have a negative impact on your company's growth and profits.
Experts suggest that businesses that want to stay on top of their game should adopt a "mobile-first" strategy. A mobile-first strategy means that regardless of what your customers might need to do. Get customer support, learn about your products, chat with an employee, or process a return — it can be done on a mobile device. This will improve the overall customer experience and will distinguish your company from those for which mobile support is an afterthought.
2. Consider Developing a Mobile App
It's hard to underestimate the power of mobile applications. Paired with specific features and user-friendliness, custom-designed apps have proved to be a powerful digital marketing tool. Their versatility and functionality, ranging from online ordering and payments to entertainment and gamification elements are enough to persuade consumers to not only engage with their favourite brands on a daily basis. But also recommend them to their friends and family. So, it is safe to say that apps can be crucial for bringing your business marketing and sales development strategy to the next level.
Today, the evolvement of technology makes it easier to build an app and equip it with target-specific functionalities. It's definitely an investment that pays off because, at the end of the day, your company can save time and money on order processing and fulfilment, receiving important data, and conforming to customers' requests.
Also Read: 7 reasons why your business should have a mobile app
3. Incorporate Cloud-Based Technologies
The development of a business digitization plan often includes a couple of cloud-based technologies, like KMS (Knowledge Management System) and CRM (Customer Relationship Management). Both these programs provide a centralized location for the management of certain information, like wikis, leads, etc.
Another one of those technologies is Tableau DynamoDB, a non-relational cloud database for applications that need high performance at any scale. Its reliable performance, automatic scaling, and flexible data model make it a great fit for web, mobile, gaming, IoT, ad tech, and more. Tableau Software helps you see and understand data. It allows you to connect, visualize, and share data quickly, even if you don't have any programming skills.
Based on the services your company provides, you may consider other cloud-based technologies to complement your offerings to customers.
4. Collect Customer Feedback
Evaluating responses from customers is vital for all companies. Your team should assess the users' reactions at every point of development. Customer Feedback will help you determine where you need to make changes, identify areas for improvement in the UX, and eliminate potential bugs.
Most companies adopt NPS software to collect, record, and analyze customer feedback. NPS tools help managers determine the customer satisfaction levels so that appropriate steps can be taken to improve the customer experience. NPS software allows marketers to figure out what obstacles customers are facing so that they can improve those issues right away.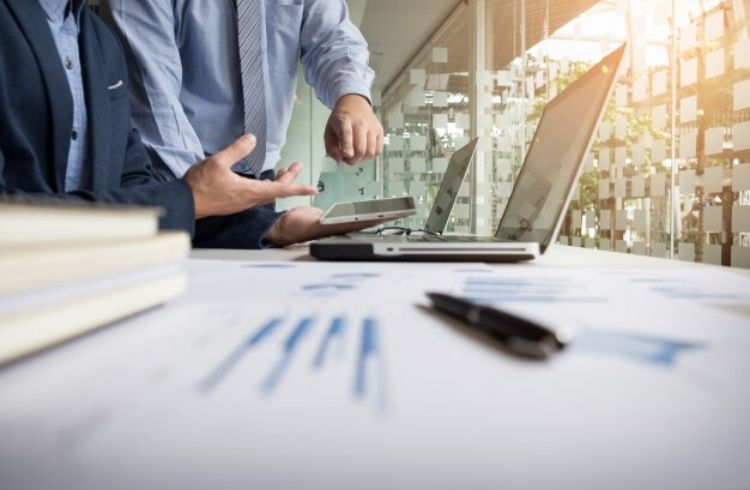 5. Collect and Analyze Data
Having a competitor, customers, and industry data at your fingertips is crucial. One of the easiest ways to collect customer data is by using Google Analytics. Google Analytics is a free analytics tool which allows you to track the number of visitors that come to your site, but also:
Determine how users are finding your site
Know your visitors' demographics
Track your inbound and outbound links
Get real-time statistics
See which posts and pages get the most visits
However, all this will be useless unless you have the ability to analyze the data you collect and make informed decisions to help shape your business strategy.
In addition, data (especially personal data and payment details) can be targeted by hackers and cybercriminals. But your customers expect it to be safe. Any breach can severely damage your brand or business. So make sure to take advantage of the security services and out there as part of your digitization journey.
Also Read: 5 Benefits of Automation you must Know
6. Use LinkedIn Automation Tools
Digital marketing has become the number one mode of marketing. In the past couple of years, more and more businesses are choosing LinkedIn as their preferred marketing platform.
LinkedIn is a powerful platform for businesses in all industries, but especially those catering to the business audience as it allows companies to expand their reach and convey their message to the target audience.
But as with other platforms, there's a huge audience to be reached and attempting to connect with each user manually will make the whole process awfully slow and inefficient. In addition, there's a number of activities to be performed and too much data to deal with. That's why you should consider using a LinkedIn automation tool.
With features like LinkedIn bulk inviting, automation tools make the process of winning a connection much easier. They also allow you to show your content and pitch your products to those new connections, and allow you increased views and messages in your inbox.
These automation tools are especially useful if you have multiple accounts, as they will enable you to avoid performing repetitive, time-consuming tasks and focus on more pressing business matters.
Final Thoughts
With nearly half of the world population being active internet users, business digitization stopped being just trendy and became a necessity. Fortunately, there are a plethora of opportunities that make it easy to digitize your business. The list we provided includes only a few examples to help you get started and stay on the same page with global tendencies.