The Chinese company Vivo has just released a new phone that incorporates a disruptive and futuristic concept. It is the only phone with a double screen: a main one without borders that eliminates the selfie camera and another one in the back that contains a moon ring, which lights up whenever a notification is received and that can serve as a flash for the shots nocturnal
The main panel is an AMOLED screen of 6.39 inches and Full HD + resolution. The high school is 5.49 inches and incorporates a triple camera with a main lens of 12 megapixels, a 2 megapixel night vision camera and a 3D TOF stereo camera. Latter it allows to measure the point-to-point distance and is compatible with the 3D modeling of the user's face to improve facial recognition, protection and personalized embellishment, as Vivo explains in a press release.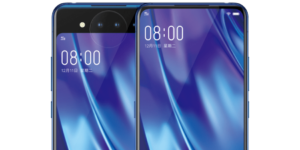 But what is the use of having a double screen? 
The company says that the rear screen is designed to improve the experience of video games on the phone. In it you can add virtual commands and in this way become a secondary touch control.
 Also when using the camera you can take advantage of features such as mirror mode that allows users to see themselves on the back screen. On the other hand the mode 'pose director' shows an image or video on the back screen that can be used as a reference for an imitation.
The camera also includes other features with artificial intelligence such as scene recognition, framing of portraits, other filters and diffusion lighting when taking selfies using the moon ring.
The NEX Dual Display comes with Qualcomm Snapdragon 845 processor and comes with 10 GB of RAM and 128 GB of internal storage. Supports Dual SIM and incorporates a 3,500 mAh battery. The fingerprint reader is integrated in the main screen. The phone will go on the market in 2019 at a price of 4,998 yuan, equivalent to around 51,000 rupees.