China-based Smart-phone manufacturer Xiaomi's new admiral phone Xiaomi Mi 9, which has been the subject of news for some time, leaked important details on the Internet.
Xiaomi Mi 9, one of the Xiaomi's expected admiral phones, is likely to evolve the Smart-phone market with its hardware features. Although we have no clear information about it, information leaked from sources close to the company suggests that Xiaomi Mi 9 is the company's best phone in the market. The 48 megapixel rear camera, which is expected to attract a lot of attention, is called Cepheus and working on it.
If the name "Cepheus" sounds familiar, you may have seen the recent APK-teardown by XDA, which found references to this code name. There was evidence of a 48MP camera, an in-display fingerprint reader and an always on display mode.
Also Read: Wireless charging bags for Mobile Charging
The Xiaomi Mi 9, which is also expected to use the fingerprint technology embedded in the screen, will therefore take an important step on the phone after Huawei. The phone, which is also expected to support 5G technology, runs under the Android Pie operating system.
The phone, comes with 6 GB of RAM and is powered by the Snapdragon 855 processor from the 7 nm, is quite successful compared to other phones. You can find the details of the Geekbench test from the table below.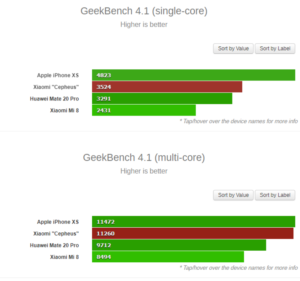 It is not yet clear when the device will be available for sale, but the price is expected to be at $ 430.
Also Read: ASUS introduces 5 new gaming computers at CES 2019
Source: Gsmarena.com