The AirPower wireless charger introduced by Apple in 2017, could finally reach our stores in 2019, allowing us to load different devices of the brand in a single base.
The AirPower of Apple is one of the most controversial products of the brand in recent history due to the silence of the company about its status and the countless delays it has suffered.
And is that after several delays and problems in its development, the website ChangerLab has ensured that, as told by a source from the production line, the manufacturer Luxshare Precision will be responsible for mass production of this accessory. This company will sound to you because it is in charge of making the current AirPods and the type C USB cables from Apple.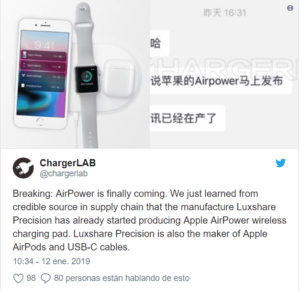 With all the above, it is expected that Apple's AirPower can be put on sale during the first quarter of 2019. To support this situation, the aforementioned publication has also cited a second industry source.
According to the source, Pegatron will also begin production of the AirPower. Everything seems to indicate that on January 21 these accessories will begin to leave the production line.
The announcement is expected to be officious during Apple's annual event in March, where the company is also expected to announce its next-generation AirPods, an updated iPad and a new iPad mini.
Also Read: IMDB Launches Free Movie and TV Streaming Service Called Freedive