Samsung's new flagship phone, the Galaxy S10, is expected to release in February 2019. Now the real images of the Samsung Galaxy S10 have appeared on twitter.
Samsung is working on the Galaxy S10 that will be introduced in February. To date, many rumors about the phone came out of the device but we could not see anything else. But, the basic model of the Galaxy S10, appeared on twitter.
Also Read: Huawei P Smart (2019) Launched – Price and Specifications
As expected, the device has an uninterrupted Infinity O display to accompany the front-camera. The Galaxy S10 uses ultra-thin frames to give the screen more space. Like the Mate 20 Pro. With Samsung Galaxy S10 new charging feature we can wirelessly charge all the compatible devices, such as Mobile phones and Watches.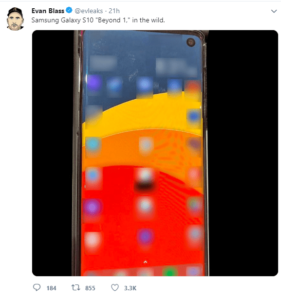 It is the basic model of Galaxy S10, where there is only one camera on the front side. In the Plus version, at the backside there will be four cameras arranged horizontally . That's why the cut is wider. The frames on the top and bottom are thinner compared to the Galaxy S9 and Note 9. According to rumors, the Galaxy S10 and S10 + are expected to come in three different ways; 5.8 inches, 6.1 inches and 6.4 inches. Models will also have a built-in in-screen fingerprint scanner.
Also Read: Huawei Y7 Pro 2019, a Cheap Mobile with Great Battery
The flagship will be powered by the Exynos 9820 chipset. In the Advanced Pro version to be sold in the US, Snapdragon 855 will be used. Although the number of cameras is known, there is no detail on the camera's features.
More Interesting: Nokia 9 With Five Rear Cameras Revealed In Leaked Picture