In our increasingly Internet-centered world, digital marketing is becoming essential to running a successful business. As popular websites, apps, and platforms become saturated with digital advertisements. Marketers must be especially strategic and creative to stand out from the crowd.
New technologies are introduced continually into consumer routines, many of which have the potential to be harnessed into an effective digital marketing strategy.
Digital assistants like Amazon's Alexa and Apple's Siri, are integrating themselves into buyers' everyday lives. These devices collect and recall data to help users make decisions. They're direct, easy, and know the customer.
Considering digital assistants in your marketing campaigns will allow your brand to live in the homes, phones, and cars of consumers, offering up content to address their needs.
This is ripe ground for marketers to exploit to engage with customers. To get the most out of this growing trend, digital marketers should review why advertising through digital assistants can achieve success for their brand.
Digital Assistants are Getting More Accurate
For consumers to want digital assistants, they have to work. According to Vox, high-quality functionality is a buyer's priority when considering purchasing a device with digital assistant capabilities.
We're still in the early days of developing voice AI technology, but studies show that leading digital assistants are becoming more robust every year.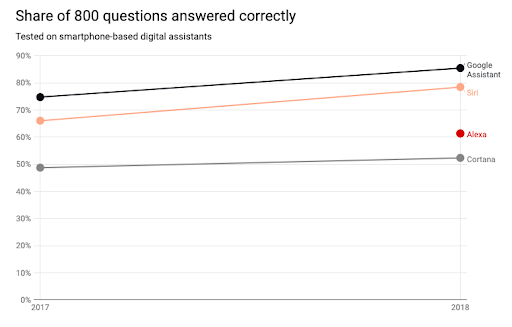 Digital assistants are getting better at conversing with users. As they improve further, more users will trust them to help with more aspects of their lives. This creates an opportunity for your company to have people associate your brand with their digital assistant.
Already, users with in-home devices feel that they rely on their digital assistant more readily than they did before purchasing these devices, according to Survey.
Also Read: Artificial Intelligence in Digital Commerce Personalization
The figure below indicates that from 2017–2018:
96% of users with smart speakers either utilized vocal assistance the same amount or more.
89% of those surveyed without smart speakers increased their usage or remained the same.
Only 11% of non-owners and 4% of smart speaker owners indicated that their usage has decreased.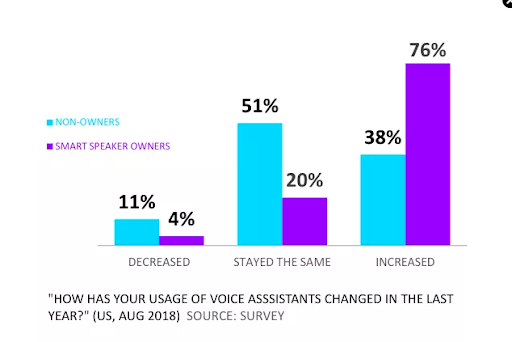 AI firms are taking notice of these trends too, racing to provide the most reliable solutions possible and improving the capabilities of these devices continually.
Digital Assistants are Easy for People to Access
Users can access digital assistants either at home or on the go. Odds are, people have direct access to their assistant throughout the entire day. Besides, studies show that digital assistants have been particularly helpful to people multitasking.
For instance, their use by drivers has not only provided a method for more comfortable and safer hands-free cell phone usage but has also made digital assistants increasingly popular.

Digital Assistants Know the Customers Better
Digital assistants live with consumers in their daily lives. They are better equipped to pick up on trends, preferences, and routines. Further, they have the power to recommend products to meet an individual's specific needs.
For voice-assisted searches, visibility is more critical than ever. A study from Publicis shows that 85% of digital assistant users who have made purchases using voice have bought the first option listed.
This means that establishing top results on search is critical for marketers.
The study also indicates that Americans are most likely to purchase things like beauty products, clothing, and small home appliances using digital assistants.
Think with Google suggests, now's the time to review your current marketing strategy and to make yourselves marketable to voice-assisted technology.
How to Prepare
While there's currently no way to advertise directly on digital assistants, their usage increase and functionalities present an excellent opportunity for companies to beef up their SEO, identify distinct personas in their marketing strategy, and learn how to best appeal to users interested in their products or services.
When more significant volumes of buyers ask their digital assistants for personal recommendations, firms that we're able to do so will be ranking highly on Google and begin to generate new leads.