If you are reading this article, you might be looking forward to learning AWS from well-renowned institutes. Well! The list of institutes offering AWS certifications is in hundreds and choosing the best is not a cakewalk. But need not fret! You are in the right place.
In this article, I am going to share some of the best AWS Certification institutes, which will help you in designing and managing software solutions directly from the Amazon cloud platform. It will allow you to perform cloud services such as compute power, content delivery, database storage, etc. efficiently.
Learning such skills are highly beneficial for start-ups and enterprises because it helps them to store, share computing, and perform other functions efficiently, cost-effectively, and more quickly. This is the reason why most of the companies are migrating from in-house services to the cloud.
Before we look at the institutes offering AWS training, let's discuss 5 best AWS courses to learn online. Take a look-
AWS solutions architect certification training course
AWS- Learning and implementing AWS solution
Learn Amazon Web Services: The complete introduction
AWS concepts
AWS- Zero to Hero
Know more about top paying AWS certifications.
Now, without any further discussions, let's take a rundown at the 5 best training institutes offering excellent and fully informative AWS certification courses to make the best.
Top 5 AWS online training institutes for you
Let's begin…
1) Simplilearn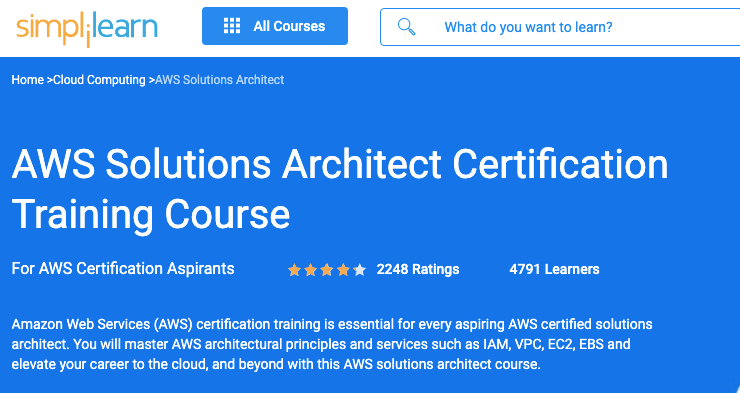 Simplilearn is one of the commonly chosen training institutes helping people in understanding the new concepts and strategies to achieve their career goals. They provide online training courses in different fields, including digital marketing, cloud computing, project management, cybersecurity, data science, etc.
The company has helped millions of people, and companies get trained in the respective fields. If we talk particularly about AWS courses, Aws Certification from Simplilearn helps you clearly understand VPS, EBS, EC2, etc.
After registering into its AWS course, you will get access to practice tests, e-learning content, forms, etc. It will not only help you enhance your learning experience but also helps you get better opportunities.
The course duration of its AWS course is 50 hours having three different skill levels, including beginner, intermediate, and advanced. People prefer doing AWS course from this industry as it offers 24*7 support, 16 live demos of AWS, 3 real-time industry projects, and many more.
So, don't miss this opportunity to enhance your knowledge by coordinating with well-trained professionals.
2) IgmGuru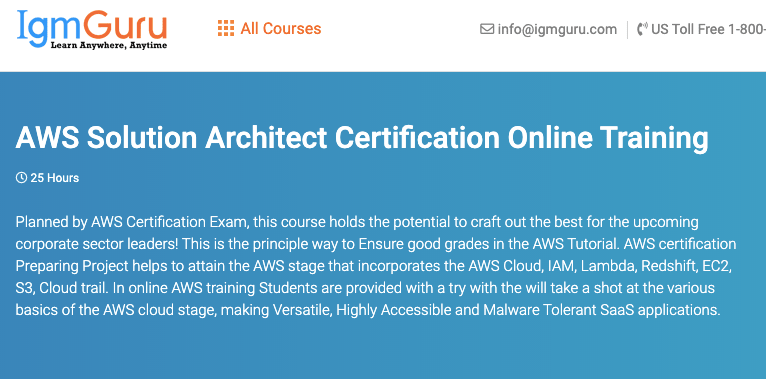 It is another institute well known for its AWS training course. They offer training programs in such a way that all their students can easily pass AWS certification exams right away. In this course, you will get an opportunity to learn AWS cloud, Cloud trail IAM Lambda, S3, EC2, and Redshift.
This entire course is curated by industry professionals who help people understand the concepts and deploy the application on the AWS platform without any hassle. While doing this course, you can easily make Saas applications fault-free and without any hassle.
The best part about the course offered by IgmGuru is that it can be tied with reputed MNCs and offers the chance to place students in the best preposition possible.
The course duration of the AWS course provided by IgmGuru is 30 hours which can be accessed lifetime and specially designed for beginners. Also, IgmGuru provides a money-back guarantee and offer 24*7 support to make individuals understand the course without any hassle.
So, if you want to learn and work on cloud services, then IgmGuru can be one of the best choices to opt.
3) GangBoard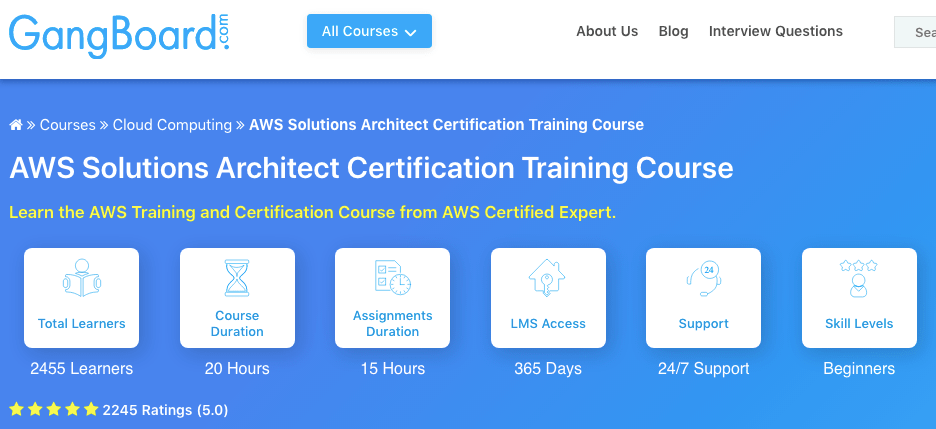 When it comes to AWS institutes or training courses, then GongBoard is on the top list. No matter whether you are a newbie or have some knowledge in this field, the strategies and concepts discussed in this program will help you get familiar with Lambda, AWS cloud, EC2, Redshift, and other essential aspects of AWS platform.
The primary objective of this institute is to prepare students industry-ready by enhancing their both theoretical and practical knowledge. The tips and tricks provided by their expertise team help individuals learn adeptly and allow them to scale their cloud computing skills.
Moreover, they ensure to provide distraction-free training sessions by live streaming so that students can actively participate in the course and ask queries if required. They also help students in getting placed in prominent companies.
The AWS course duration offered by Gang Board is 45 hours and categorized under 3 different skill levels that are beginners, intermediate, and expert at an affordable cost.
So, get ready to avail of all the benefits by joining the Gang Board online training institute.
4) Udemy
Udemy is another online institute helping people reach their goals and improving their lives through online learning. Similar to Simplilearn, Udemy also helps people transform their lives in meaningful ways by providing various services related to cloud-like AWS certified solutions architect, AWS certified SysOps administration, AWS certified developer, AWS web services (AWS) certified, etc.
By getting yourself registered with Udemy, you will get a hands-on AWS account and can easily proceed with lab sessions. The approaches used by their experts make people understand the AWS terms and concepts, which further help them grow their business.
Their practice tests, quizzes, practical's help you better understand the AWS course. Yes! They provide the fastest route to get certified and best value courses on the market. Due to its high-quality services and top-rated courses, you can take Udemy AWS courses in your checklist.
5) Besant technologies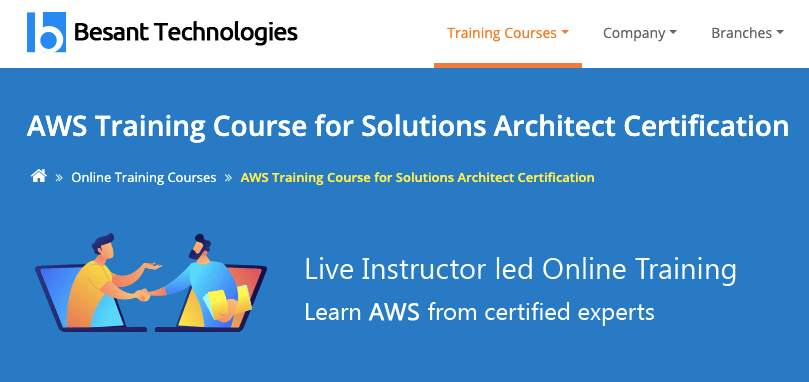 Besant technology is another top institute offering AWS training from 10+ years of Experienced trainers. It ensures to make people familiar with the multiple services from AWS for storage like DynamoDB, RDS, Redshift, for networking like Cloud front, VPC, API Gateway, for computing like ELBs, EC2, EMR, autoscaling, for automation and deployment like code deploys, cloud formation, for integration like Kafka, SNS, SQS, etc.
Each section of its course helps in providing training to people from basic to advanced concepts which further help them get placed in good companies. Furthermore, they conduct development sessions, mock interviews, test papers, practical's, etc. for the overall growth of the students.
Another benefit of its institute is its flexible timings, up-to-date information, and real-time examples. So, if you are a working professional, then it is highly recommended.
The entire AWS course duration offered by Besant technologies is for 35-45 hours, and it is divided into two skill levels that is a beginner and advanced.
So, if you are in search of an institute offering 100% job assistance, competitive fees, and hands-on training, then Besant technologies can be another option to choose from.
Useful reading- Google Cloud grows faster than AWS, Azure and Alibaba Cloud
The Last Say 
Now that you have a clear understanding of the best AWS training institutes. Now you can easily make the best choice which is in favour of you and your company.
By getting in touch with one of the above institutes, you will be able to become an AWS expert and perform the respective task successfully.
So, what are you waiting for? Get ready to make your journey smooth by learning the AWS concepts and strategies by becoming online certified at an affordable cost.
Still, if you have any queries in making the best choice, feel free to contact or drop a message in the comment section below.