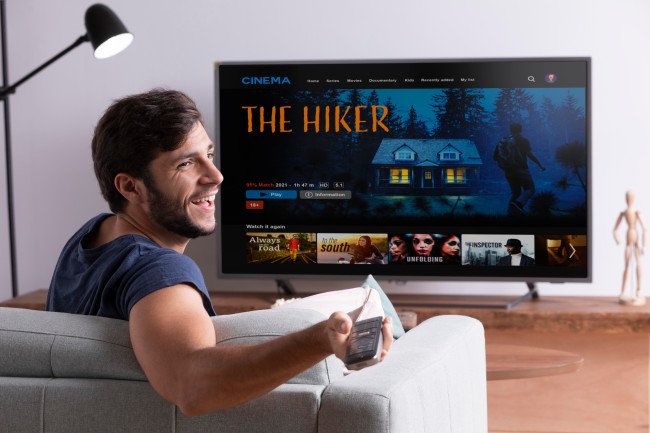 With the growth of online streaming services, it is now much easier than ever to jump right into an extensive library of television shows, movies, and exclusive content.
Yet, getting on the ideal streaming service for your needs might be difficult given the number of options available. Whether you enjoy films, TV shows, or sports, there is a streaming service that meets your preferences. 
In this article, we will compare some of the best-known streaming platforms to support you in choosing the top ones depending on your demands, viewing tastes, and budget. We'll go over each service's benefits and draw attention to the aspects that set it apart from the competition.
Of course, before anything else, you have to remember that a high-speed internet connection is necessary for you to enjoy seamless streaming. So, let's dive in and see which streaming services are worth your money.
1. Netflix
One of the most extensively used streaming platforms globally is Netflix, and it's simple to understand. They have a comprehensive set of television series, films, and documentaries that appeal to a variety of audiences. Its original programming has proven a huge hit with audiences, including Stranger Things and The Crown.
You may watch Netflix material on several devices at once, and it provides various membership levels to suit your budget. In the US, Netflix provides three packages. The basic plan runs $9 per month, the regular plan costs $14, and the premium version costs $18.
The frequent removal of content from their catalog is a drawback for Netflix, which can be upsetting for viewers who like to rewatch previous series. Also, their library of the content may differ based on where you are, and some series might not be accessible there.
Take note that a steady internet connection is important for Netflix viewing and that the stream quality will depend on your internet connection's speed. While cable and fiber internet connections usually offer greater internet speeds, Netflix can be streamed in standard definition with a 3 Mbps connection and in high definition with a 5 Mbps connection.
2. Hulu
Another well-known streaming service that provides a variety of television series, documentaries, and original content is Hulu. One of Hulu's major benefits is that you can access many famous TV shows the day after they air, keeping up with your favorite episodes.
If you don't mind seeing advertising, Hulu also has a less expensive subscription that you might find useful for saving money.
The two subscription plans that Hulu offers are ad-supported and ad-free. The monthly charge of the ad-free plan is $12, compared to the $6 monthly cost of the ad-supported plan. For $65 a month, you can get Hulu + Live TV, which offers live television programs.
Hulu's interface, which divides content into a variety of categories that aren't always easy to navigate, is its primary drawback. The movie collection on Hulu is also less extensive than the TV show selection.
3. Amazon Prime Video
Amazon Prime Video is a streaming platform that is included with an Amazon Prime subscription. A large number of movies available, including many recent blockbusters, is one of Amazon Prime Video's main benefits.
Plus, you may rent or buy movies and TV episodes through Amazon Prime Video that are not accessible through the streaming app. 
A subscription to Amazon Prime costs $119 per year or $13 per month, and it includes access to Amazon Prime Video. But, customers can pay $9 per month to subscribe to Amazon Prime Video separately.
The biggest drawback of Amazon Prime Video is that it has a complex interface with content organized into a variety of difficult-to-navigate categories. Also, contrary to Netflix's original content, Amazon Prime Video's is not as widely known.
4. Disney+
Disney+ is a popular streaming platform that offers a wide range of movies and TV shows from Disney, Marvel, Pixar, Star Wars, and many more. The variety of old Disney films available on Disney+, which might be hard to find on other streaming platforms, is one of its biggest benefits.
What's more, Disney+ delivers original content, including The Mandalorian and Wandavision, which has gotten positive reviews from viewers. A single plan is available from Disney+, and it costs $8 per month or $80 annually.
Subscription to Disney, Pixar, Marvel, Star Wars, and National Geographic content is included in this plan.
Disney+'s restricted content collection in comparison to other streaming services, is its main weakness. Also, Disney+ doesn't have any R-rated content, which can push some viewers away.
5. HBO Max
HBO Max is a streaming platform that offers a selection of TV episodes, films, and original programming from HBO and other networks. The accessibility of the best TV shows like Game of Thrones, The Sopranos, and Friends is one of HBO Max's attractive features. HBO Max also provides original programming, including Lovecraft County and The Flight Attendant.
The two options that HBO Max offers are the ad-supported plan ($10) and the ad-free plan ($15). Access to HBO programs and films is available through this service, along with material from Warner Bros., DC, Cartoon Network, and other publishers.
At a monthly fee of $15, HBO Max's main downside is that it is one of the much more expensive streaming providers. Also, HBO Max's movie selection is less impressive than its TV show offering.
Final Thoughts
Streaming services are widely available on the market presently, each with specific benefits and downsides. Finding a top-rated streaming platform that satisfies your needs and price range can be accomplished by considering the advantages and disadvantages of well-known options like Netflix, Amazon Prime Video, Hulu, Disney+, and HBO Max.
Whether you are a family with small children, a fan of sports, or an entertainment show addict, there is a streaming service that meets your needs. Hence, make use of free trials, research each service, and pick the one that offers the best value for your money. Enjoy your streaming!