If you're reading this, then probably you're either developing an app or about to launch it. Developing an app then launching it on various app stores is an entire journey in itself.
However, the journey doesn't over after the app is launched, but rather it continues until the app is available on the app stores.
After all, as the developer or owner of the app, you have to keep using effective promotional strategies for increasing the downloads.
With over two million applications available on both Google Play and Apple's App Store, convincing users to download as well as use your app isn't a cakewalk.
You need to do something more than what others are already doing.
From designing the app icon to writing its description and then finally promoting it by every means is just for convincing the users for downloading and keep using your app.
Want to discover some effective strategies to boost your mobile app downloads? Keep on reading.
Easy Hacks To Increase Mobile App Downloads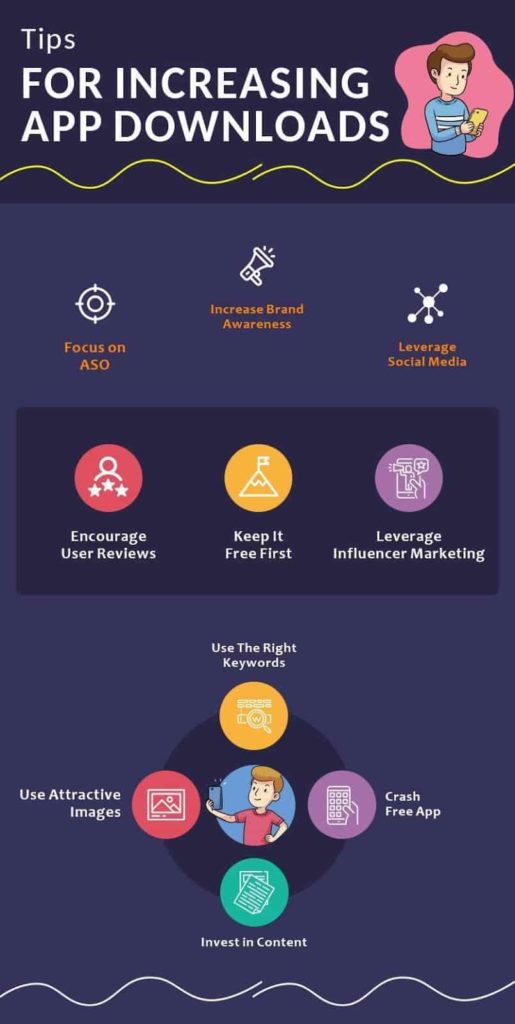 Focus on Your App Store Optimization
When it comes to boosting app downloads, ASO is hard to miss.
App Store Optimization is the process of improving the visibility of a mobile app in the app store by strategically optimizing metadata elements (app title, app description, keywords, images, etc.) as per the app store's guidelines and trends.
The goal of the App Store Optimization is typically boosting app downloads, but there are a few more benefits of it:
Increasing brand awareness.
Getting positive app reviews and ratings.
Audience engagement.
You can also A/B test different formats to check what works the best.
Increase Brand Awareness
The entire goal behind developing an app is to put it in front of potential audiences and converting them into users. And for this, you need to boost your brand awareness and build a loyal customer base.
To do this, start with creating an attractive landing page using any content management system like WordPress or Blogger.
To create an entire professional website, you will need a domain name and hosting space, which costs a little. A website can help you to give detailed insights about your app and its features.
Leverage Social Media
Social media undoubtedly is very powerful in this era. Once you have created your blog and started to post on it regularly, you need people to see it.
That's where social media works the best. It's a great way to engage with your audience and build relationships.
However, leveraging social media needs strategic planning. Choose the platforms that suit your niche, create a social media strategy, and keep posting as well as engaging.
The more you engage on social media, the more brand awareness you create.
Encourage User Reviews
How can user reviews boost downloads? User reviews instantly develop a sense of trust that encourages customers to download your app.
You can try encouraging user reviews using in-app messages and emails. But be careful regarding the notifications because too many notifications can annoy the users, which will ultimately lead to app deletion.
Keep It Free First
A great way to boost your app downloads is by keeping it for free at first.
If you have a paid app, keep it for free for a few days, or if you have an app that has a few paid features, keep it for free for a day or two. It's like conducting an online sale of your app.
The idea here is to encourage users to download your app that, in turn, pleases the app store, and the more you please, the higher you get ranked.
Leverage Influencer Marketing
Influencers play a crucial role in spreading awareness regarding an app with a highly targeted approach. According to Google, almost 50% of users discover an app socially due to recommendations.
Leveraging influencer marketing can level up your game instantly and help you to boost your app downloads. Many startups are already doing it.
For instance, recently, an app named Face App leveraged influencer marketing that helped them to over a million downloads in just a few days.
All you need to do is find the right influencers and then leverage their fan base to build a relationship and encourage downloads.
Use Attractive Images
When you explore an app on the app store, what things do you look at for knowing about the app? Name, description, a number of downloads, user reviews, and of course, the images, right?
Images play a vital part in connecting with the visitor and then converting it to a user. The images allow the visitor to understand the app, its features, and its functioning.
Use images that look attractive and gives an insight into your app and how can it help or entertain the users.
Use The Right Keywords
Just like keywords are important for ranking in the search engines, it's the same with the app store. You need to use the right keywords with the required density for ranking higher in the search results. These keywords should be highly targeted and as per the niche of your app.
The better your keyword strategy is, the higher you get ranked in the app store search results. Several online tools can help you find the right set of keywords for your app.
Make Sure Your App is Crash Free
An app that keeps crashing isn't going to leave a positive effect on the users. And this can cause several negative reviews for your app on the app stores.
Your users are your priority and to keep them happy you to make sure that you're providing them with excellent user experiences.
Keep checking your app from time to time to ensure that there are no bugs that may cause bad user experiences.
Invest in Content
Content marketing is one of the most cherished marketing strategies in today's marketing scenario. And this works for the app marketing strategy too.
Create content revolving around your app's features and how is it helping or entertaining your users. You can also create content about the latest features added or news regarding your app.
Conclusion
The app industry is booming at this phase of time, and as a startup, to have an app has become a compulsion.
After all, mobile has become a crucial part of our everyday life, and having an app can instantly boost your audience base plus the number of sales.
However, to have an app isn't enough. You need to promote it as much as possible. These 10 easy hacks can help you to attain your goal and increase the number of downloads.