Email – conventionally known as the traditional mode of communication is still prevalent in today's world despite the growth of Facebook, Twitter, Snapchat, and Instagram. Not just the baby boomers, even millennials and the individuals under Gen Z label utilize emails to communicate. According to the Forrester report, the consumers between the age of 12 and 17 use email more than Facebook or Snapchat.
Also, when people were asked which channel would be more relevant for their business in the next ten years, email stood at the top. It's interesting to know how consumers view the email in the same light as the social media platform.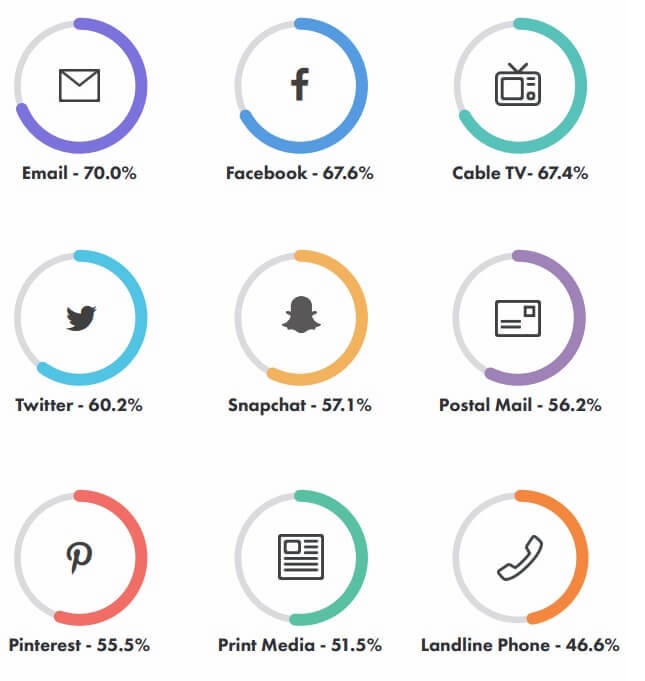 However, email marketing has never remained constant since its inception. If you follow the age-old tactics of bombarding the customer with the promotional contents, you may soon lose your position to the competitors. It's time to evolve. It's time to keep up with the current and future developments in email marketing.
To help get you started, we have compiled a list of email marketing trends that need to be put on your radar soon.
1) Personalization May Soon Become Archaic
Yes, email has travelled far beyond personalization. But, most of the businesses still rely heavily on this tactic and hoping it to do the trick. They send out the messages with the recipient's name or their interest, assuming it to sit well with the audience.
Notably, a few of the audiences are a result of filling the gaps in email addresses via email appending process. They may not have shown interest in your product or brand, and you end up frustrating them with irrelevant personalization.
However, if in case, your audience willingly subscribed to your newsletter, this buzzy concept of using prospects data to customize the greetings, body text, taglines, or delivery schedules may work for your business. But it isn't the same for everyone.
Most of the firms fail to execute personalized campaigns as intended. Their messages contain nothing more than a basic personalization.
So, if you want to grab your audience's attention in this extremely competitive marketing space, I recommend you to shift from personalization to humanization. In the previous strategy, you talk to your customer, making your communication unidirectional, whereas, in the humanization method, communication is bidirectional. You can build an authentic connection with the audience by continuous back-and-forth messages.
2) Start Humanizing your Email Strategy
As mentioned above, humanized marketing approach creates a deeper and clearer relationship with your clients. But, the question is, how to blend the human element into your email marketing campaign?
Focus on Stories: To keep your subscribers engaged, you need to throw in some storytelling in 2019 and beyond. Humans always feel closer to the stories. They want to know about what happened and what may happen in the future. So, stop using hard-sell words on email, instead write some strong narrative content to fill that hole. No matter how knowledgeable you are in marketing, you can emotionally connect with the customers via storytelling emails.
Keep Social Sharing in Mind: Craft your email in such a way that it should be worth sharing with people. You can promote fun and interesting facts on emails like how you do on social media. Also, you can organize the contests and ask people to share it with their friends and family to win your product.
Embrace the Visuals: A picture is always worth a thousand words. So, including them in your email will bring your content to life and adds a spark of creativity to your message. Besides, visual email marketing campaigns will more likely get shares and clicks than any plain text.
Lastly, Sign Email with Real Name: Make sure that your marketing emails are signed by an employee, rather than any faceless department or division. Because people always connect with humans and thereby it naturally compels them to read your email.
3) Predictive Automation will be a Win-Win
With a collection of the massive amount of data, we can expect increasing usage of automation systems and automated emails in the future. But, while considering this approach, I recommend you to look at it from your subscriber's point of view. Only if presented right, this strategy paves the way for the businesses to make more data-driven decisions, which, in turn, gives a huge lift to email-marketing performance, conversion, and revenue.
With the help of predictive automation, your email can deliver a more tailored experience to your prospects and customers. Here are a few examples of predictive email marketing use cases:
It tells how likely your email campaigns or pricing incentives convert your new customer to loyal ones.
Predicts how likely a prospect is interested to be in your promotional offer.
It helps to prevent churn in your customer count by identifying the signs of dissatisfaction. And then offers insight into the new actions that you need to follow to keep them happy.
Predictive analytics helps to determine the products to cross-sell as well as upsell that target customers are more likely to buy.
It also provides insight into the best products to recommend to target prospects and convert them.
Wrapping Up
The future of email marketing looks more upbeat than ever. If you haven't joined the businesses who are already employing the newest trends, then it's time to get on track. There is merely no time to waste if you wish to experience how email can remain as a keystone of your marketing strategy in the future.