There is a substantial migration to Microsoft Surface by so many companies. This is the case as companies seek better and more affordable Microsoft Surface benefits.
Besides being pocket-friendly, these computers are also more flexible and perform better. Windows report states that Microsoft Surface has seen a 21% sales increase in the last quarter.
The Microsoft Surface touch screen devices are quite versatile, making them the best option for any business. They are perfect during this COVID-19 pandemic as most people are working and holding online business meetings from home. Microsoft Surface is perfect for Microsoft teams, the details that make this possible.
Microsoft Surface has a lot of product options that are suitable for any kind of business. These options are affordable, powerful, and friendly for travel.
These exceptional products include Surface Book 2, Surface Pro 6, Surface Go and Surface Laptop 2. Any company would be glad to use these products as they can connect to any Bluetooth device as well as Surface Hub.
This makes it easier for any business person to share and acquire information whenever they want. Besides Office 365, Surface provides its users with 100,000+ apps. How great is that?
So, besides the numerous app options, what else makes Microsoft Surface the perfect choice for your business? Well, you are about to find out.
Reasons why Surface Go is Great for Businesses
Save a lot
As earlier stated, your business will save a lot when you switch to Microsoft Surface. These devices are some of the most cost-effective options you can ever get in the market. With them, your network's devices can be reduced by a huge margin.
Their better performance also helps save on time. The features on these devices are so good that you can have no problem communicating with colleagues or holding your online meetings.
This makes Microsoft Surface perfect for Microsoft teams. Remember, the more time you save, the more productive you are likely to be. More productivity equals more money for your business.
For instance, every hour your business saves can be spent on increasing stock, offering customer care services, as well as sales.
A certain business recorded a 35% increase in sales after shifting to Microsoft Surface. Wouldn't you want that too? Make that cost-effective shift now.
Great for Teamwork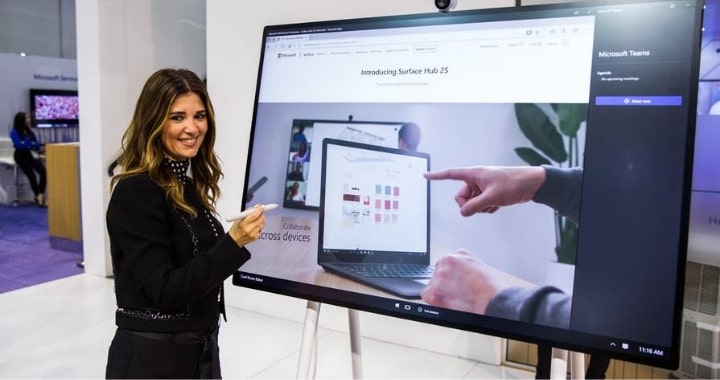 Do you have a team that you would want to keep tabs on, especially during this Corona pandemic? Microsoft Surface provides the most exceptional platform for that.
For instance, there is Microsoft Whiteboard, which is a computer canvas that can connect to other Microsoft devices.
With it, you can easily display and share information while doing your online team conferences and meetings.
Microsoft Teams is another digital platform where you and your team members can share your screen and collaborate at the same time. Any Microsoft Surface product is the perfect option for Microsoft teams. Get one for yourself.
Secure
With Microsoft Surface, you can rest assured that your work is safe. These devices have features like Windows Hello, which is a login feature that rids any company from the constant resetting of passwords thus making the company devices safer.
According to security experts on Business News Daily, Microsoft Hello is actually more secure than passwords and fingerprints. Microsoft Surface provides all this at a very affordable price.
Build Executive Team
Microsoft Surface can help you make the best out of specific departments like your company's executive team.
For instance, Surface Enterprise Management Mode (SEMM) grants you the ability to manage the settings to your firmware right from your business premises.
Thanks to Surface Unified Extensible Firmware Interface (UEFI) that makes this possible. With Surface SEMM, you can also manage your network from one location, gaining more control over your company's firmware.
There is also the Surface UEFI Configurator – a more advanced version of motherboard firmware – that usually configures the Surface Enterprise Management Mode (SEMM) on a Microsoft Surface device.
This configurator is responsible for extra security features on devices as well as faster boot times. The useful information helps clarify the fact that why Microsoft Surface is perfect for Microsoft Teams, it's the details.
Grow Sales and Marketing
As stated earlier, Microsoft Surface can help you grow your sales by a substantial margin. These great devices are not only for general use in the office but for other activities as well.
With Microsoft Surface products, your sales and marketing team can enjoy better relationships with clients and efficiency at work. Microsoft Surface is well-matched with Microsoft office analytics. As a boss, you will be able to be more productive as well as have better engagement with customers and your team.
Your sales and marketing team can work easily, faster and interact better with clientele. For example, your sales team members can easily send and receive information from clients using Surface Pro 7.
They can do so by displaying the information on a small device that is light in weight. This device also makes it easier for the salespeople to work while they have loads of assignments to do.
Surface Pro 7 makes it easier for any salesperson to work easily. It does not matter if you are using Cortana to dictate information or using the keyboard or kickstand. This device is good for you in all cases.
Conclusion:
Do you see it now? Microsoft Surface is perfect for Microsoft teams and any other digital platform you need to grow your business. With these devices, you can enjoy unique features and flexibility at an affordable price.
Microsoft Surface is a tablet and a laptop in one device, making it possible for you to work from wherever you are. These digital devices will save you a lot of money and time.
Microsoft Surface is perfect for Microsoft Teams activities and any other business stuff you want to do in your office. With Microsoft Surface, your business is guaranteed of growth in great margins.
Acquire these amazing digital devices and make things better, easier, and faster for you and your business team. You will not regret this choice. Get a Microsoft Surface product, now!