LinkedIn is the golden goose of professional networking in today's day and age. As with any successful platform with a large audience of users, there is an art to using LinkedIn to the best of its capabilities. This is where LinkedIn automation tools come in handy.
With a cumulative 675 million LinkedIn users active on the site, forging connections manually becomes a mammoth task.
LinkedIn automation tools help you in extracting email addresses, improve lead generations, auto mailing and automated updation. These automation tools make LinkedIn much easier and much more efficient.
Some of the top automation tools for LinkedIn in 2021 are –
Best LinkedIn Automation Tools 2021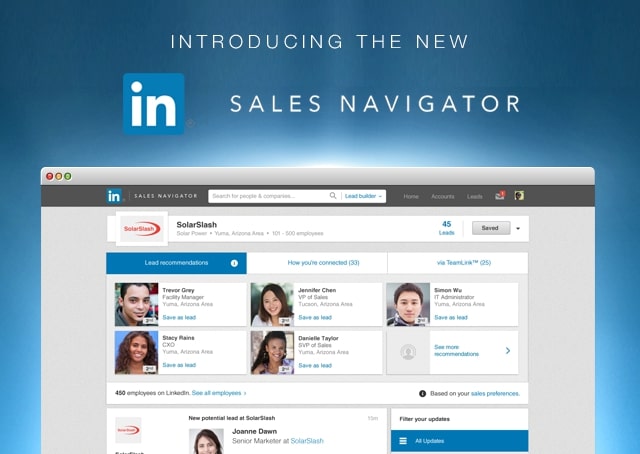 Having been developed by LinkedIn itself as an automation software for the site. This tool's strengths mainly lie in allowing sellers to connect with potential buyers.
An advanced algorithm that having been developed by the source itself, possesses the necessary structural and analysis prowess to provide one of a kind sales insights, assist with engagement strategies and help users keep up with the latest lead trends.
Topped with relationship building tools, LinkedIn Sales Navigator is the go to tool for both sales organisations and individuals alike.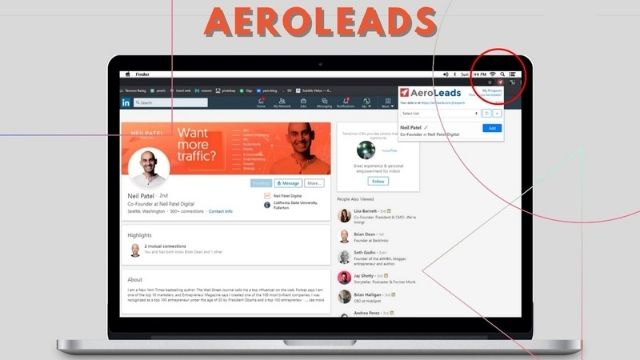 AeroLeads is a LinkedIn email finder tool that helps users in building a mailing list from LinkedIn.
It enables you to find emails online with just a few clicks, and generate leads. AeroLeads free Chrome plugin helps in creating mailing lists. One can add relevant prospects using the AeroLeads widget, and automatically saving them to your account page.
The tool also allows users to verify these emails and measure the bounce rate, find as many as 15 data points, and then export the data to CRM platforms.
Also Read: Best WordPress A/B Testing Tools to Optimize Conversion Rate
Prospect multichannel sales automation platform has a multifaceted approach that make outbound sales team more productive.
By combining multiple arenas to create cumulative targeted campaigns, prospect.io improves your sales to the next level.

Expandi is marketed as the world's safest software for LinkedIn automation. With an expert grasp on personalization, Expandi mimics human behaviour to give an edge to the messages sent to your connections.
The tool also has top notch growth hacks for content retargeting, higher engagement rates and lead generation. With Expandi, marketers can create campaigns with follow ups, get useful insights, manage multiple accounts and connect the data with CRM platforms.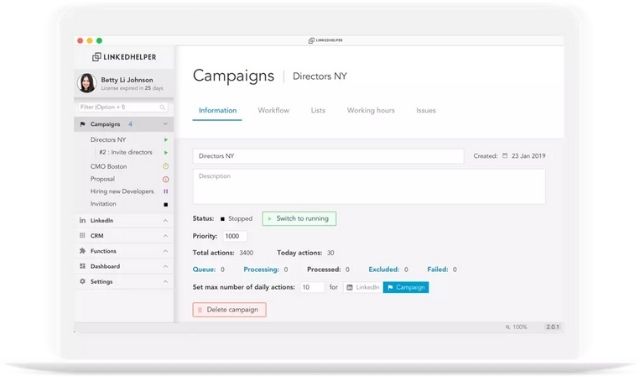 Available as a Chrome extension, this tool's main forte is boosting your profile. With provisions to invite 1st connections to LinkedIn groups and send personalised invitations to 2nd and 3rd contacts, networking is made easier with the help of this tool.
There is also the availability of an auto-mailing system, and an auto-responder. The auto-visitor feature of Linked Helper provides a way to automate profile visits and hence, aid with lead generation. This tool will allow you to boost your profile and get hundreds of endorsements.
Also Read: Best Project Management Tools Your Team Needs Right Now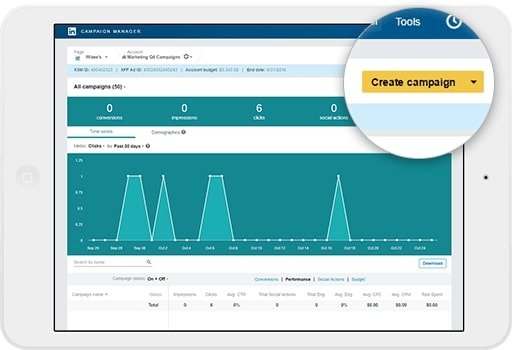 Lead Gen Forms is launched in 2017 by LinkedIn as a part of its mission to enhance lead generation efforts by marketers using their platform.
According to LinkedIn, the Lead Gen Forms tool has helped marketers by reducing their average cost per lead by 20%. The tool allows you to generate high quality leads at scale while letting you access and manage them with ease.
With options to track your campaigns, cost per lead, lead form fill rate, and the number of leads you're getting. Using LinkedIn Lead Gen Forms marketers can measure the impact of leads on their campaigns .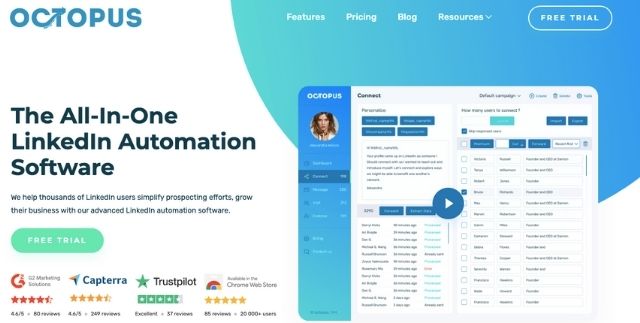 Octopus CRM is one of the most trusted LinkedIn automation tools. Marketers can send automated personalized connection requests, send bulk messages to LinkedIn contacts, auto-view hundreds of LinkedIn profiles.
It helps in building unique sales campaign on LinkedIn and then analyze that campaign's performance with the main LinkedIn statistics.
Octopus CRM is compatible with LinkedIn Sales Navigator, Premium, Recruiter etc. It is one of the top rated and widely used linkedin automation tool.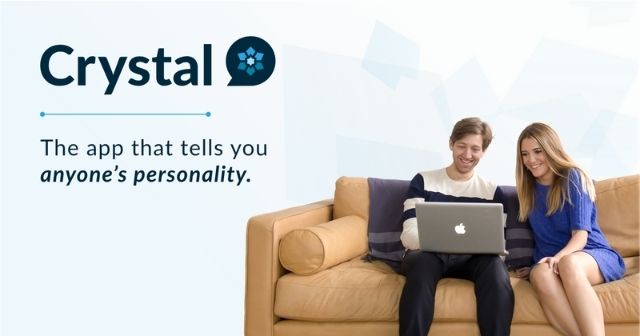 Crystal is a one of the best tool that provides personality insights for customers. Marketers use crystal for hiring, sales and coaching.
Trusted by mammoth organisations like CNN, WSJ and HuffPost to name a few. This tool allows you to drive better decisions, create stronger teams, and engage in more effective conversations.

Salesloop tool allows the users to create sequences across email and social that translate into quality conversations.
Using Salesloop.io, one can build accurate and targeted prospect lists, schedule outreach sequences, create message campaigns tailored to the prospect. Organizations can use the tool's proprietary technology to supercharge the reach.
Also Read: Top 20 Best Usability Testing Tools in 2020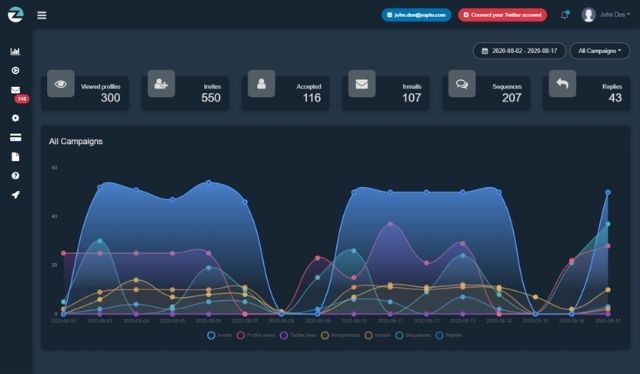 Zopto paves way for you to target your ideal customers on LinkedIn. With Zopto, you can search for ideal customers by using LinkedIn Premium or Sales Navigator, select the level of engagement that you want to initiate and filter your ideal customers.
This allows you to generate dozens or even hundreds of leads per month. You can also automate LinkedIn outreach and generate tons of sales opportunities with Zopto.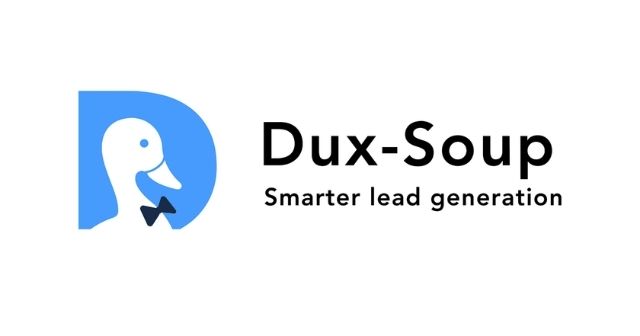 The forte of this tool is allowing users to build lasting and fruitful relationships with prospects. Using Dux-Soup, one can shorten the sales cycle and sell to more customers through LinkedIn and generate higher conversion rates.