Portable monitors allow you to plug in multiple devices and mirror their content. With a 4K resolution and state-of-the-art touchscreen technology, Lumonitor is a perfect choice.
In this article, we'll cover all the significant features of this excellent piece and show you just how practical it is.
What Makes Lumonitor Powerful?
Lumonitor comes with many beneficial features to facilitate your day-to-day activities. Whether you're a gamer, coder, or movie and TV show aficionado, this cutting-edge device won't let you down. Here are all the great features it brings to the table:
Lumonitor Features
1. State-of-the-Art 4K Display
Lumonitor has a 4K Ultra-HD IPS screen. The display comes with incredible quality and depth compared to traditional 1080p solutions. You also get proper LED backlighting to ensure deep blacks, vivid nuances, and 100% sRGB color range.
The screen is also twice as bright as any other portable computer on the market. This means you can enjoy your favorite content in any lighting conditions, including direct sunlight.
2. Lightweight and Thin Construction
Lumonitor's prowess doesn't stop with the internal components. You also get the lightest (1.3 pounds) and slimmest (less than six millimeters) portable computer on the market. This makes it ideal for traveling since it can fit any backpack or travel case. You don't have to bring in bulky extra equipment, saving even more space.
3. PinPoint Touch Technology
Lumonitor brings you an incredible touchscreen display with highly responsive technology called PinPoint. There's much greater precision that allows designers, artists, and editors to complete their projects with ease.
The screen is also stylus and touch-ready, responding to the finest touches and broadest strokes. You get complete control over your movements and extremely satisfying fluidity.
4. Gaming Capabilities
Lumonitor is highly optimized for a large number of activities, including gaming. Once you plug in your console and controller, you'll be able to enjoy a 4K experience with a minimal response rate to eliminate lag. Combined with pinpoint precision, Lumonitor will become your go-to gaming device.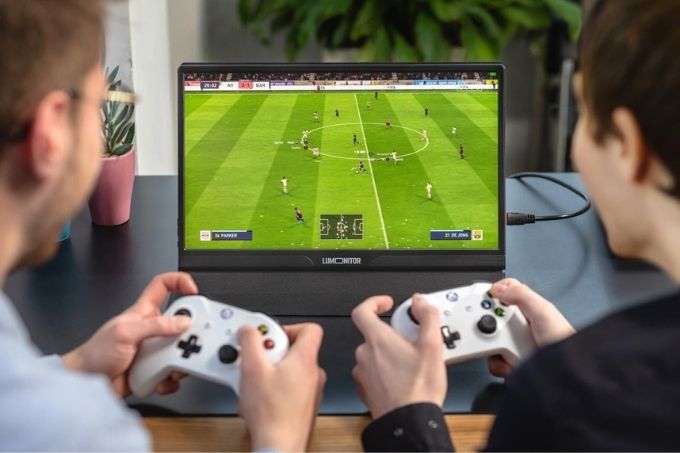 5. Built-In Stereo Speakers and Battery
With integrated Hi-Fi stereo speakers, you won't have to bring in any other sound equipment. Additionally, Lumonitor produces deep bass and dynamic audio, allowing you to watch and play video games with crystal-clear sound.
On top of that, Lumonitor doesn't leech power off other connected devices, unlike other portable monitors. It features an integrated 4000 mAh battery that gives you four hours of service.
Plus, not only is Lumonitor self-powered, but you can also use it as a power source for other devices (smartphones, tablets, etc.)
6. Unmatched Compatibility
Lumonitor works with any piece of equipment you can think of. Whether you want to link your smartphone, laptop, Chromecast, gaming console, or controller, Lumonitor will support it. The model comes with a wide array of ports, too, including HDMI, USB-C, 3.5-millimeter headphone jack, and Micro USB.
7. Plug-and-Play Functionality
Lumonitor saves you from performing any arduous setup to start your device. You don't have to install any extra apps or software, either. All you need to do is link your machine to another device, and you're good to go.
The moment Lumonitor establishes a connection, it will start relaying the image it receives from the other side. Plus, all your settings will be saved once you power the device down so you can resume your activities in future sessions.
Lumonitor Is an Industry-Leader
If you're looking to watch movies and TV shows in crystal-clear resolution or expedite your work-related assignments, get your hands on Lumonitor right now. The device comes with all you need for your daily activities, like a high-capacity battery, built-in speakers, and superior compatibility.
Don't wait for a second longer to buy this premium device. Visit official lumonitor website to make a wise investment.