QR codes have become very fashionable lately and is that through them you can give a lot of information without taking up much space. Surely many times you have seen the already famous QR codes, which are found in all kinds of products, and even at the doors of stores or warehouses.
And yet, that does not mean you need to know how to deal with them, especially if you have to act on them on your Android mobile. Well, in that case we have to say then that when it comes to reading or scanning QR codes, it is perfectly possible to do it without problems with our smartphone, taking advantage of some applications.
Of course, if we talk about QR codes, we have been seeing pixelated squares so many times, and that appear in all kinds of sites, with many interesting functions from the information they keep. For this reason, the idea of ​​this article is to teach all users how to scan QR codes quickly and safely, to access their data. But as we insist, you will need an application specially developed for it.
What are QR codes?
A QR code (Quick Response) is a two-dimensional bar code that after scanning with the camera and passing it through an application gives us a large amount of information. Nowadays QR codes are used in different products such as clothing labels, restaurant menus and in general in all those places where a system that allows a large amount of information to be used occupies very little space. .
Currently, if we have an application that allows us to scan QR codes, we will have the possibility to quickly and easily access promotions in commercial stores, free tickets, and many others. It is often a matter of links in the form of web pages, so that when we read them we access that information directly, nothing more than that. Therefore, it is better to take advantage of the QR reader function that most smartphones have today, of course.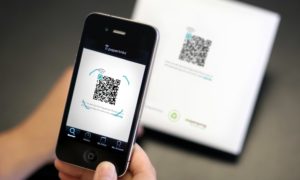 How to read QR codes on Android?
In order to access the information contained in the QR code, it is necessary to have an application that allows us to scan the two-dimensional bar code. One of the most used is ShopSavvy. It is an application that we can download from the Google Play Store completely free of charge. It is one of the most downloaded and has an average score of 4.1 out of 5. Once the application is installed on our phone, when we want to read a QR code we click on the scanner option and point the camera of our device to the code that we want to read.  The application will identify the content and send us the information or redirect us to the website if it is a link.
On the other hand, we also recommend QR Code Reader, but then it goes in the experience of each user, and you can review others if it does not finish convincing you, although it is really good. The truth is that within the Google Play Store you will find a huge amount of them. In this way, we will always need to be connected to a Wi-Fi network or mobile data because otherwise, even if we have the app, we will never reach the website to which the QR code will take us.
Once we open the application and position the square of the camera on top of the code in front of us, the site in question should be opened immediately, without too much waiting. Of course, the better the smartphone is, the faster it will carry out the steps.
For the rest, we have to emphasize that this application works very well for what we intend so that we should not have any problems, and does not have the always annoying ads. Beyond that, then it has some additional functions, to the extent that you can configure the default browser to open web links, etc. The interesting thing about these applications is that most of them allow a wide configuration.
  
Other applications to read QR codes
 ShopSavvy is one of the most popular applications, but it is not the only one.
A basic and simple application that through a very simple interface allows us to access the content of QR codes.
It is possibly the simplest application that exists to read QR codes. Just open the application connects the camera of the mobile and we can scan the code.
Another simple application to handle, it can be useful if you do not have much space in the mobile.
This application is somewhat more complete than the previous ones, it allows us to read QR codes and traditional barcodes by scanning them or entering the number manually. Another added advantage is that from this application you can create your own QR codes.
And finally, as we know that some of these undesired situations could come to exist, we must say that there are certain risks when scanning QR codes, so it is better to be careful about it. Ideally, whenever you go to scan a QR code you know where it comes from, so you do not have to be exposing yourself to an attacking case or the like. Anyway, most of those you find in public places are totally harmless.