Using these safety measures while sharing files can prevent hackers from accessing your data. Thanks to file-sharing technologies, data can be easily shared with anyone, no matter where they are.
Working teams will feel relieved, but cyber attackers will have a chance to strike. If you are looking for a free software to share files securely then visit https://www.goanywhere.com/ and download the free trial file transfer solution.
If you do not secure your shared files from unauthorized access, cyber attackers can either steal or expose them. Here in this article we will discuss 7 best ways to share your files securely. Let us get started without any ado.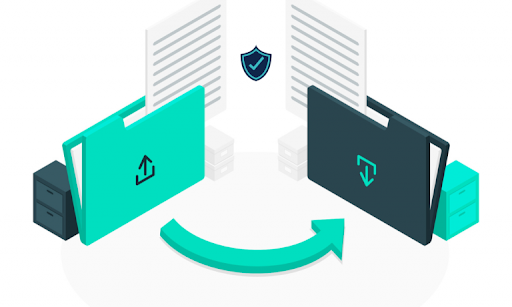 1. Use an integrated file-sharing application
One of the greatest ways to protect your files from cyberattacks is to use integrated file-sharing software or a solution. Users can only transfer files inside, not outside, with the software's built-in file-sharing options.
Since each team member has a unique user account, using an integrated file-sharing system prohibits sending files to the incorrect recipient. Unfortunately, the majority of these are paid programs, which is the primary drawback.
The free ones, such as Dropbox, Google Drive, Box, OneDrive, iCloud Drive, and others, give users a restricted amount of storage and usage.
2. Refrain from email file sharing
Email scam is on the rise, and you risk losing files that won't reach the recipient's inbox. In the emails of their victims, hackers look for vital user information. Because the majority of people use flimsy email passwords, fraudsters may easily hack emails on a daily basis.
Additionally, they use email phishing to assault their gullible victims, disguising malicious links as files. Once users click on the links or download the files, they fall into their traps.
Encourage your staff not to transmit or receive files by email to protect your company from falling victim to this fraud. Instead, they ought to start using a file-sharing program that only internal team members can use.
Initially, a network connection may involve one, two, or more people, but outsiders can hack the system. Therefore, it's crucial to take it into account and secure your network with encryption.
One or more security protocols are encrypted through a secure connection, making it difficult for outsiders to access them. Unencrypted networks are accessible to anyone who knows how to simply hijack and threaten them.
Cybercriminals can access networks without strong encryption and steal sensitive data like login credentials, bank information, passwords, and other private information.
4. Make use of secure cloud services
Secure cloud services provide an additional level of data security. Compared to traditional computer and storage techniques, they offer greater flexibility, accessibility, and capacity.
Additionally, many businesses today are quickly moving away from traditional computers as their foundation in favor of cloud computing. By following accepted security procedures, the majority of cloud service providers actively preserve the integrity of their servers.
The management of the cloud services infrastructure, and the security and accountability of data assets, is the responsibility of these third-party suppliers.
5. Make archive file format useable
One or more files and metadata can be stacked using the archive file format. You can bundle various data files into a single archive for simple access and storage.
Additionally, it enables you to compress data to save storage space. Data that is stored in an archive format is shielded from exposure or leaking. It will be challenging for a con artist to immediately recognize a certain file because an archive file contains several files.
6. Produce robust passwords
The most common method used by hackers to access their victims' accounts or networks is weak passwords. They either use brute-force password cracking or password guessing to do this. Your cybersecurity culture should incorporate the creation of secure passwords.
You must inform your team members of the value and necessity of having a strong password. They should choose a passphrase rather than using dates, numbers, or events.
Password fatigue can result from trying to remember numerous passwords at once. Using a powerful password management application to handle your team's password requirements will make the lives easier.
7. Limit the use of USBs
You should forbid the use of USBs on your network to safeguard your private information and all of your business files. And that's because USB or flash drives make it simple to transmit data, files, and information with a single swipe.
To avoid transferring viruses or damaged files to your network, your company should forbid the usage of USBs. You have no idea where or what those devices have encountered. Using a virus-infected USB can entirely destroy your data, leaving no chance for data recovery.