The COVID-19 pandemic may have catapulted businesses around the world into the age of working from home, but the arrival of AR-powered smart glasses may soon help managers to recapture an office-like experience all without spending money on physically working environments.
The pandemic has caused widespread disruption to a range of industries around the world. However, many employers are likely to be counting themselves lucky that such a chaotic event occurred at a time when technology has developed to the point where face-to-face and remote collaboration is still possible with video conferencing apps like Zoom and productivity platforms like Monday. 
As Gartner data shows, approximately twice the number of human resources officers are expecting their employees to always work from home following the pandemic. Despite the fear of the virus forcing many workers to operate from their living spaces, the end of the pandemic is unlikely to motivate everybody back into the office. 
Such a scenario may be financially appealing to employers and employees alike – after all, employees get to save money on their commutes while businesses could save a small fortune on the hiring of office space – but managers may feel uneasy at the prospect of their teams working out of sight remotely.
The survey above illustrates how executives are generally more concerned with the implications of remote work than employees – with over half of respondents specifically worried about reduced collaboration opportunities, issues with deadlines, and drops in productivity. 
However, these issues could be effectively countered with the development of enterprise-quality smart glasses that have the power to simulate office-like experiences that are considerably more immersive than the video conferencing-based infrastructures we've become accustomed to in the midst of the pandemic.
With the next-generation of smart glasses set to arrive later in 2021, the transition from physical offices towards fully immersive working environments could occur sooner than you may think. 
Facebook's Vision For a Collaborative Future
In September 2020, Facebook made a series of significant announcements regarding the future of immersive experiences and tools.
Most notably, the social media giants announced that it's planning to launch its first pair of smart glasses in 2021. The company is partnering up with EssilorLuxottica, owners of Ray-Ban to develop the eyewear.
The launch of a new enterprise edition of Quest 2 and new Oculus for Business resources came alongside Facebook's preview of the 'Infinite Office' features it plans to launch to bolster productivity on the Quest platform.  
With Zuckerberg himself claiming to have already held his first fully VR team meeting, the Facebook founder has already declared himself an advocate of immersive collaboration, explaining that "we had a shared sense of space" via the help of virtual reality headsets. 
The fact that Facebook is looking to take strides in the world of smart glasses and immersive enterprise collaboration over the coming years indicates that future generations of its eyewear are likely to not only incorporate augmented reality but also virtual workplace experiences.
While 2021's smart glasses aren't likely to make waves in the world of the virtual office, in the coming years we're likely to see the development of eyewear that packs technology into frames.
Especially when you consider that there are at least 2.2 billion people that have some form of blindness or vision impairment, hence integrating technology into regular glasses is becoming a must nowadays. 
Building on The Progress of The Existing AR Workplace
The co-founders of Spatial – one of the world's most advanced AR collaborative tools – have shown their excitement for the potential of augmented reality. 
If you're one of the millions of us who indulged in the Pokemon Go craze of the mid-2010s, you may be familiar with digital monsters appearing before your eyes in your living room, workplace, or train station.
Spatial technology is designed to tap into this interpretation of AR and replace Pokemon with your colleagues, and utilize AI to help their avatars mimic their movements and facial expressions. 
Spatial is readily available today and is fully compatible with virtual reality headsets like the Oculus Quest, which have the ability to immerse you in fully digital environments.
Despite this, the owners are eager to develop the technology for the lightweight AR smart glasses of the future – blurring the lines between reality and digital environments.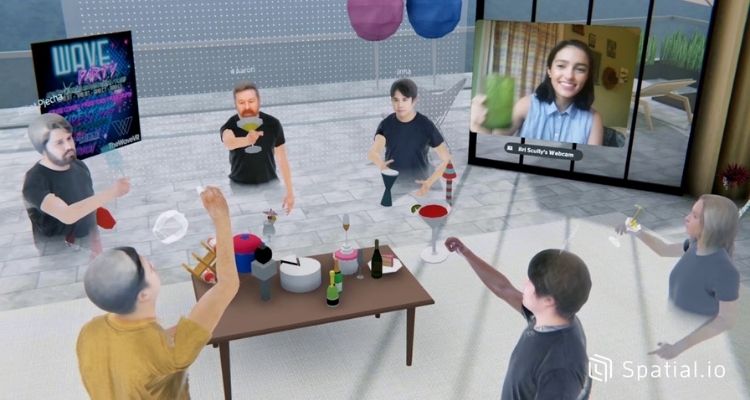 Inside the collaborative virtual world of Spatial, it's possible for employees to have virtual meetings that can easily transcend that of Zoom calls. Documents, images, videos, gestures, and speech can all be replicated in the virtual office environment.
While the likes of Spatial and Facebook are currently operating on different frequencies today, the technological developments will bring immersive collaboration and lightweight AR smart glasses together tomorrow.
With managers expressing their concerns over a future of collaboration in a remote workplace, the arrival of smart glasses could come at the right time for businesses to make a more natural progression into the 'new normal' era of working from home.
The adoption of such advanced technology may pinch somewhat for companies looking to embrace enterprise AR early on, but these costs can be offset by savings on office space and the supplies that come with it. 
In the not-too-distant future, remote work may shed its connotations of employees working alone at home and instead become synonymous with teams collaborating seamlessly in a virtual office environment where data can be shared instantaneously and performance can be much more straightforward to monitor for managers.