The Power BI service is a next level,cloud-based, business intelligence solution with superior analytical and reporting capabilities that create rich, compelling, and intuitive visuals and charts to communicate insights across your organization.
The analytical muscle and reporting power it comes with means that you are able to assemble, process, and visualize data in a way that gives you greater insight into your business' operations and performance, allowing you to make better-informed decisions off real data.
It also allows users to create and share useful snapshots of the state of your business and what is happening in it in real-time.
The Power BI service offers a host of benefits, some of which we will analyze in more detail for greater clarity:
1) Seamless Integration with Existing Applications
One of the key benefits of the Power BI service is that it seamlessly integrates with almost all the applications in your existing business environment. This allows you to adopt powerful reporting capabilities and analytics and embed interactive visuals in your applications with ease.
2) Reduced Technical Support Required
The Power BI service does not require any technical support to intervene as it comes with an in-built analysis and inquiry system in place. Further, this system supports intuitive graphic design tools and a powerful language interface to resolve technical issues in record time.
3) Rich Personalized Dashboards
The dashboards you can build with the Power BI service can be highly customized to meet the exact needs of your enterprise. It is easy to embed BI reports and dashboards into applications to make for unified user experience.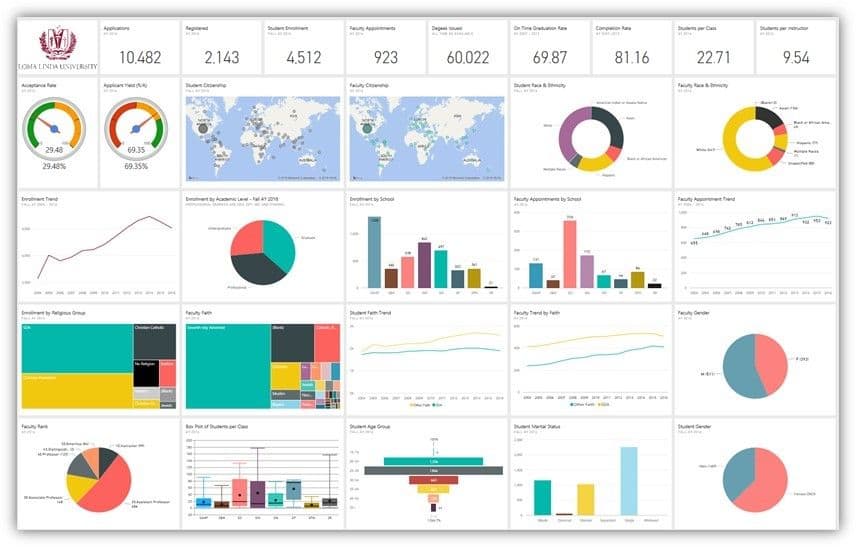 4) Zero Speed and Memory Constraints
You can migrate your data to the powerful cloud environment provided by the Power BI service to eliminate speed and memory constraints as it can process huge quantities of data better than any other platform in the market. In this way, you can ensure that all your data can be quickly and easily retrieved and analyzed without restrictions of any sort.
5) Balanced Performance and Simplicity
The Power BI service comes with in-built DAX scripting language and analysis technology, which reflects its balance between superior performance and simplicity. Moreover, its ability to connect to nearly any data source or application in the cloud or on-premises (MailChimp, GitHub, SharePoint, Google Analytics, Salesforce, etc.) means its capabilities are second to none.
6) Secured Publication of Reports
The Power BI service enables you to automate the publication of intelligent reports so that all users can take advantage of the latest data and insights instantaneously. The security feature of this service also protects your data and ensures that only the right eyes have access to these insights.
7) Rapid Extraction of Business Intelligence
This service will help you generate rich visuals with your enterprise data, which allows you to extract key business intelligence and apply it as and when needed for enhanced decision-making.
The Power BI service provides real-time business intelligence with powerful analytical muscle and reporting capabilities through rich, compelling visualizations and insights. It allows you to aggregate, analyze, and visualize data in such a way that your business' performance and operations become transparent and your decision-making capabilities are enhanced.
From rapid extraction of BI and balanced performance and simplicity to reduced memory constraints and zero technical intervention required, this BI solution is simply one for the record books.