Customer Feedback is a crucial part of any business. Running a business successfully is only possible when you are able to satisfy your customers. But how will you know whether your customers are satisfied or not? It is only possible by obtaining Customer Feedback Software.
For obtaining Customer Feedback, you need to seek your customers and ask them about their views, perceptions, level of satisfaction with your products and services and the overall experience with your organization. This can be done only through surveys.
A Customer Survey is a method of obtaining Customer Feedback by asking certain questions from the customers about their experience with your products, services and the brand.
Going to each customer personally with a pen and paper questionnaire and asking them to fill it is not only time-consuming for you, but also for the customer as well.
Moreover, it would be even harder to collect the data from the paper forms and convert them into meaningful information. Here comes the need for an iPad Survey Software.
An iPad Survey Software or tool is a web application setup that enables you to take surveys anytime anywhere, whether online or offline, with the help of your iPhones, IOS and iPad devices.
Best iPad Survey Software
While there are many iPad survey tools available nowadays in the market, everyone is claiming to be the best; if you want to buy one, you should choose wisely.
An effective iPad survey software enables you to capture feedback both online as well as offline. Create customized surveys and let you take unlimited feedback through iPads. Let's review some of the best iPad Survey tools which can serve your purpose effectively.
Zonka Feedback
Feed2go
BrewSurvey
QuickTab
QuestionPro
Let us review these tools and the features which can help you serve your purpose effectively.
1. Zonka Feedback
Zonka Feedback is one of the best iPad Survey Software that enables you to capture Customer Feedback effectively and efficiently.
It is a powerful Customer Feedback Software and Survey App enabling you to collect real-time feedback and offline feedback through customers, employees, and patients. Let's review some awesome features of this software.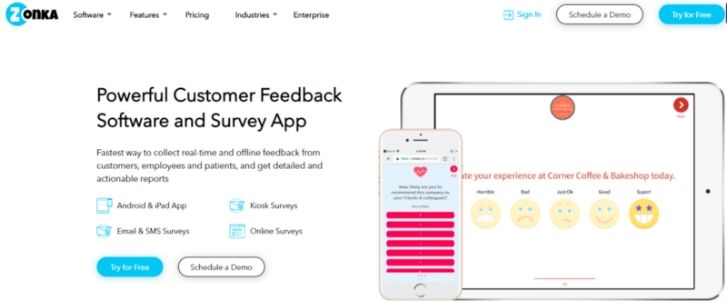 Zonka Feedback helps you not only to create your feedback forms but also to customize them as per your requirements.
It helps you to take feedback even without WiFi by using its feature as an Offline iPad App anytime anywhere.
It helps you to measure Customer Satisfaction and loyalty through metrics like NPS, CSAT, and CES using iPads.
You can also track Feedback iPads using Zonka Feedback's Device Tracking.
You can take unlimited feedback on your iPads and capture feedback data on iPads in the events.
It also provides you with real-time email and SMS alerts for feedback and negative feedback. So that you can take immediate actions and convert even negative feedback onto a positive one.
The software also fetches you useful data in the form of in-depth reports instantly which you can use to make better business decisions.
With the help of this software, you can assign tasks based on feedback to the concerned person or team which helps you to close the feedback loop.
Zonka Feedback also enables you to set up an iPad Survey kiosk for unattended feedback at various touchpoints.
Zonka has a multilingual feature that enables you to take surveys in 35+ languages, collect the data and provide it to you in your language.
2. Feed2Go
Feed2Go is another popular iPad Survey App with the help of which you can design, conduct and design, conduct and analyze your surveys right on your iPad wherever you are, whether online or offline.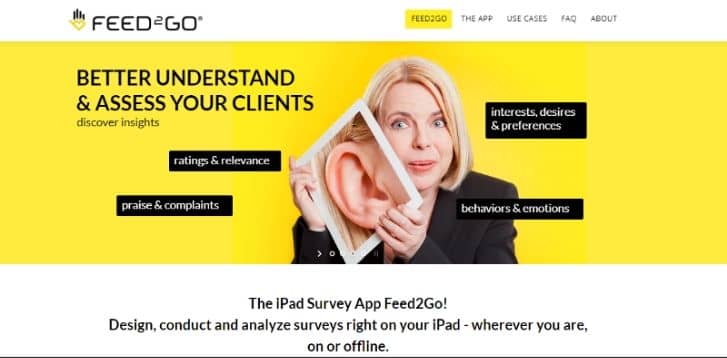 Let us review the features of this survey tool.
Feed2Go fits anywhere, anytime. It is suitable for quick interviews, single interviews, group surveys, kiosk surveys, and an animated kiosk survey.
Helps to prepare different types of survey designs like professional templates, demographic or behavioural data.
It has a multilingual feature which enables you to take surveys in 18+ languages.
The survey app can be used offline as well. You can create questionnaires, conduct surveys and evaluate results anytime even without internet connectivity.
It has a complaint alarm that gives you instant alerts for negative feedback so that you can immediately take corrective action.
3. BrewSurvey
BrewSurvey is another Customer Feedback Software suitable for iPad and iPhone Surveys. With the help of this tool, you can easily run an active feedback process by designing, conducting and analyzing surveys on your iPad and iPhone.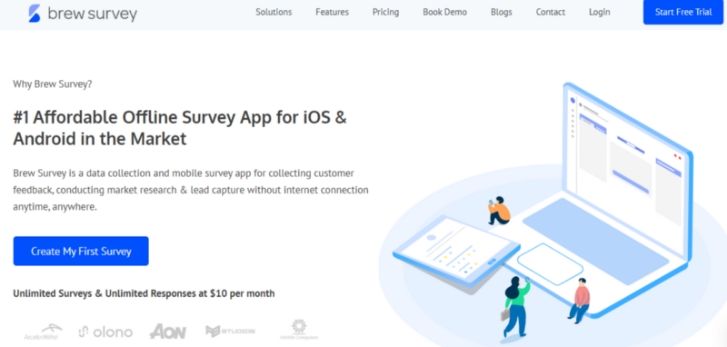 Let's review some features of this iPad Survey App which makes your task of survey easier.
It works without the internet which means you don't need to worry about internet connectivity while capturing data, BrewSurvey works offline as well.
BrewSurvey's loop mode feature allows you to run the survey in a loop and turn devices into survey kiosks.
It facilitates location tracking to capture the GPS location of the device while the survey is being conducted.
Helps you to customize your logo and background image to personalize your surveys with various themes.
It provides the facility of data validation by validating all input fields, numbers, and email addresses.
It is quick and easy to set up without the requirement of any special technical support.
4. QuickTap
QuickTap is also a great iPad Survey Software that enables you to capture data anywhere(even offline) with beautiful surveys and forms you can build in minutes.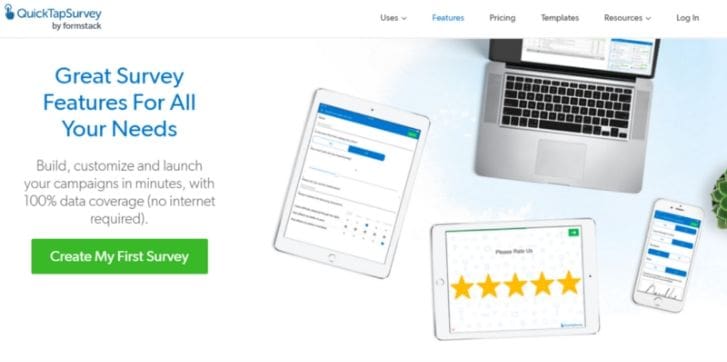 Let's review some features of QuickTab which enable you to take surveys to collect fast, actionable customer insights.
QuickTab enables you to create beautifully branded surveys that your customers can easily recognize and trust. You can drop in your logo, tweak colours, add images, and more.
It helps you to collect feedback no matter wherever you are, even if you don't have internet connectivity at the moment. Your data will sync automatically when you reconnect.
It enables you to send automated email confirmations to thank customers for completing your feedback surveys and encourage them to leave reviews on sites like Yelp.
Provides you with metrics like NPS(Net Promoter Score) and CSAT(Customer Satisfaction).
It facilitates feedback management through which you can send email notifications to the concerned employees regarding negative feedback so that it can be actioned instantly and helps in customer retention.
It helps you to set up iPad kiosks at different touchpoints.
5. QuestionPro
QuestionPro iPad Survey software makes data collection and analysis much easier giving you just what is required. With the QuestionPro iPad application, you can conduct offline field surveys.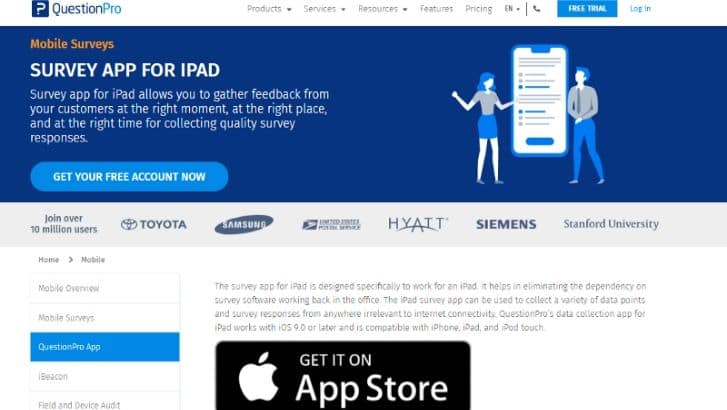 QuestionPro's data collection app for iPad works with iOS 9.0 or later and is compatible with iPhone, iPad, and iPod touch.
Let's review its features which help you to get your job done.
QuestionPro helps you to quickly create your surveys by choosing among the 15 most common question types to be included in your surveys.
QuestionPro provides a simple posting of your survey in a single click on social media websites like Facebook, Twitter, and Linkedin.
It also has a multilingual feature that supports creating surveys in multiple languages.
It provides action alerts which means that you get notified if someone answers in a particular way. You can set up an Action Alert to notify your Customer Service Manager every time that someone gives a low satisfaction score on a feedback survey.
QuestionPro iPad survey app also provides you with offline support. You can capture Customer Feedback anywhere without internet connectivity. It facilitates instant online sync-up when as soon as your device gets connected to the internet.
It also provides you real-time summary reports enabling you to get a quick view of percentages each answer option received and basic graphs, their mean values, and how many customers have completed or not completed the survey.
Above mentioned are the Best iPad Survey Software available. Let us know your favourite iPad Survey Software in the comment section.