Over the past few years, our personal and professional lives have gone through various transformations. These unprecedented sets of circumstances caused significant disruption to small businesses.
Some of them shut down, while others utilised technological advancement and introduced some modern approaches to sustain the new work environment.
It is the time when businesses introduced the WFH and Hybrid work culture to manage their operations. The rise of hybrid work culture demonstrates the requirement for an open and extensible workspace for effective collaboration.
In this respect, Google Workspace for business helped organisations to transform their working environment.
Due to the increasing demand for the productivity and collaboration suite, Google enhanced its offering and renamed its G Suite as Google Workspace.
It brings teams together and delivers an effective collaboration environment that helps businesses to enhance their productivity.
An Overview: Google Workspace Tools & Applications
Google didn't just rename its existing G Suite with Google Workspace for Business; it brought the new add-ons with a streamlined interface to overcome the limitations of personal Google Accounts.
However, before moving on to its benefits, let's go through some prominent Google Workspace applications that optimise various business operations.
1. Gmail:
We all are familiar with Gmail; it is one of the most advanced and popular mailing platforms. Google Workspace provides Gmail that is enriched with advanced AI-supported functionalities such as Email scheduling, Nudge alerts, Smart Composing, and Google translation.
2. Google Drive:
With Google Drive, you can conveniently store and share crucial business data with anyone you wish to. This cloud-based storage facility ensures that your data remains safe.
Google Workspace for business allows you to control sharing data with people outside your organisation. Furthermore, it allows the admin to backup Google Drive to external hard drive for backup purposes.
3. Google Calendar:
Google Workspace is integrated with an online calendar that is designed for teams. You can effectively manage and schedule events by checking the availability of employees.
It also facilitates easy migration of your business calendar from Exchange, Outlook, and iCal, or you can directly upload .ics and .csv files in it.
4. Google Docs & Sheets:
With Google Workspace, you have access to Google docs, which helps create and edit text documents directly in your browser. Several people can work on the same document, and every change is saved automatically in the document file.
On the other hand, Google sheet offers smart and secure spreadsheets that allow you to collaborate with anyone at any time. You can conveniently work with multiple data sources as it is highly compatible with external systems, including Microsoft Office.
5. Hangout/Google Meet:
Google Workspace is also equipped with Google hangout, which helps teams to collaborate efficiently, from direct messages to group conversations.
Additionally, Google Meet offers an enterprise-grade video conferencing platform which top enterprises globally trust. It allows you to join meetings from an email invite, or you can directly join from a calendar event.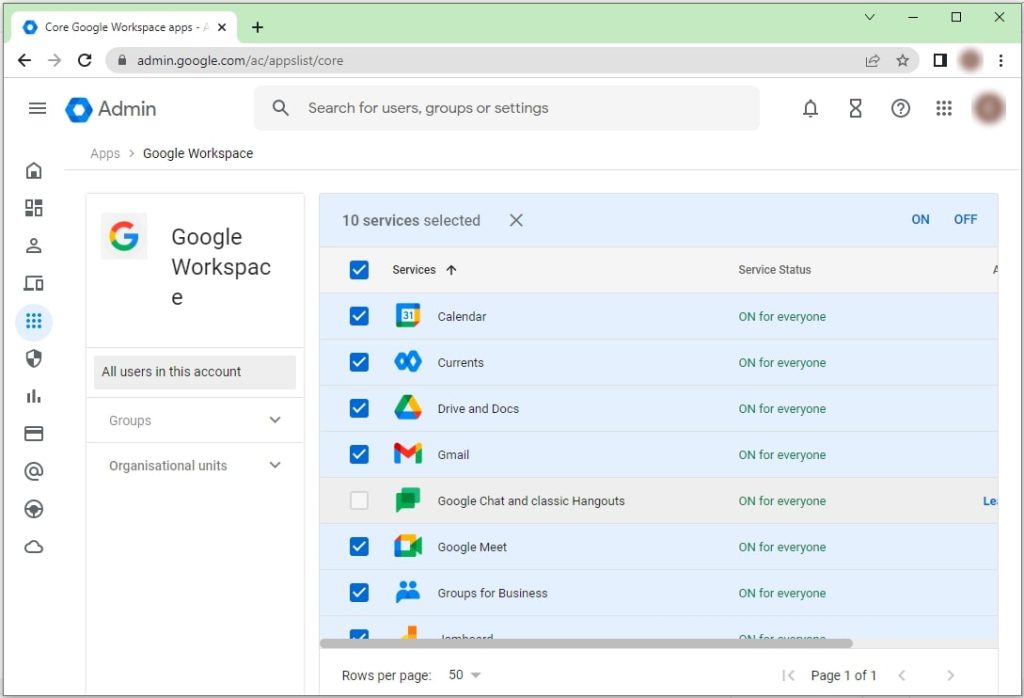 Benefits of Google Workspace for Business
Google Workspace helps small businesses and enterprises to keep pace with all the market needs. It has been proven as one of the best productivity formulas for companies that initiate working with employees all around the globe.
In this respect, Google Workspace for small businesses/enterprises offers 4 advanced security and management tools to help manage your Google workspace.
1. Google Admin Console
It offers a centralised dashboard to manage the Google Workspace for your business. You can easily add users, customise the settings, and even manage devices to keep your data secure.
Furthermore, it provides privileges to the super administrator for assigning roles to delegate tasks and responsibilities without making everyone an Admin.
Apart from this, various prominent sections in the Google Admin Console help enhance business productivity. Some of them are Admin roles, Billing, Account Settings, Data Migration, Devices, Domains, Security, Reports, etc.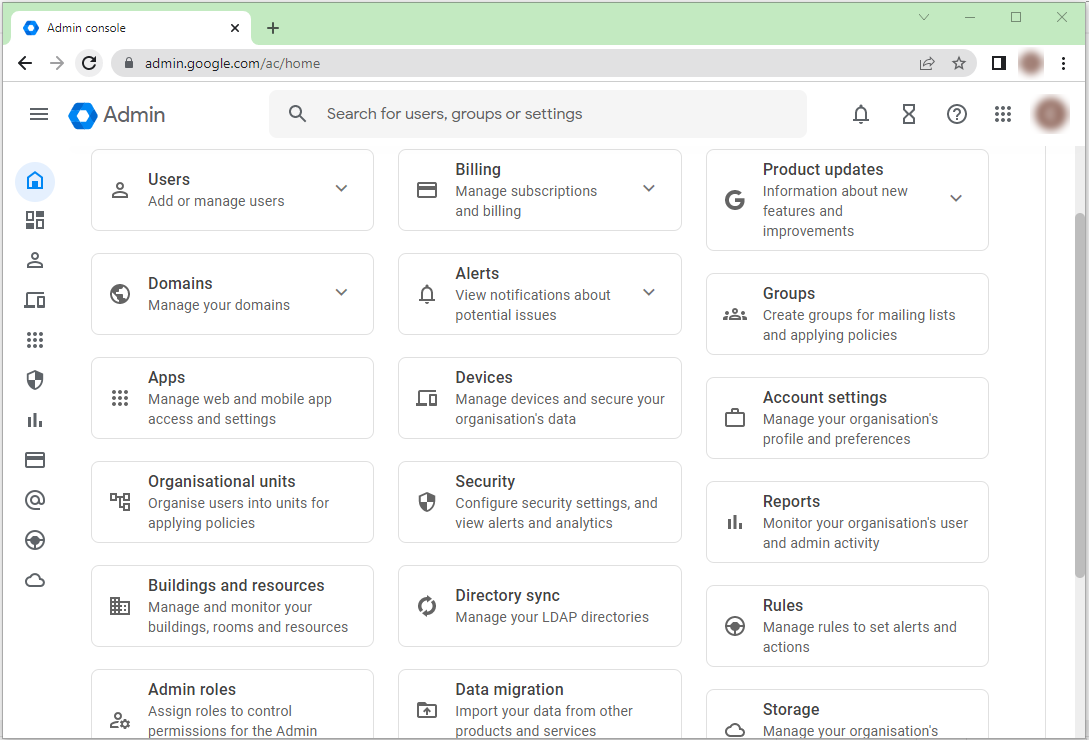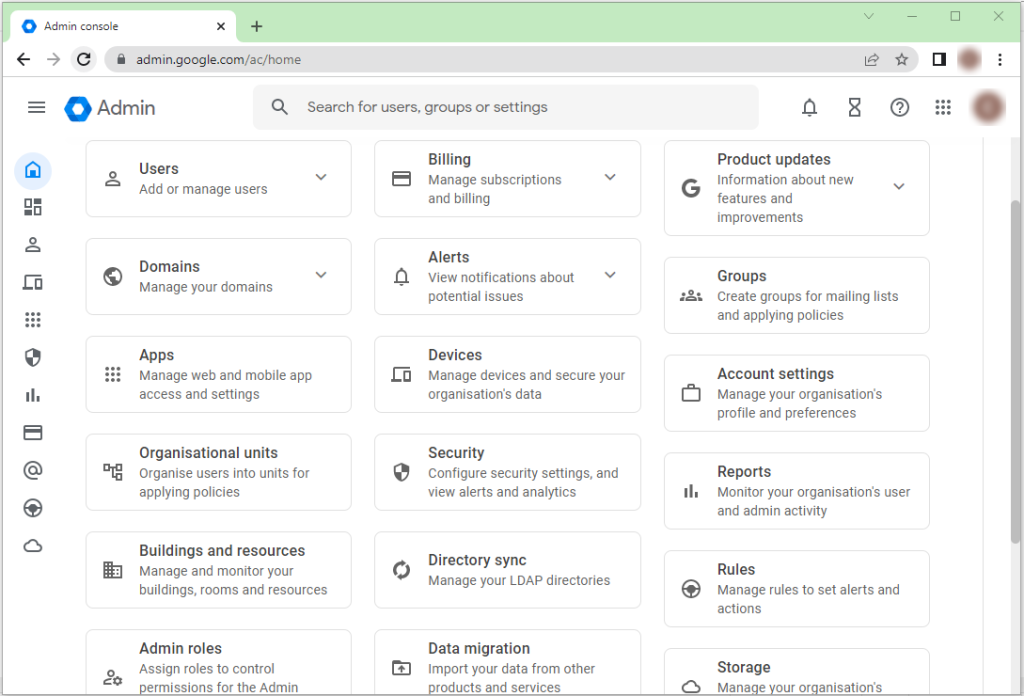 2. Endpoint Management with Google Workspace for business
The main motive of Endpoint Management is to keep things simple – and moving. This management tool allows employees to use their favorite personal devices to work efficiently with Google Workspace.
Admin can impose policies that allow employees to work on Android, iOS, MacOS, and Windows devices.
It is easy to set up as all Wi-Fi, and email configurations, including server-side certificates, are configured to the devices once the employee devices get enrolled.
Moreover, you need to set a strong password or screen locks to delete confidential data with a device wipe or selective account wipe. It keeps your organization's data secure from the scenarios of lost or stolen devices.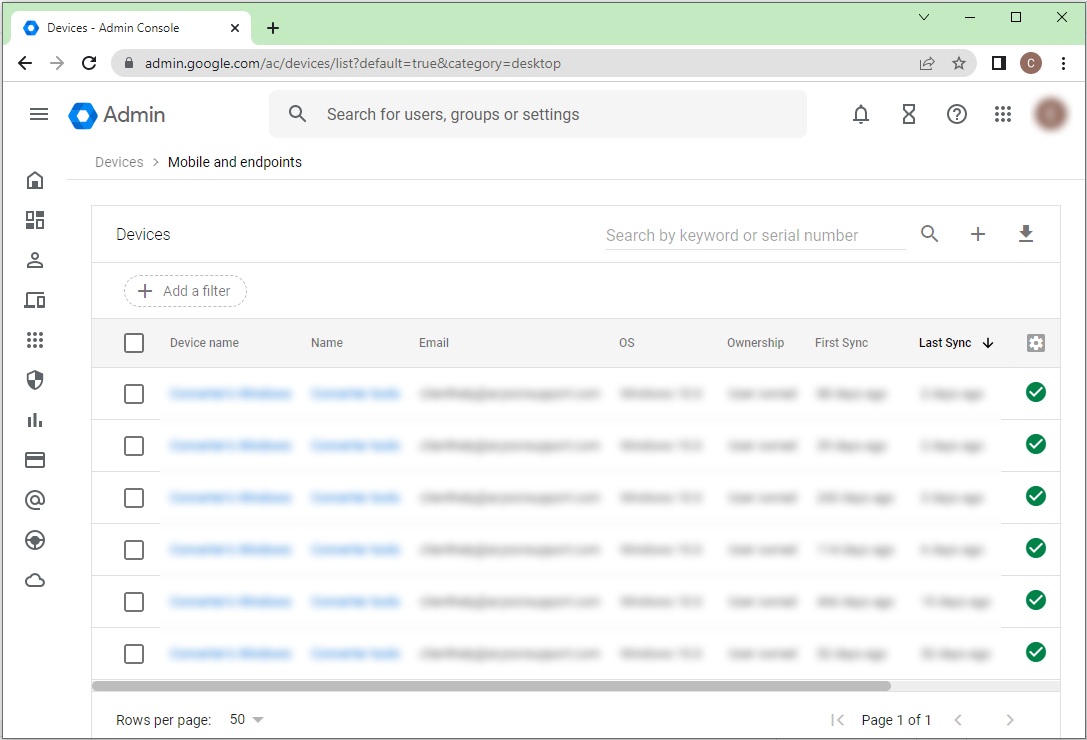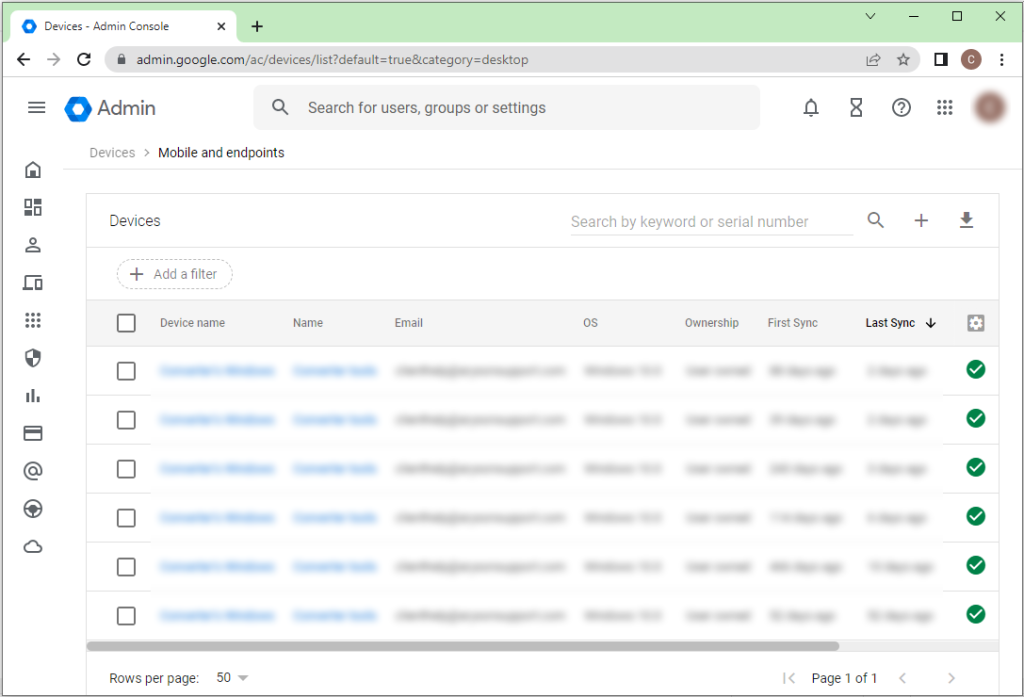 3. Work Insight to Understand the Impact of Google Workspace
Another additional advantage of Google Workspace for business is Work Insights. This productivity tool allows you to monitor and analyze the real-time impact of Google Workspace on your organization. Also, this utility offers insights for Gmail, Drive, Calendar, Docs, Sheets, Slides, etc., in one place.
However, it also embraces building user trust, increasing connections, and reducing silos. You can easily track, monitor, and analyze the trends around document co-editing and file sharing.
4. Export & Secure Google Workspace data with Google Vault
You can even export the message content in PST and MBOX format using Google Vault. Also, it facilitates the export of message metadata, error report, Google Drive files, etc. in their standard formats.
However, you can opt for a secure Google Workspace Backup Solutions that includes third-party backup software to export or backup the entire Google Workspace data including Gmail, Drive, Contacts, and Calendars.
Google Vault is one of the most effective management tools that allows you to keep track, retain, and export crucial business data, even from suspended accounts. The downside of this utility is that it only comes with Google Workspace for Business Plus and Enterprise pricing.
Google Workspace Enterprise Pricing Plans
After going through the various advantages of Google Workspace for business, it's time to compare the different pricing plans to start with Google Workspace. Here, we have enlisted the price along with the detailed offerings of each plan.
| | | | | |
| --- | --- | --- | --- | --- |
| | Business Starter | Business Standard | Business Plus | Enterprise |
| Pricing | $6 USD/user/month | $12 USD/user/month | $18 USD/user/month | Contact sales for a quote |
| Custom & Secure Business Email | Available | Available | Available + eDiscovery & retention | Available + eDiscovery, retention, and S/MIME encryption |
| Video Meetings | Up to 100 participants | Up to 150 participants + Recording | Up to 500 participants + recording & attendance tracking | Up to 500 participants + recording, attendance tracking, noise cancellation, in-domain live streaming |
| Storage/User | 30 GB | 2 TB | 5TB | Unlimited |
| Security & Management Controls | Available | Available | Enhanced (including Vault & advanced endpoint management) | Advanced (including Vault, DLP, data regions, and enterprise endpoint management) |
| Support | Standard Support | Paid upgrade to enhanced support | Paid upgrade to enhanced support | Enhanced support (paid upgrade to Premium Support) |
Conclusion:
Google Workspace for Business is one of the best cloud-based productivity tools for your business. With Google Workspace for Business, you can keep your employees productive while protecting your company's data and information.
In this blog, we have covered all the factors that justify why Google Workspace for small businesses or enterprises is a good solution for organisations. We hope it delivers all the necessary information regarding this advanced productive utility.