As we come across the word 'Augmented Reality', the first thing that comes in our minds is 'Google Glass'.
Augmented Reality has developed since 1960, but it was not until 2012 that augmented reality came into light by the search engine's wearable glasses.
The augmented reality glasses are wearable and voice controlled devices that display information visually to the users. It is a gadget that works on an Android operating system and operates app through the device.
By this, we get a clear idea that,
Augmented reality is a technology that creates an interactive experience for the users.
How?
It gives a computer-generated image that provides users with a real view. Here, the objects that reside in the real-world are 'augmented', through computer-generated perceptual information.
Isn't is an amazing innovation?
The technology adds elements to the view, that isn't already there in order to enhance user experience.
The technology is rapidly gaining momentum in the industry as it allows consumers to imagine and visualize products/services and what it might feel like to own them. It mentally delivers the product or experiences the service before actually purchasing it.
The potential of AR technology is huge! As the technology becomes more sophisticated, cost-saving and grows in its business applications, its demand and investment may increase.
It is only a matter of time that technology will enter daily walks of our lives. In fact, it has already made its way through applications like Snapchat lenses and games such as Pokémon Go.
From healthcare to manufacturing, the application of AR is increasing
Similarly, AR can result in dramatic changes in the workforce in terms of improving worker's productivity, enhancing their training and ensuring safer worksites.
Often when workers are located at a site, they are given clear instructions and handed a work manual. Even though the site workers get proper training and efficient remote IT support, the achievement of the project becomes challenging.
One of the reasons is the communication with site workers becomes time-consuming, costly and there are high chances of interpreting messages incorrectly. Also, some projects are based on a step-by-step process, where a lack of clarity in instructions could lead to mishaps.
Similarly, if the workers depend on a manual, the output is still susceptible and the process becomes lengthy. All this may lead to frustration and hamper the quality of the work project.
Augmented Reality at Work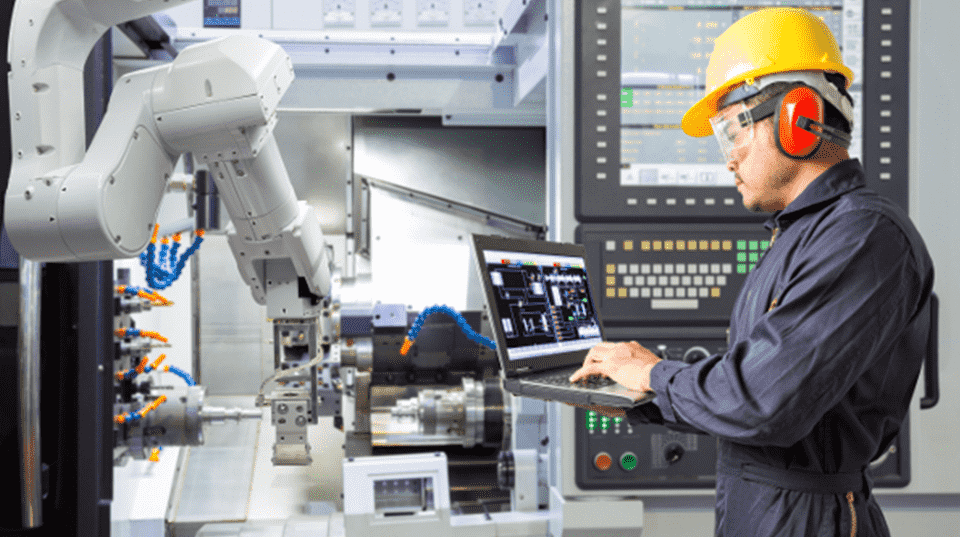 On a brighter side, augmented reality enables you to give clear instructions, lessen paperwork and let you execute the project with step-by-step and clear instructions.
Also, with an augmented reality software, there is a far less room of human error.
Further, augmented reality for workers enables them to rely on step-by-step, paperless instructions.
The best thing that augmented reality features is a reduction in the skill gap, timely delivery of projects done with exceptional communication and coordination.
Resultantly, field service management becomes easy and the operations on the field become safe and consistent.
Augmented reality is effective in problem-solving and apt for paperless work instructions. All you need is a smartphone or a digital device and internet connectivity.
Below are the key benefits of implementing AR in the workplace-
Cost cutting – AR saves the cost of training as the exchange of information is done through the visual process. The same concept applies to field service management also. You can assist your employees working at a remote location alongside providing them a remote IT support.
Improves employee productivity – The disruption of AR technology changes the way employees operate, which increases engagement and employee productivity.
Gives a competitive edge – When your workforce gets trained faster, it becomes a huge advantage to the business. Besides, you also save on the training costs and stay ahead in the business competition.
Let us understand the key benefit of AR with an illustration.
Ford revamped designing process with AR
Multinational automaker Ford, embraced the augmented reality manufacturing to overhaul their design process.
'Microsoft HoloLens AR headset was instrumental in bringing a big designing transformation.'
Here's how it all went –
With the help of the AR headset, their design team was able to anticipate potential car designs. They were able to visualize the designing for each part of the car and lastly synchronize them in the prototype of cars.
The Result
Firstly, the application of AR technology brought many benefits to the company in terms of swift completion of the project and quick decision-making.
Moreover, augmented reality enabled the company's designers to be more creative, collaborate better and work seamlessly.
Next,
'Boeing implemented AR for manufacturing their airplanes'
Using augmented reality allows companies to solve the most complex challenges. Augmented Reality is effective when it comes to problem-solving.
The Boeing company implemented Google Glass in the wire assembly process of its 787-8 Freighter.
The Scenario before the implementation of AR
Initially, the employees of Boeing needed to repeatedly look at the laptop to ensure that infinite wires are properly assembled.
The process was lengthy and caused fatigue in employees. The process also being time-consuming resulted in disinterest.
The scenario after the implementation of AR
On using AR headsets, the company's employees now have the same information right before their eyes. This leads to their wire assembly process faster and easy.
Moreover, to get the best out of the technology and derive optimum results, they can also issue voice commands. The entire project becomes convenient. Whenever an employee faces a complex task, they can ask their colleagues to join the headset's video stream and get assistance in complex tasks.
The Result
Augmented reality manufacturing resulted in a time reduction of wire assembly process by 25 percent besides achieving a zero percent error rate.
The employee satisfaction went high which, in return improved employee retention.
Conclusion
The aforementioned examples clearly indicate that augmented reality could prove to be an advantage to companies in gaining reliable solutions to crucial problems faced during the process.
It introduces a new way of training and demonstrating for employees without moving from their place. AR's excellent collaboration is bringing a digital transformation.
It can improve each step and the entire process through its vast potential.
Moreover, the results with AR are almost instant, without the intervention of paper.
All these and the potential of AR makes integration of AR in workplaces inevitable. Introducing  AR  at every stage is far more promising. It enhances the capabilities of workers, increases competitiveness and uplift business innovation.
Author Bio:
I am Bernard Welch and I have a keen interest in technology blogging. I usually write about how utmost technology could be used for business enhancement & growth.