In 21 Century, a lot of things took place that has forever altered the trajectory of modern society. Apple and Microsoft took part in this revolution with their ingenious ideas of making personal computers.
The mobile phone industry also recorded a boom, but arguably, the most significant milestone of them all is the formulation of the World Wide Web.
The internet sparked mind-boggling inventions that have made our daily lives, better, faster, and more efficient.
One industry that is a by-product of the web is social media in all its various forms. If it were possible to bring any pre-existing ancestor to our modern society, the fellow would be awestruck by the conveniences of our lives; after all, we're literally living in the future.
Back to social media; Facebook, Twitter, and Instagram have altered how people link up, share messages, and voice their concerns. Tumblr, on the other hand, is particularly unique.
Unlike other Tumblr alternatives such as WordPress and Blogger, the site's social media features, bundled with the micro-blogging aspects, makes it very effective when it comes to brand marketing.
With an annual growth rate of 75% and a user base that's over 400 million users worldwide, Tumblr is undoubtedly one of the fastest growing social media platforms.
The lightning-fast growth rate guarantees any brand that'll observe certain principles on the platform, to amass the much-needed popularity.
In order for you to be successful in harnessing the influential power of Tumblr, you'll need to observe certain vital elements.
The following is a guide on how you can effectively use the platform as a marketing tool.
Strategy
The formulation of a solid strategy is an important aspect of having an effective campaign. This also includes identifying the person who'll be in charge of running the Tumblr blog, defining your audience, and carrying out SWOT analysis.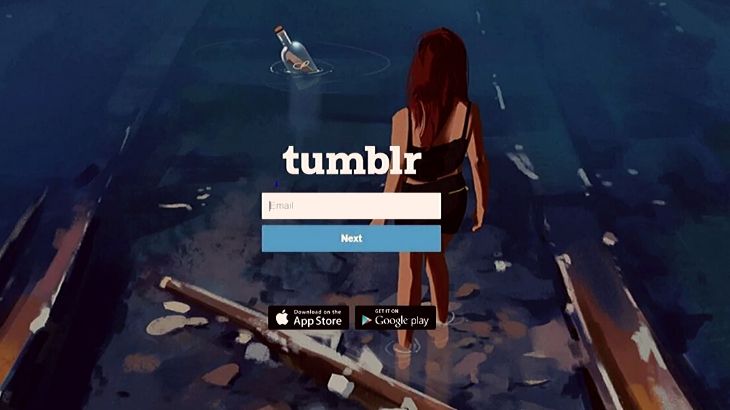 Getting Started
The user experience on the platform is pretty neat and friendly for anyone to use. Your first step to a successful campaign will be familiarizing yourself with the platform.
Creating an account is a nice way of knowing what would go where on the site. It's worth mentioning that you should always maintain professionalism; from how your profile looks, all the way to the framing of your statements.
Depending on the services your business offers and your target audience, some campaigns would require a more informal and playful approach; however, that shouldn't water down your level of competence.
Getting the Traction
Nature of content
They say that a picture is worth a thousand words; this can never be less true when it comes to marketing on social media. Photos hook a lot more users than plain texts.
Content creation is actually the core of any successful account and campaign on Tumblr.
A simple rule of thumb that you need to muse-over is that the majority of users do like visual posts; therefore, sharing text-only material can destroy your account even before it takes off.
Videos, GIFs, and Photos tend to stir more reaction from consumers than a text-post.
Creating your own original content also gives you better chances for people to reblog your content; think of it as free marketing.
The reblogged post would show up on the dashboard of whoever uses it, magnifying the scope of your reach. Humor is also a great selling point.
Videos and pictures that are comical tend to find their way further and faster on the internet.
Tags
Tagging is yet another key determinant of success on Tumblr. Basically, tags are what people use to get their desired searches. Having stated that, great content with a mediocre tag won't do you any good.
Ergo, your team that solely handles content creation should be responsible for formulating relevant, appropriate, and timely materials.
Follow back
There's nothing consumers love more than when their favorite brands follow them back. This shows the value you've placed in them, besides giving the impression that you care about what they say and post.
Consistency of your Post
In order to create a healthy marketing campaign, you have to maintain your relevance on the Platform. A great remedy for this is to be consistent with what you post, share, like and reblog.
The more you are active, the more you appear on people's feeds, and the more you stay germane on their minds.
Contrary to what is prevalent on other social media platforms, people don't esteem the number of followers a particular person has on Tumblr.
So you won't find users flaunting the number of followers they have. Still, much attention is given to likes and reblogs.
Now that you've gotten the gist of how to run a flourishing Tumblr blog. Let's take a look at some of the most popular brands that are good in this game.
Successful Brands
Lexus
The story of Lexus is quite interesting. Upon realizing a decline in popularity in the automobile market share, Lexus decided to widen its scope to Generation X and Y with its new model IS.
Their campaign, known as 'The Signal', resembled many fashion ads proved to be a success. It scooped the Best Tumblr Award in 2014 at the Annual Shorty Awards.
MTV
When you talk about the entertainment industry, MTV comes up as a household name. The content the TV station produces usually appeals to the younger generation, who are also active on Tumblr.
Having identified its market segment, the company likes to deploy humor in most of their posts that are normally snapshots of Celebrities, GIFs, and photos.
Loyal fans also get to be updated with shows that would be aired.
The exponential potential present on Tumblr is one that has the capacity to catapult a company to soaring heights. A very important thing to keep in mind is that the platform has particular communities.
Speaking their language, as well as interacting with them with relevant posts will go a long way in guaranteeing your success in the fabulous platform.