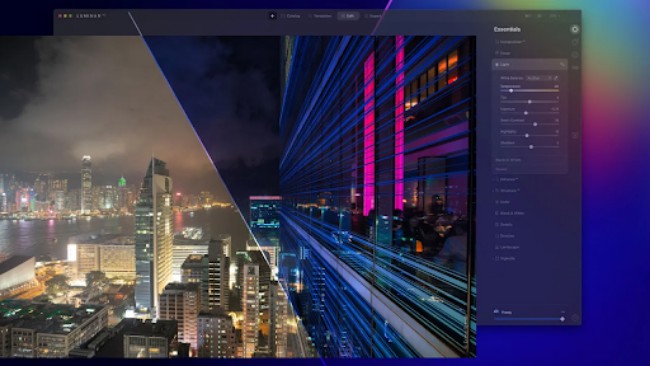 Luminar Neo is an artificial intelligence (AI)-based photo editing software that builds upon the features of the previous Luminar AI version. The software is lauded for its unique AI photo editing tools, such as powerline and dust removal, and a vast selection of effects and adjustments​​.
Some AI features include an AI crop tool and a well-known 'sky replacement' tool, which can swap out your clouds for a more interesting sky​​. Luminar Neo also introduces a new AI-powered tool called Relight​​.
User's Opinion
The software has a clear, pleasing, and easy-to-use interface, which is seen as a great starting point for photographers who might find software like Lightroom or Photoshop too complex​​.
The software presents a catalog-style thumbnail view of your imported images, although it lacks features like keywording, captioning, and support for sorting by EXIF or IPTC data​​.
Luminar Neo Online Photo Editor, also offers the option to install extensions, which are optional features and effect modules. Some of the latest extensions include Upscale AI, Supersharp AI, Focus Stacking, Background Removal AI, Noiseless AI, and HDR Merge​​.
The Mask AI tool was the first headline tool in the early updates. Proper masking functionality was a big promise an a great expect enduring the buildup to Luminar NEO's release.
However, some skeptics and some trusted not to see it in the original public version. But the Skylum team delivered a fantastic tool for everybody.
The developers integrated histogram for more advanced photo editing. It was surprising for users because it was absent in the initial build. You can find it in the Editing menu in the Tools menu.
This function shows the number of tones for each brightness level. It's critical to correct the tonal bands with real-time feedback for the common exposure analysis.
What About Pricing?
As for pricing, Luminar Neo is available directly from Skylum's site for $149, often discounted. For comparison, Lightroom costs $9.99 per month, while other software such as Capture One costs $299, CyberLink PhotoDirector costs $99, and DxO PhotoLab costs $219​.
However, please note that prices may vary, and it's best to check the official Skylum site or authorized sellers for the most accurate and up-to-date pricing.
Who are You, Luminar AI NEO Thankful User?
The AI options are very popular in this photo editor. New layering options make the software attractive to many people. All photographers, from beginners to professionals, will pour tears of joy and sing the gospel to God.
The templates and modes of Luminar Neo generation are favorable for social network users. The online photo editor easily converts boring images to breaking stereotypes.
Consider some modes may be hard for high-quality manual editing. Relight AI and portrait instruments fit the requirements of fashion or editor's photos.
But the top option is clarification. AI algorithm removes the power lines or dust spots in a few clicks. It really saves the camerapeople's time and money.
Reading this fragment may motivate you to remain on the classic version. But NEO software touches the artistic side of the editing. I'm sure that you will decide to migrate there earlier than the trial ends.
Lumimar NEO criticism
There are a few criticisms of the software. Some operations can be slow, and the performance of some automated features can be inconsistent. For instance, while the powerline removal feature performed impressively in tests, the dust spot removal feature had mixed results​​.
While I could find only the reviews from my trustful websites library, other reviews or discussions may be available online that provide further perspectives on Luminar Neo.
If you're interested in more specific aspects of the software, such as specific tool performance, workflow comparisons with other photo editing software, or user experiences, let me know, and I can look for more information.