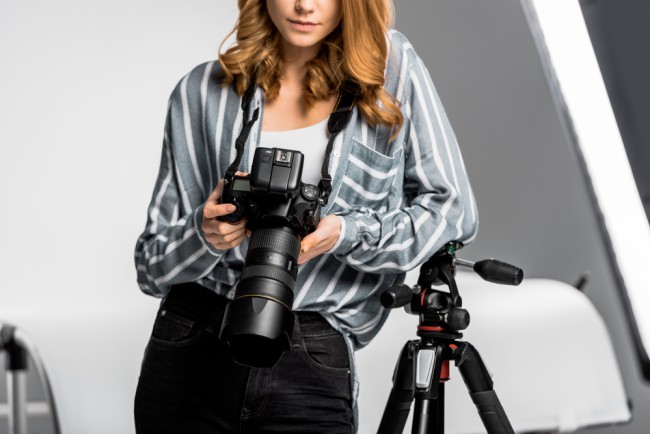 High-quality content production is a big deal for small businesses and start-ups. They often don't have the resources to hire professional photographers to make custom visuals and prefer to search for ready-made pictures on internet sources. Therefore, the demand for affordable digital images significantly grows.
As a photographer, you can sell your pictures online on stock content marketplaces, which can become a good source of passive income and drive your recognition as a creator.
Are you eager to expand your photography path? Read on to learn more about selling images on photo stocks and discover tips on becoming a successful platform contributor. 
What are stock pictures?
Stock photos are images distributed by specialized platforms called stock content marketplaces. Stock photography can feature a great variety of topics like business, nature, everyday objects, food, and abstract patterns.
Photographers and illustrators upload their artworks on the platform for sale, while users download the content for personal or commercial use.
Stock pictures are available under different licenses; the most common ones are:
Attribution CC BY—allows users to distribute, remix, adapt, and use pictures for commercial purposes for free with compulsory author or source attribution.
Royalty-free—provides users with the right to purchase a picture once and use it for multiple projects and designs without additional fees. However, this license can pose some copy limitations and restrictions on content usage for resale items.
Extended—provides the same rights as a royalty-free license and lifts the limitations and restrictions.
Editorial—allows using visuals for illustrative purposes only. For example, you can integrate images into online news sources or magazines. Commercial promotions are prohibited.
Rights-Managed—provides buyers with exclusive content—images can be used in a specific project prescribed in a contract. The license agreement also states a definitive number of copies, project purpose and duration, and geographic location for distribution.
Where can you sell your high-quality visuals?
Stock content marketplaces are essential platforms for photographers to sell their pictures. These online libraries can also be a good option for beginner creators eager to test themselves in a creative field.
Here are some advantages of selling your pictures on stock content marketplaces:
Beginner friendliness. Generally, stock content marketplaces don't impose strict requirements for their contributors. All you need is to be familiar with photography basics and have several ready-made shots to prove your skills. To work with stock content platforms, you must be at least 18 years old.
Free promotion. It takes time to gather eye-catching photos, form an extensive portfolio, and attract buyers to your artwork when you're doing all the promotion yourself. By uploading your files to photo stocks and getting user downloads, you can get featured in the platform's mail newsletter or Popular Authors category. Online libraries often help creators get recognition and promote their HD visuals.
Easy time management. Partnering with stock content marketplaces gives you flexibility. You can decide how much time you're ready to dedicate to photography and what other creative projects you want to pursue. You can make this a full- or part-time job.
Passive income. Selling your files online, you get a commission fee every time a user purchases your image. The more users buy your files, the more money you get. You don't have to make additional manipulations other than uploading your files to the library, as well as describing the visuals so that users can find them easily.
Top photo stock to sell HD images
Depositphotos.com is one of the best stock content libraries, working with 100,000+ contributors from 173 countries. On the platform, professional and aspiring creators can sell their photos, vectors, illustrations, music tracks, sound effects, and videos.
The content is distributed under a royalty-free license, meaning you can sell one file to multiple buyers and receive a royalty payment from each transaction. The more files you sell, the higher your contributor level. The higher your contributor level, the bigger your royalties.
Becoming a contributor is a good option for beginners—Depositphotos has simple requirements: you must be the author of the uploaded content, be at least 18 years old, and present model or property releases or any other documentation upon request.
Become a Depositphotos contributor in four easy steps:
Open Depositphotos in your browser.
Register a free contributor account.
Pass a simple test. Upload five of your best images for examination by the platform's editors.
After confirmation, add more of your files for sale, and add keywords and descriptions to the visuals.
How can you benefit from offering free images on photo stocks?
Stock content marketplaces allow you to upload files for free download, which can help your promotion. Offering free stock photos and vector images attracts more users to a contributor profile since customers frequently search for costless content.
After downloading free files and liking your content, they can explore your portfolio in detail and purchase premium pictures. 
Moreover, free images often require source or author attribution. This way, you can boost your recognition as a photographer on the internet.
If the pictures are eye-catching, people are more likely to explore your creative works. Additionally, when your files are in demand, you can be featured in the Popular Authors category, which also facilitates your promotion. 
Tips for becoming a demanded creator
Aspiring photographers often wonder how to sell more on stock content marketplaces. Here are some tips that can help you generate demand:
Shoot what you like. Since there is a great variety of topics presented on stock content marketplaces, it's better to choose your preferable niche, e.g., landscape, portrait, street, food photography, or any other. This way, you can shoot what you enjoy and put your heart into it. Users can then find your pictures in thematic categories and explore your portfolio on the relevant topic.
Explore different photography techniques. You can present the same object in a completely new light by experimenting with composition, angle, and contrast. By trying new techniques, professional photographers also convey different meanings and create bright images.
Edit images before selling them online. Your captured visuals can't always be good due to technical issues or environmental conditions. You can improve their quality by manipulating files in graphics editors like Adobe Photoshop or Lightroom. To make your photos brighter, you can correct colors, saturation, and contrast in your sceneries. Some graphics editors also provide auto-configuration options, which can help you improve the quality of your pictures in a couple of seconds.
Create seasonal visuals. Holidays are the most prolific period for marketing promotions, where high-quality thematic pictures are required more than ever. You can make such photographs in advance and upload visuals before a specific holiday. For example, you can shoot spooky pumpkins for Halloween or capture festoon lights in a dark room for Christmas. 
Conclusion
Stock photography is gaining popularity among small businesses and start-ups due to its affordability. Being a professional, amateur, or aspiring creator, you can sell your ready-made works on stock content marketplaces and profit from each successful transaction.
Doing so, you get passive income from your photography. Working with stock content marketplaces is flexible—you can make selling photos your main source of income or a part-time job.