Ground-breaking technologies are making the world more digital. The pandemic that shaken the global economy has only accelerated this. The seed scientific report states that there should be around 175 zettabytes of data by 2025.
Brands and organizations across multiple domains, including healthcare, are incorporating this data into their business models. Big data analytics is significantly altering the way organizations function. 
Big Data – An Overview
Big data is a collection of huge complex data sets that include massive data, data management resources, and real-time data. Decades before the introduction of big data, businesses applied the big data analytics process to examine a large amount of data.
Basically, modern big data analytics systems allow you to gain insights and uncover trends to make quick business decisions. This ability to make business decisions with agility offers a competitive advantage to businesses. 
Data-Driven Brands Using Big Data Analytics 
Data-Driven brands established a business model where data is utilized to make business decisions from product development or marketing.
1. Netflix
Netflix is one of the best examples that use big data analytics for marketing and advertising. With over a hundred million subscribers, the brand collects vast data, which is the key for Netflix to boost sales.
For example, if you are a subscriber, you must have experienced how they send you suggestions of the following series or movie you should watch.
This is done using your past search results and watch data. This data helps them gain insights into what interests the subscriber most.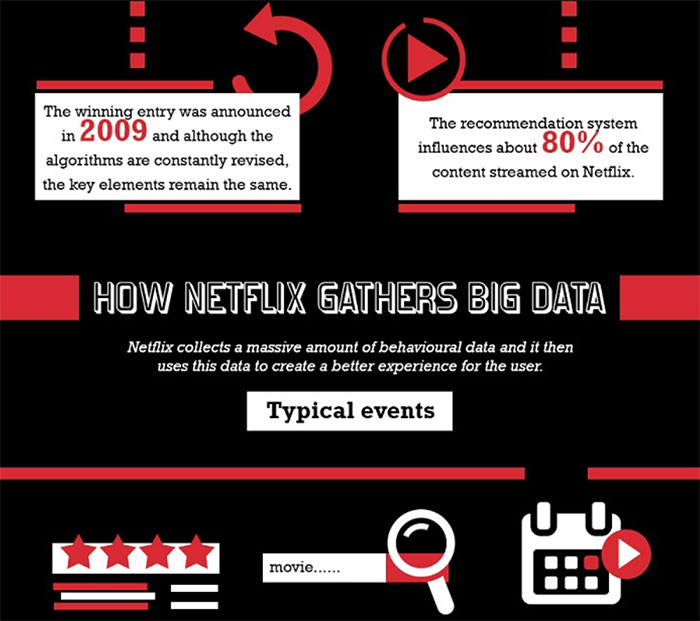 2. Amazon
Amazon Fresh and Whole Foods is a perfect example of how big data plays a critical role in innovating and optimizing product development. Amazon uses big data analytics to gain a competitive advantage on a large scale.
Overall, focusing on big data analytics enables Amazon whole foods to understand the thought process of customers and suppliers for buying groceries and interacting with the grocer. This data gives insights whenever it is critical to implement further changes.
3. UOB Bank of Singapore
UOB bank uses big data to drive risk management. Being a financial institution, they have considerable potential for incurring losses if risk management is not well thought of.
Using the big data risk management system helps the bank diminish the calculation time of the value at risk. Initially, it took around 18 hours with the traditional process, but it only takes a few minutes with the big data risk management system. 
How Healthcare Sector Using Big Data
The healthcare industry is one of the biggest and complex domains in modern-age society. As a result, there is a consistent demand for accurate and productive Assistance for patients.
Hence, the healthcare industry is encountering complete disruption. For the last few years, the healthcare industry has seen massive advancement in measuring data.
Data makes a hassle-free journey to comprehend patients in an ideal way, getting indications and signals before the schedule is conceivable for genuine ailment treatment.
1. Telemedicine
Telemedicine is a prominent example of using Big Data in health care. The Internet of Things (IoT) made it possible to track vitals and control treatment processes. In addition, smartphones, wireless wearable devices allow delivering remote clinical services.
Big Data analytics make initial diagnosis more efficient based on other patients' data with the same symptoms, genetics, and lab test results. Predictive analytics is also used to detect acute medical events and prevent the patient's condition from worsening and unnecessary ER visits.
Furthermore, big data in telemedicine can detect accurately and frequently unwell patients in population health programs and deliver better care while reducing costs.
2. Real-Time Alerts
In the healthcare domain, real-time alerts are considered a crucial case of big data analytics. This is because these alerts can effectively prevent hospital infections.
According to health.gov, 1 in 25 inpatients are infected in hospital care. These infections lead to thousands of deaths in the U.S. each year.
For example, OhioHealth and IBM tandem using big data analytics incorporated using IBM wireless sensors networks and real-time big data analytics measuring hand washing practices in the hospital in Columbus, Ohio.
At hand washing stations in the hospital, the sensors were installed and transferred data about the use of each station via a wireless mesh network. Further, the data was matched to hospital staff entering and leaving patient rooms.
The cloud technology is helpful to analyze and store data in real-time to generate reports and compliance studies. The motive is to deliver OhioHealth hospital administrators hand hygiene data in real-time. So it can be used in mitigating the risk of healthcare-associated infections (HAIs).
3. Big Data and EHRS
One of the critical use cases for big data in health care is electronic health records (EHRs). The HITECH act supports the use of EHRs, and it complies with HIPAA rules and standards.
EHRs use and analysis helps in optimizing care coordination and reducing healthcare costs. For example, sharing data between physicians and care providers can eliminate duplicate tests and drug prescriptions.
Moreover, predictive modeling based on data from other patients with a similar condition, genetic factors, and lifestyle can result in better-targeted therapies.
Using big data analytics based on real clinical encounters can identify the links between diseases and update guidelines and clinical recommended treatment protocols.
4. Predictive Analysis
Predictive analytics is another widespread use of Big Data analytics. Let's take an example of four hospitals of the Assistance Publique-Hôpitaux de Paris in Paris. They are testing machine learning systems and big data analytics to forecast admission rates.
The system incorporates data from multiple internal and external sources. For example, using time-series analysis techniques includes ten-year hospital admissions records to predict the day and hour-level number of patients expected to attain. Overall, this system benefits in the deployment of resources and better patient outcomes efficiently.
How Big Data TestingCan Benefit Healthcare Sector
To benefit from the generated big data, software companies across multiple domains, including healthcare, focus on testing them. Some of the advantages of big data testing are discussed below.
1. Improve Business Decision
Big data helps management in making or automating the better decision-making process. When the correct data is in the hands at the right time, it helps predict the risks. Thus, it contributes to the decision-making process.
An Accenture survey suggests that organizations not embracing big data will lose their competitive position and even face extinction.
2. Accurate Data
Accurate data will help businesses analyze their business competition and focus on their weak areas to strengthen their power. This data should be validated for its accuracy and reliability in any big data application. It can be achieved with a resilient big data testing process.
3. Minimizes Losses and Increases Revenues
According to Gartner, on average, businesses lose $8.2 million annually due to the poor quality of big data. Hence, many brands have initiated placing quality strategies to analyze insufficient data from good data; still, the losses are at their peak.
Big data testing helps mitigate such losses by segregating valuable data from the pile of semi-structured and unstructured data. 
Wrapping Up
Big Data is and will continue to rise in this digital age. Many leading brands across the industries are already experiencing it. Business leaders who understand how to gain an advantage from big data will remain ahead of their competitors in the long run. So don't hesitate; work smarter!