2020 has been a year to accept a lot of changes, from attending online classes to learning dance online, quite a few things have been happening.
Online courses give students and working professionals more feasibility to learn new things while carrying out their daily work schedule.
Online instructor-created videos are more engaging and help to build a connection between the student and the instructor.
Additionally, it makes them understand the concepts in a better way and enhances instructor presence.
If you plan to teach online, but do not have a proper media studio where you can shoot it, you have landed in the right place.
Here you will get to know everything that's required to record a video.
Things Needed for Creating a Video
Most importantly, it's essential to gather all the elements required to shoot a video. Missing a single element will not allow you to start recording your video. The equipment required is:
1. Webcam
You need to have at least one of the following: either a Webcam, Smartphone, or a video camera. If you do not have any of this equipment, you need to get them first to start recording a video.
2. Video Recording Software
The next piece of equipment to look for is the software to record the video. Wondershare DemoCreator is a leading platform to record a video. Simultaneously, the Screen And Audio Recorder can record both video and audio, and the process to do that is easy.
3. Editing Videos
The next piece of equipment is to look for software to edit a video by trimming, adding annotations, resizing videos, drawing a border, freeze frame, etc. But with the great Computer Screen Recorder, you can record and edit in a single application. There is no need for you to look for a different platform as it has both the features.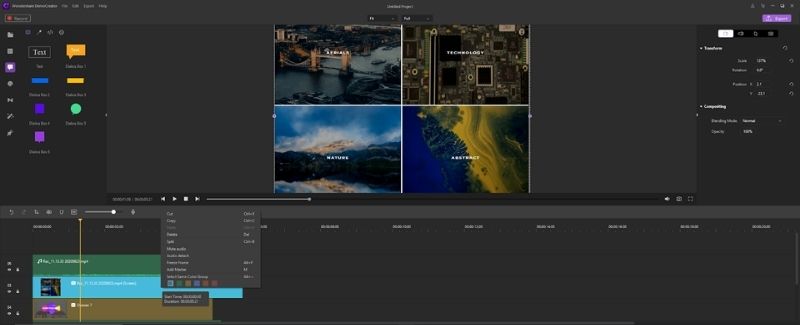 Plan how to shoot A Video
Well, shooting a video is not as easy as you might think. Of course, you have the finest platform now to do it, but many other aspects are also important, and they are:
1. Things to talk about
Most crucially, you need to first know the topics that you are going to talk about. If you are not clear on the topics you need to speak about, how can you explain to others.
So, be sure about which topic you will speak and how, and for that, it would be better if you plan it way before. As a result, you will not face any challenges while shooting the video.
Also Read: 5 Factors to Consider Before Choosing a DIY Video Making Tool
2. Eliminate Unnecessary Stuff
Shorter conversations make lectures more engaging, and it helps students understand the concepts in a better way. If an online video contains a lot of unnecessary conversations, it will be boring, and at last, nobody would like to attend your online classes. So, try to keep it as short as possible.
3. Prepare the Stage
Selecting a proper location to shoot a video is essential. A video should be clearer and brighter so that a viewer does not face difficulty in watching it.
The reason why a person is watching a video should be fulfilled when they are doing so; otherwise, they will never watch your videos again, leading to a loss of viewers.
4. Include Important Facts
While talking about a particular concept, ensure that you include as much information as you can. If required, add captions and include the information when you are editing.
It helps students to know extra things apart from the regular topic. Seeing this, they would love to opt for your videos instead of other online courses.
Recording and Editing
Keeping the above aspects start recording the video, and the process to do it is explained here.
Screen Recording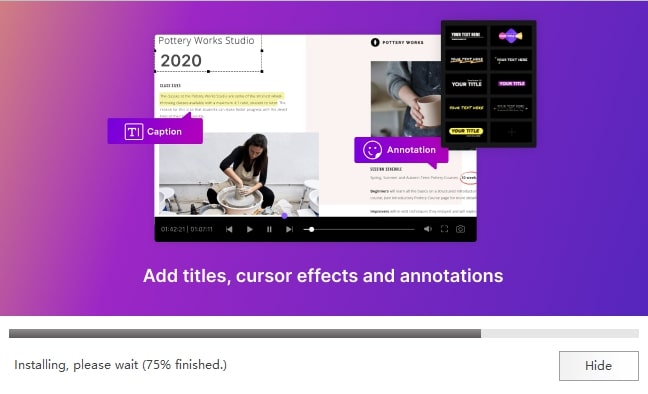 Like any other software, download and install an application by proceeding to their website. You will come across an option saying "Free Download", click on that and wait till the process gets over. After that, click on the "Start" button and start recording and click on "Stop" when it's done.
Editing A Video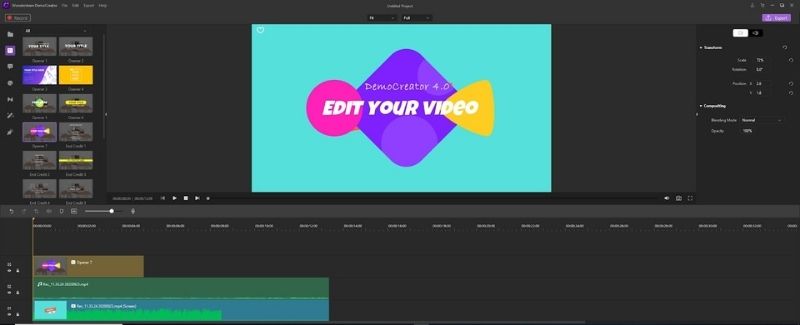 Soon after recording, you will enter a video editing tool and you also can upload videos you want to edit.
You will come across video editing features on the same page where a lot of options are available like rotating video clips, split video, cut video clips, etc.
Along with that, add effects to make your video look more interesting and creative. Whoever is opting for your online videos should feel satisfied after watching them.  
And Finally!
Videos created for online studies must be present in a well-mannered way. It does not mean you need to be professional as you can make your lectures casual.
As a result, more students will feel connected to you. It helps build a personal connection between the learner and the students, even through remote learning.
Try to make your video as interactive as possible. To record and edit tutorial videos, Wondershare DemoCreator is always there at your service.