SMS Survey is an economical and efficient way to send surveys in bulk. With SMS Surveys, you can share the link of your online survey via SMSes so that respondents can easily tap the link in their messaging app and reach your survey.
SMS survey is much more effective than Email. According to Gartner, SMS open rates are as high as 98%, compared to just 20% of all emails. And, on average, it takes 90 seconds for someone to respond to a text and 90 minutes to respond to an email.
Also, the probability of getting accurate feedback data is high with SMS Survey Software. According to the University of Michigan, people are more likely to give accurate feedback over text.
SMS has a read rate of 98%, which is nearly five times the email, and 90% of the SMS are read within 3 minutes of receiving. SMS Surveys also expand your reachability among audiences.
Which SMS Survey Software will boost your response rate and save the time of your team to monitor and analyze customer data? However, not all software is user-friendly or possible to integrate with your current workflows.
In the following roundup, we've listed the top 10 SMS Survey Software along with their pricing, integrations, and reviews.
Top 10 Best SMS Survey Software
1) Zonka Feedback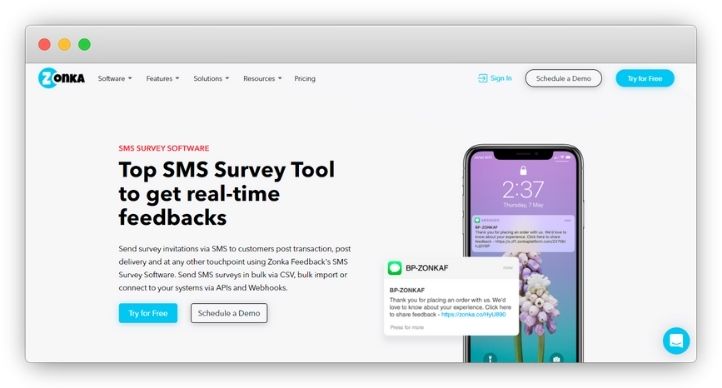 Review Score – 4.8/5
Ease of Use Score – 4.9/5
Price – $29/Month
The easiest and quick way to reach the audience is by sending survey invitations via SMS. Zonka Feedback's SMS Survey tool enables you to send SMS surveys in bulk via CSV, bulk import, contact lists, or connect to your systems via APIs and Webhooks.
Easily schedule your SMSes to be sent at different intervals or with integrations trigger the SMS Surveys based on various events like after transaction, delivery, appointment, visit, and more.
You can send any type of survey (choose from expert survey templates) via SMS, including NPS, Customer Satisfaction, Post-Event and Transaction, and more 40+ question types.
2) Survey Sparrow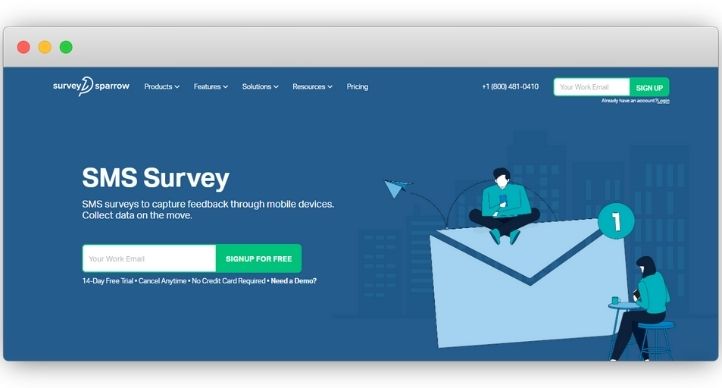 Review Score – 4.8/5
Ease of Use Score – 4.9/5
Price – $19/Month
SurveySparrow software helps you connect with your customers and share surveys via text. The extensive range of custom options let you make your SMS survey clear, crisp, and to-the-point.
With SurveySparrow, you can easily customize your feedback surveys with white-label features like custom domain, CSS customization, etc.
SurveySparrow's reporting module helps you to capture real-time data and track survey performance. It offers various other features like scheduling reports automatically, filter responses, add tags, and much more.
3) QuestionPro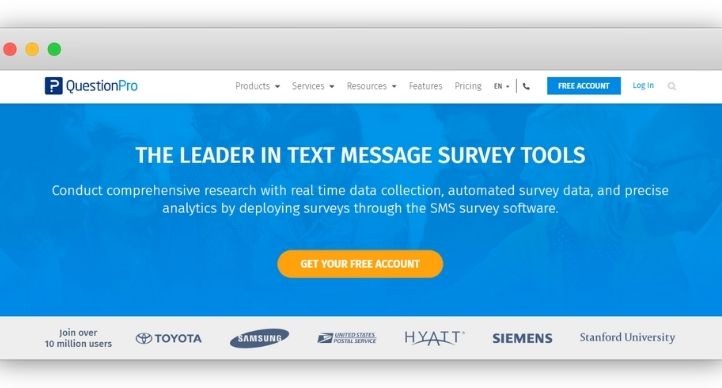 Review Score – 4.8/5
Ease of Use Score – 4.4/5
Price – $85/Month
Create, Send, and Analyze SMS Survey quickly with QuestionPro. With 350+ survey templates and 40+ standard question types, it helps you to gather valuable data on the go.
The automated survey distribution system enables you to send your survey in bulk by connecting survey tools to your systems via APIs and Webhooks.
QuestionPro deploys various advanced analysis methods like Conjoint Analysis, TURF analysis, GAP analysis, and Trend analysis to get real-time insights.
It offers an advanced reporting system that provides a real-time report and allows you to download and share it with the teams.
4) SurveyMonkey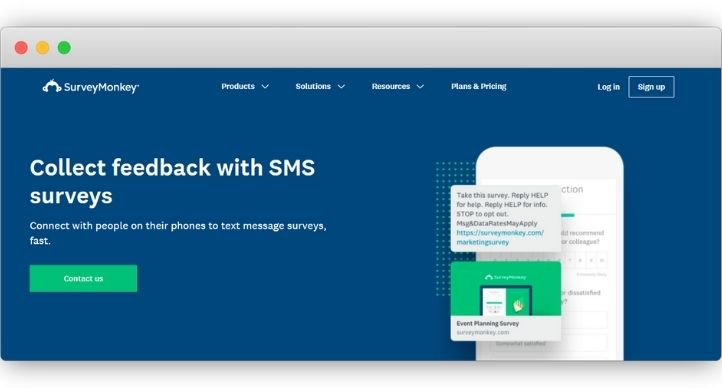 Review Score – 4.8/5
Ease of Use Score – 4.4/5
Price – $99/Month
Capture real-time feedback data at critical points of the customer journey with SurveyMonkey software. Suppose you want to capture instant post-dining feedback or post-training or onboarding employees' feedback.
In that case, SurveyMonkey automates the trigger of the survey at an ideal time to gather a more accurate response.
You can also deploy SurveyMonkey to run Net Promoter Score, Customer Satisfaction Score surveys via SMSes to get feedback on products and services, or to gauge the satisfaction and loyalty level of the customers.
5) Wootric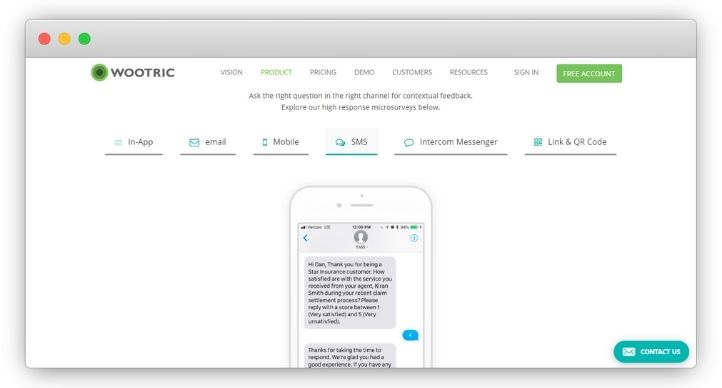 Review Score – 4.6/5
Ease of Use Score – 4.4/5
Price – $89/Month
If you are specifically looking for software to distribute customer experience metrics surveys (NPS, CSAT, and CES) via SMSes, then Wootric is a good-to-go option.
You can get the score and qualitative feedback inside your app or website, via SMS. If your customers are global, Wootric quickly personalizes your survey experience with multiple languages.
In-built features like custom filters, response alerts, instant CX analytics provide instant survey analytics and quick reporting.
Having integration with some popular CRM platforms and applications like Salesforce, Intercom, HubSpot, Slack, Zapier, and more, Wootric triggers workflows to close the loop with customers.
6) Delighted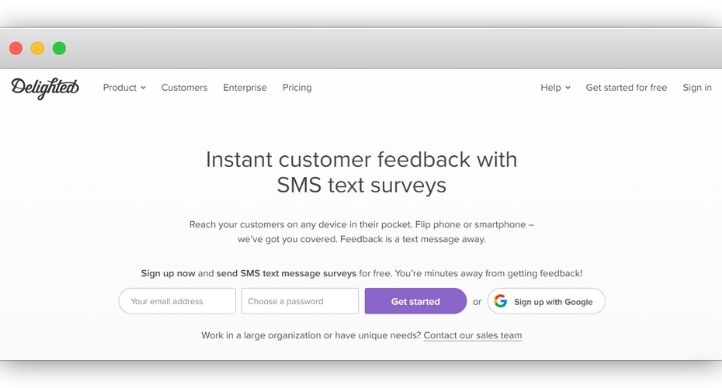 Review Score – 4.9/5
Ease of Use Score – 4.9/5
Price – $89/Month
Delighted is a user-friendly SMS survey tool that enables both small and medium-sized businesses to reach their customers without an internet connection.
With Delighted, you can conduct code-free customization that allows you to customize your survey without indulging in messy code work.
Using Delighted, you can send SMS surveys in 37 different languages. You can also automate the schedule of your survey at various customer touchpoints at an ideal time. Delighted is seamlessly integrated with third-party apps such as Salesforce and HubSpot.
7) TextLine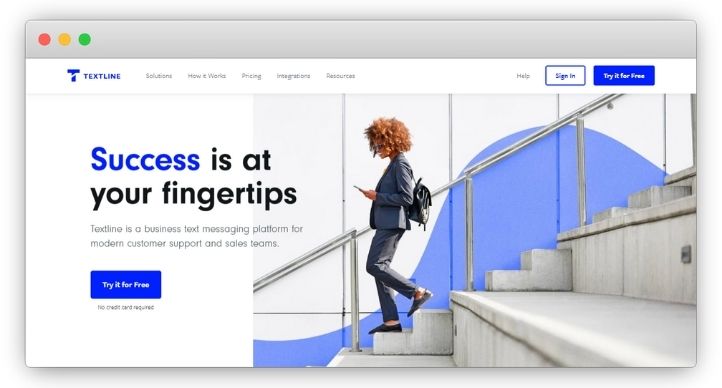 Review Score – 4.8/5
Ease of Use Score – 4.4/5
Price – $47.97/Month
Textline is a business text messaging survey platform that is useful for new customer support and sales teams.
This simple SMS tool helps you to conduct the Net Promoter Score Survey and collect NPS data through SMSes.
TextLine can be significantly used to take post-service or post-interaction feedback. You can integrate TextLine with your Helpdesk Tools and trigger SMS Surveys when tickets are closed.
With this, you get instant real-time feedback about your support team. It enables you to identify trending issues in your support team and gauge their performance level.
8) Getfeedback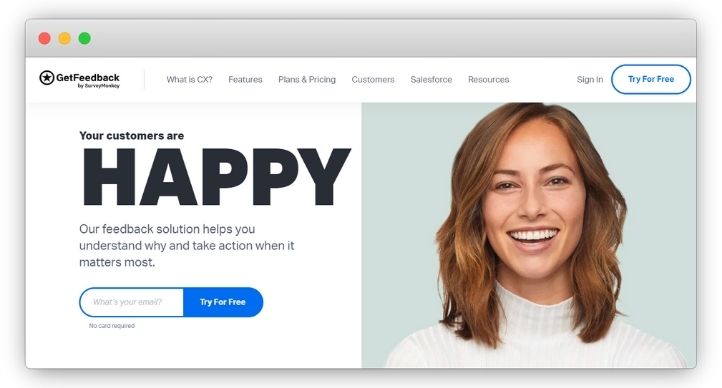 Review Score – 4.8/5
Ease of Use Score – 4.8/5
Price – Visit the website.
Getfeedback helps you to gather timely and accurate feedback at multiple touchpoints. It optimizes the SMS feedback channel and launches SMS Invitations.
It enables the companies to collect automated, integrated, branded SMS surveys on-the-go. With GetFeedback software, you can build & send responsive NPS and CSAT surveys via SMSes in minutes.
9) Textlocal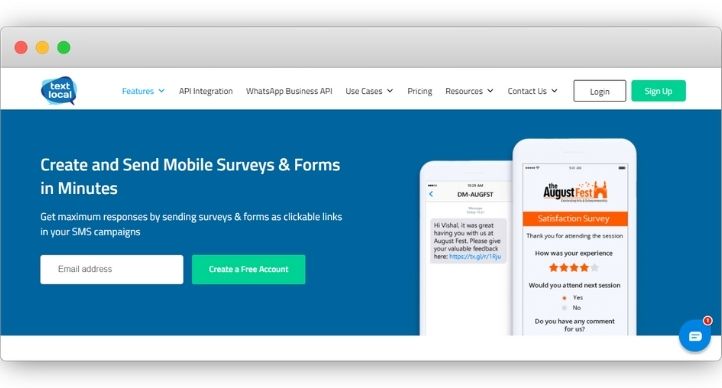 Review Score – 5/5
Ease of Use Score – 5/5
Price – Visit the website
If you want to reach out to your customers quickly and in a real-time way, then Textlocal helps you to create, collect, and distribute surveys via SMSes.
Custom features like bulk SMS management, OTP system, 20+ regional language, SMS templates & history, flexible contact management not only personalize the survey experience for your respondents but also helps you to manage your survey data at a jiffy.
With Textlocal, you can send SMS surveys with Web UI, SMS APIs, Email to SMS, Excel Plugin, WordPress Plugin, and Magento Plugin.
10) TextMagic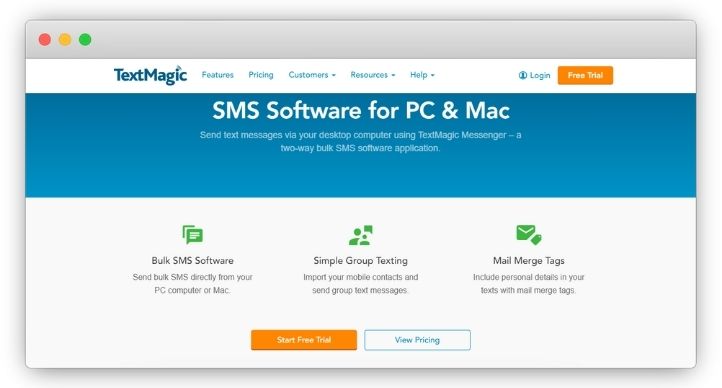 Review Score – 4.6/5
Ease of Use Score – 4.7/5
Price – $10.00/one-time
Get valuable feedback on your products, services, or brand instantly from your customers with the TextMagic SMS survey tool.
Various features like in-built templates, quick setup of a survey, automated scheduling, and real-time analytics will make this tool fit for your existing workflows and processes.
TextMagic offers an SMS Gateway API for any application to integrate text messaging with your current business system seamlessly.
More Related
Best iPad Survey Softwares for 2021
Best Customer Feedback Software & Apps in 2021
Awesome Benefits Of Online Survey Software