Marketing is a significant part of any business, whether it is small or big. No matter how much you have invested in your marketing efforts, they all can go into vain if you only execute your strategies without knowing how they are performing and how your customers are reacting to it.
Opinions of the customer, especially the ones that come from your loyal ones are very crucial to analyze what marketing strategies work for your business.
Remember, your customers are an excellent source of information that can lead to the growth of your company. And the best way to garner information from them is by conducting surveys. Let's check out why customer survey is essential for your business.
Why Surveys Are Important
1. Customer Loyalty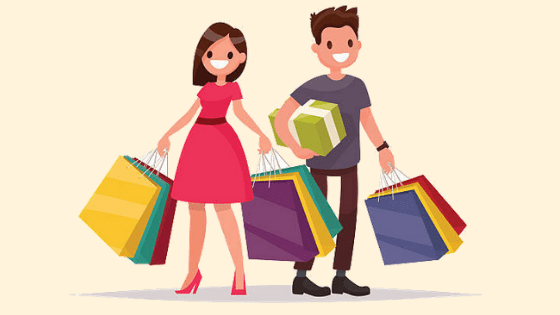 There is only a slight difference between the large scale and small scale companies, and that is, the number of loyal customers. You might have observed, there are certain brands which are independent, and people use their products till their last breath.
To calculate how many customers are loyal to your brand, you need to know how much your customers are willing to promote your products.
You can find this easily by conducting customer surveys. All you have to do is, ask your customers question such as – Will you recommend this brand/product/services to your contacts, and give them the option to rate you between 1-10. Depending upon the majority of the response, you can estimate how loyal your customers are with you.
Apple does it all the time. After having an extensive online presence. Apple spends a billion behind the design of their physical stores.
According to them, it helps to enhance the relationship with their customers. When the customers get delighted with the experience they had on a store, they would tell their friends and relatives.
Therefore, to know what kind of experience people are having Apple uses NPS surveys. Regardless of people making purchases or just trying an Apple watch, they send an email survey to get to know the detractors and improve their retail stores.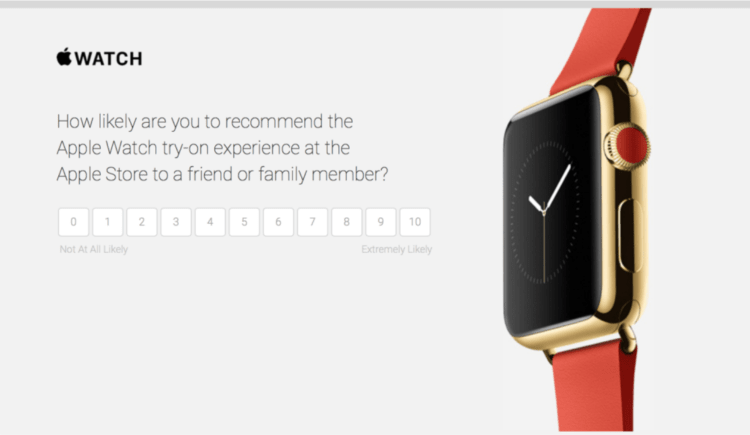 2. Customer Source 
To improve the ROI of your marketing campaigns, you first need to know the source,  that is, from where most of your customers are coming. And this can be possible by taking a survey on your audience.
The data you will receive from that will help you understand which all sources you need to optimize for your audience. In this way, you can reach out to as many targeted audiences as possible. 
Amazon brilliantly does this by framing such questions for surveys that can help them to know whether customers are getting aware of their platform more through the web or mobile app.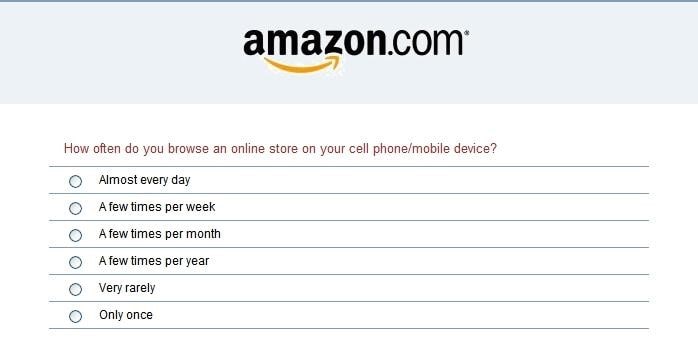 3. Buyer Psychology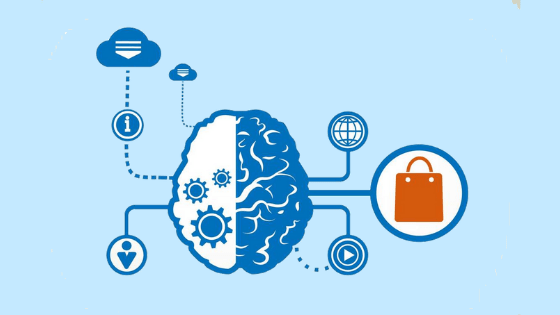 Another thing that you can get to know through surveys is the behavior of your customers. It is very significant to know what all products your customers prefer to purchase, how and where they like to shop.
And you can get all these answers from your customers by smartly framing your questions and including them into the surveys.
When you know about the products that are being loved by your customers, you can improve your sales by making them more of those kinds.
Similarly, after understanding whether your audience prefers to shop from your website, app, social media channels, or stores, you can work more on that platform to provide the best user experience. 
In addition to all these things, conducting surveys frequently can also make you aware of your competitors that are standing in between you and your customers.
If you look at the current scenario, many small scale companies like Traders Joe's (US-based company) are also taking full advantage of the surveys.
With the help of surveys, they ask their customers about their preferences when shopping for groceries so that they can expand their business according to that.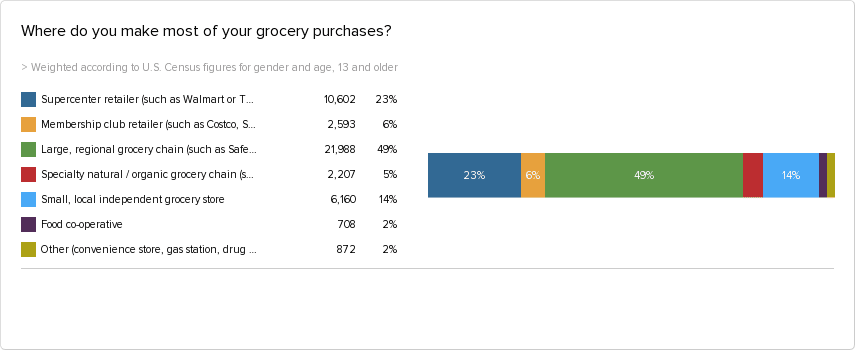 4. Customer Decision
Surveys also play a vital role to discover the audience who has left the buying process in between, keeping the items in the cart. Analyzing why people are buying your products and why they are not buying, both are equally important.
So, by conducting surveys, you can take the feedback from your customers and improve the areas where you lack according to them. 
Amazon is one of the largest companies that works quite smartly to get all kinds of valuable information from its customers. In this e-commerce site, users get answers to their questions and queries in the site itself as buyers reviews are openly displayed for the products which impact customers decision.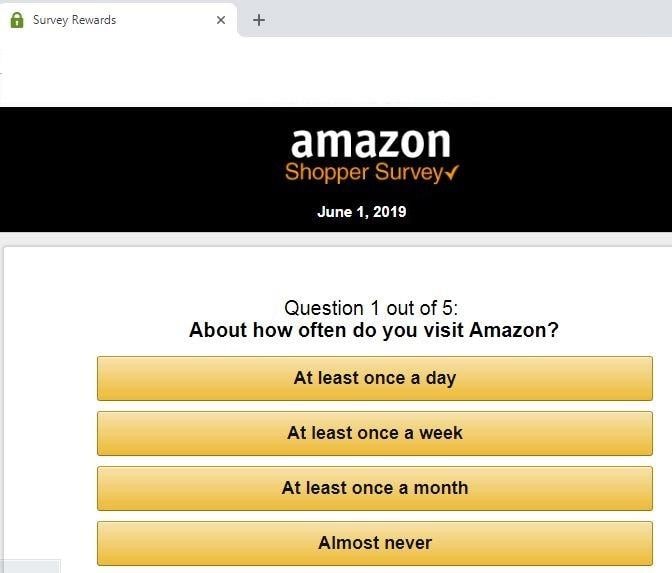 5. Market Research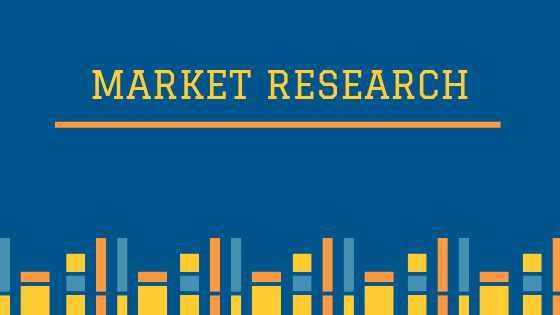 One of the best reasons for launching surveys is to analyze what your market likes and what all things they find significant. Surveys help you to apprehend your customers. And to grow your business, you need to see, hear, feel, and think like them.
However, it is also not easy to directly get all the answers from your customers. Therefore, you need to organize creative and unique surveys through which you can able to prompt all the valuable information that you wanted.
For example, Skype, no doubt it is a well-known name in every household and especially in the IT sector. These people use the best technique of sending feedback to the users whenever they perform any actions.
The benefit of doing this is, users will not ignore the feedback message because it prompts immediately at the end of specific activities and due to this, the brand receives almost 80% participation of their users for the survey. Isn't it great?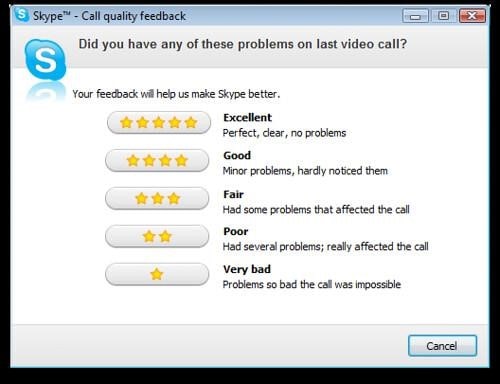 6. Customer Experience 
Selling your products is one thing, but how you would know the experience of the customers after using your products or services.
Surveys are of great help when it comes to gather the opinions of buyers about your brand and also to strengthen your relationship with your customers. 
Moreover, when you send survey questions to your customers either through email, SMS or via any other platform, they feel like they have listened. It creates a good impression of your brand that you care for your customers and prioritize their likings.
Many big brands also stick to this technique, for example, Netflix. It does not leave any stone unturned when it comes to providing customer satisfaction.
Its recommendation system is very much customer-friendly. This platform often asks survey questions to its audience to analyze their behavior and then recommend the movies as per the ratings or likings of the viewers.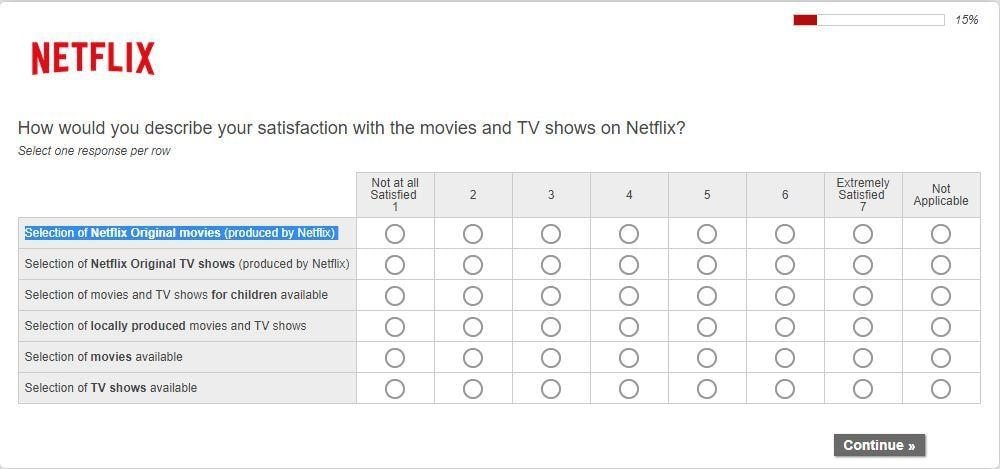 7. Tracking Performance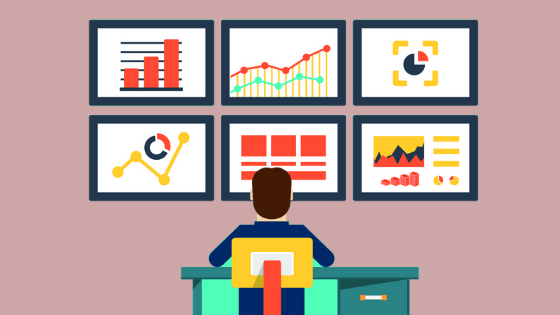 Creating and implementing marketing strategies to drive your sales is a good practice, but only relying on this process cannot help you to grow for the long run. Surveys are of various types and for different purposes.
You can conduct a survey to manage your operations, and the information gathered from it can help you to track the performance of your strategies as well as how good you and your staff members are doing. Majority of the call centers track their performance through surveys only.
However, Uber is an expert in doing these kinds of surveys. It provides transportation services and, basically has 2 types of customers, drivers, and passengers.
After every trip, the passengers get a survey form to rate their ride, and similarly, the drivers also receive a feedback form to rate their passengers. Seemingly, this technique makes the services fair for both.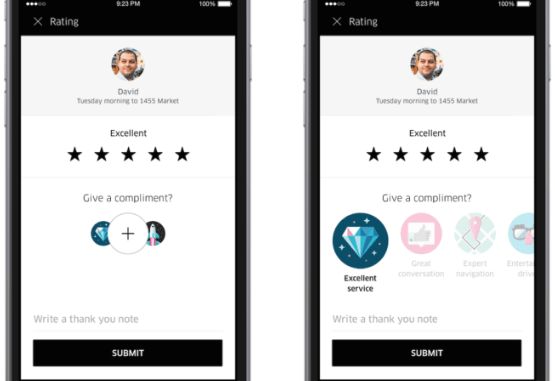 8. Customer Demographics 
Surveys can also help you to deepen the relationship with your audience as you can also ask about their work, lives, challenges they face, needs, and requirements.
Later, depending upon the majority of the responses, you can launch some new products or services and even understand your target audience for future campaigns.
Companies like Adobe conducts the best demographics survey by composing close-ended questions. They generally provide multiple-choice questions, so that it takes less time for customers to answer and will also create a good impact on them.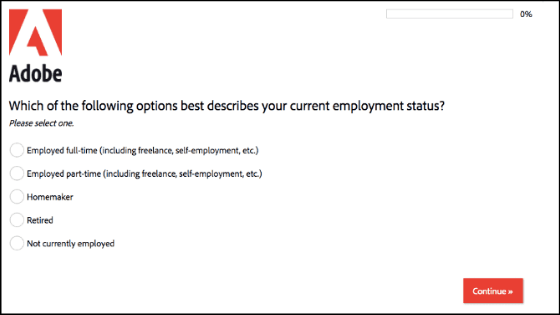 9. Customer Follow-Up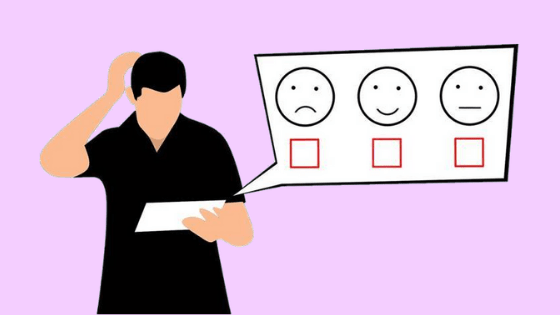 More detailed surveys which are carried out just after the sale can also bring credibility to your brand. When your customer buys something from you, and after that receives the survey regarding those products, then they feel that your company is customer-oriented. Also answering to the feedbacks build a sense of credibility about your brand in their minds.
It often happens in social media, when companies connect their targeted customers through social networking platforms. Automation tools like Socinator can help you to automate your response, in case you have so many customers to reply. 
Mostly Hotels or a product based company follow the technique of sending a detailed survey to know every small detail about users experience. It truly helps them to improve their business.
Hilton Hotel is unquestionably ahead in this game. If you have ever visited any of their branches, then might already know how sincere they are in collecting feedback from their customers.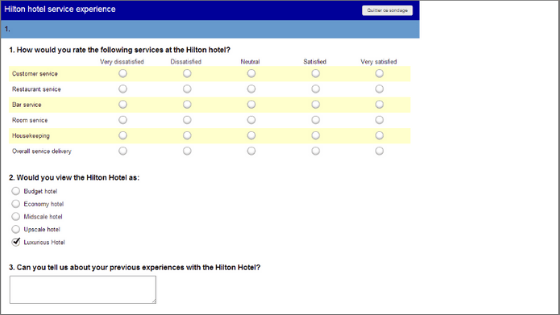 10. Audience Segmentation 
You might already know that for a particular brand, there are different types of customers. Some people only check your products but don't buy them, some buy your products but are not satisfied with them, and some are your loyal customers.
Apart from this, there are so many other types of customers. As an emerging brand, surveys can help you to segment your audience and understand who you need to target.
Have a look at how Target, one of the leading e-commerce sites use surveys to know about their audience.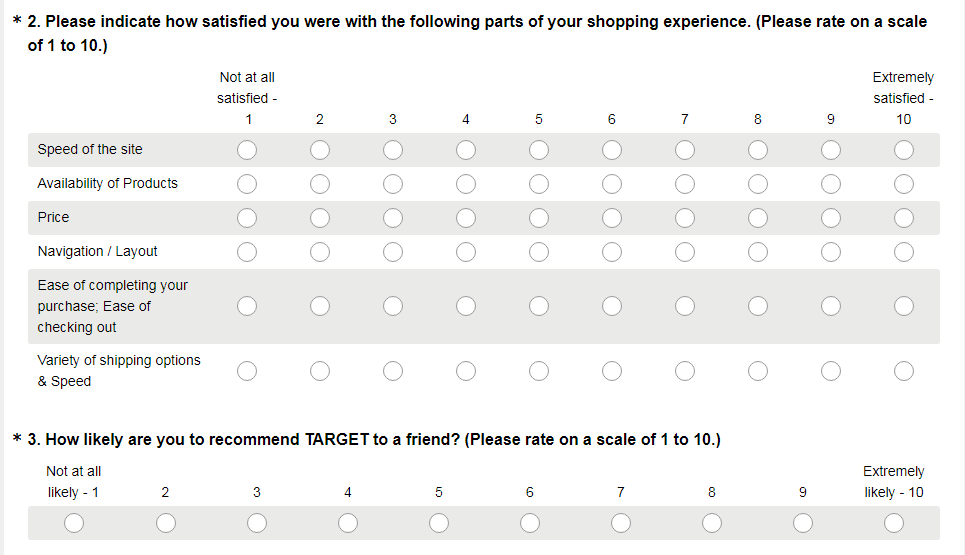 As you can see, these people ask customers to rate them, if they find their website appropriate, to recommend it to a friend. It helps them to get an idea about the number of loyal customers.
On the other hand, if you check out the other question, you will see how beautifully they ask customers about their experience and from the response they can assume how many of them will definitely visit the site again, how many are confused and how many will never visit again.
11. Customer Advocates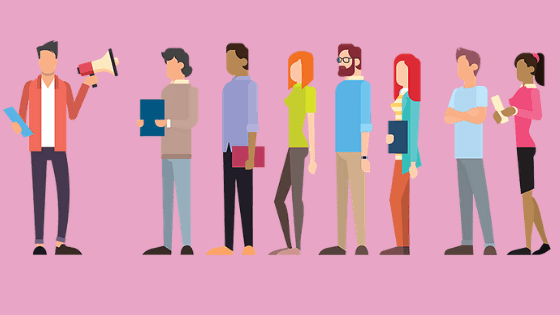 How do you know whether your customers are referring your brand to their friends or not? Although companies create different marketing strategies to expand their reach.
But nothing can be more effective than word of mouth recommendations. And through surveys, you can come to know who all are satisfied with your brand and willing to recommend.
Paytm is one of the leading e-commerce payment systems, which is expanding rapidly. This platform takes customer feedback seriously into consideration and works to improve customer experience.
You will get to see a survey question in it almost after every 2-3 purchase through which they analyze whether users are having a good time using their app.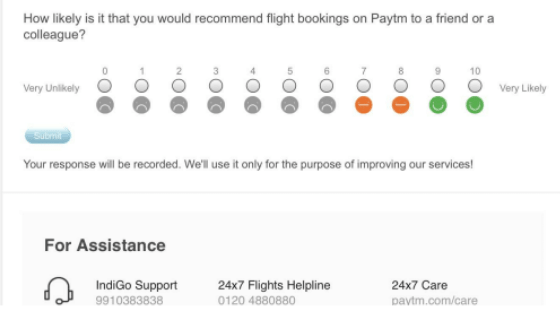 Takeaways
Satisfying the needs of your customers in this competitive world is not an easy task as there are a lot of options available in the market. But you can surely reduce your efforts by knowing the likes and dislikes of your customers through surveys.
However, we covered almost every point to make you understand the importance of a survey for your business. But, when you implement it then, you can experience a lot more positive things.