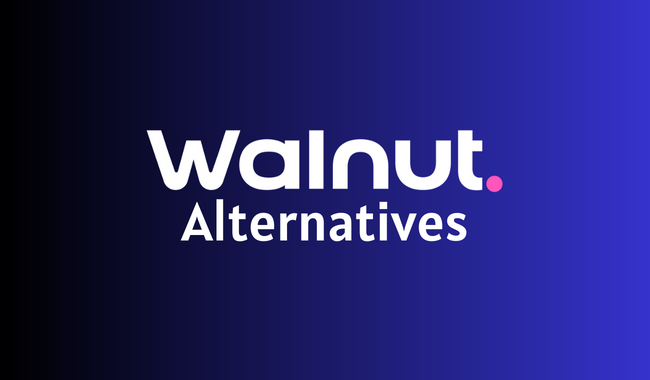 No matter which way you look at it, SaaS and digital products are taking the world by storm. By 2027, the global market is expected to reach a value of around $340 billion, as companies from pretty much every industry opt for these powerful, budget-friendly solutions over legacy systems. 
As the SaaS market continues to grow, so does the need for effective ways to showcase these digital products. This is where sales demo platforms come into play.
These platforms are essential tools for sales teams, enables them to create interactive and engaging product demonstrations without the need for coding skills.
One such platform that has been making waves in the industry is Walnut. Known for its broad set of features and user-friendly interface, Walnut has impacted how sales teams operate.
With its enhanced UI/UX, improved analytics, and better integrations, the startup has solidified its position as the market leader in the sales enablement sector. 
However, they are not alone in the market. Different platforms offer varying features and capabilities, and what works best for one team may not be the best fit for another.
So, let's take a look at some of the other demo platforms that you might consider as alternatives to Walnut.
1. Reprise
Reprise is a demo tool that empowers sales and marketing teams to create dynamic trial environments and product tours.
Such as Walnut, Reprise could be particularly beneficial for enterprise-level companies that need to create compelling demos for their prospects.
Its code-free nature enables non-technical teams to independently create custom demos, eliminating the need for constant assistance from the development team. 
Despite not having a native meeting platform, Reprise compensates with its flexible sharing capabilities. Completed demos can be conveniently shared with prospects and clients via email or a link, allowing for asynchronous communication and accommodating different time zones.
However, while Reprise aims to offer a robust platform, some customers have expressed that the support could be more responsive. Additionally, the platform's UI is more tech-oriented, which might not resonate with all users, particularly those in the go-to-market sector.
2. Demostack
Demostack is a no-code product demo platform that provides pre-sale engineers with the tools to create product tours. The platform's selling point is its ability to clone your product into a sandbox environment by simply copying the URL into the platform.
Similarly to Walnut and Reprise, Demostack also removes reliance on back-end teams, making it a suitable choice for sales employees who want to quickly engage potential customers.
However, it's worth noting that Demostack does not have a native meeting platform or listed integrations, which some of its competitors offer.
While Demostack aims for simplicity and ease of use, some customers have reported that the technology doesn't always fulfill its promises and that it lacks some of the features that can be found on competitor platforms.
Despite these limitations, Demostack's focus on providing pre-sales teams with the right tool is surely something to keep an eye on.
3. Navattic
Navattic is a product tour platform that enables users to create shareable demos. They have a rather small team in terms of funding and headcount, but the founders are former sales engineers. Navattic aims to eliminate the need for expensive engineering resources for demo creation.
Navattic's goal is to allow pre-sales and marketing teams to create shareable, interactive versions of their apps without needing to code anything, and embed those on web assets.
Navattic supports top-of-funnel website embeds, which may limit its application for some users. Nevertheless, Navattic's simplicity, speed, and focus on product-led growth make it a noteworthy option for teams looking to create and share product demos.
4. Storylane
Storylane is another player that emerged in the space recently, but with a premise to be completely PLG and free to use at first. It stands out as one of the few platforms offering a free version, albeit limited to one demo, making it an attractive option for those seeking a cost-effective solution.
The platform allows users to build and embed product tours on a website and send them via email. It also provides the ability to leave behinds for post-sales calls, all using no-code tools, similar to the other platforms.
According to some online testimonials, it's worth noting that Storylane is a smaller platform and may be considered an MVP-style product. Its technology may seem experimental and may not scale as well as other platforms, especially for larger companies.
5. Consensus
Consensus is a demo platform that has been in the market for over a decade, initially as a video product. Recently, it has pivoted to interactive demos, demonstrating its willingness to evolve with the new market's needs.
Similarly to the other existing platforms, the video platform offers interactive video demos that are easily shareable and reusable. This feature allows sales teams to create detailed video demos that can be shared with potential customers, helping them understand the product's features and benefits at their own pace.
However, some users have found the platform to be a bit heavy and slow to use. It's also worth noting that Consensus, being an older platform that has recently pivoted, may not be as enterprise-friendly or scalable as some of its newer competitors.
Picking a Winner
There are plenty of alternatives out there, each offering unique features and capabilities. As always, the best platform for you will depend on your unique needs, specific requirements, budget, and the size of your sales team.
Each of these platforms, from Reprise's tech-oriented approach to Consensus's video-based demos, offers unique ways to engage prospects and showcase your product.
By understanding the strengths and potential drawbacks of each platform, you can make an informed decision that best supports your sales strategy.