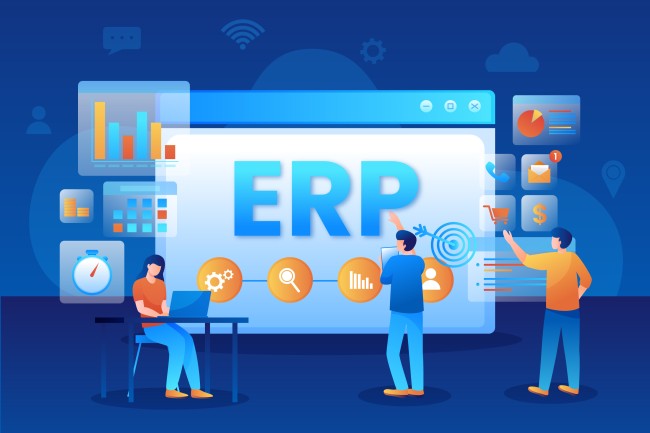 Are you tired of managing multiple software applications for different business functions? Are you looking for a one-stop solution to streamline your business operations? You're not alone! Many UAE businesses struggle to bring all their departments under one roof. Not anymore!
We're here to guide you through the exciting world of ERP software solutions in the UAE. ERP software can optimize your operations by automating processes, reducing human error, and improving productivity. It gives you a 360-degree view of your functions, thereby enhancing decision-making. 
But with so many options available, finding the right one can be challenging. And that's what we're here to help you with. Let's get started!
Top ERP Solutions in UAE
While there are numerous ERP software solutions in Dubai, here are some of the best ones.
1. FirstBit
FirstBit ERP software UAE offers an exhaustive suite of modules to streamline your processes. FirstBit ERP's compliance with UAE laws and regulations makes it the perfect choice for businesses in the UAE. The system is designed to meet legal requirements and comply with VAT regulations.
It also offers a mobile app that gives you access to the system from anywhere, anytime. The app provides real-time insights into your business performance and updates you with critical information.
Here are some more features that make FirstBit ERP the best ERP solution in the UAE
A user-friendly interface
Modules that can be tailored to your business's unique needs
Advanced reporting and analytics capabilities, including BI
Automated workflows that help you save time and reduce errors
2. Microsoft Dynamics 365
Microsoft Dynamics 365 ERP is designed to help businesses streamline their operations, gain better insights into their processes, and make more informed decisions. Besides, you can easily connect it with your existing tools to extend its capabilities. 
Key features of Microsoft Dynamics 365 ERP include the following.
Financial management: Budgeting, accounts receivable/payable, and financial reporting
Supply chain management: Inventory management, procurement, and logistics
Human resources management: Payroll, benefits administration, and employee self-service
Sales and marketing management: Customer relationship management (CRM) and sales automation
Project management: Project planning, resource management, and project accounting
However, it is suitable for large enterprises with dedicated IT resources to guide them through the technicalities of the tool.
3. SAP Business One
Gain greater control over your operations with SAP Business One. Designed for businesses of all sizes and industries, SAP Business One comes with a wide range of modules. It helps automate tedious processes, create accurate reports, and make more informed decisions.
The key features of SAP Business One ERP include the following:
Financial management: Accounting, budgeting, and cash flow management
Sales and customer management: CRM, sales forecasting, and order management
Purchasing and procurement management: Purchase orders, vendor, and inventory management
Production management: Bill of materials, production planning, and scheduling
Analytics and reporting: Real-time dashboards and customizable reports
It also offers a wide range of customization options and can be easily integrated with other software solutions, allowing you to tailor it to your needs.
4. Sage Intacct
With a primary focus on accounting, Sage Intacct ERP in UAE helps streamline various processes. Its intuitive user interface and powerful automation capabilities save time, reduce errors, and drive growth.
The software includes features like accounts payable, accounts receivable, general ledger, and financial reporting. It also supports multi-entity and multi-currency transactions.
The key features and benefits of Sage Intacct include:
Automated financial processes, including accounts payable, accounts receivable, and general ledger
Robust financial reporting and analytics capabilities, including real-time dashboards and customizable reports
Integration with other software solutions, including CRM and ERP systems, creates a comprehensive business management system
Compliance with regulatory requirements, including GAAP and IFRS
Assure jurisdiction compliance through automatic tax-law updates
Improved financial visibility and control, enabling more informed decision-making
Factors To Consider When Choosing an ERP Software in UAE
The right ERP software can impact the future of your business. Here are some factors to consider when choosing ERP software in UAE:
Business requirements: Evaluate your needs and determine how the ERP solution fulfills those requirements.
Modules: Look for an ERP solution with the necessary modules and functions to manage your business processes. You'd like to ensure it can support your business's changing requirements.
Scalability: Ensure the ERP solution is scalable and can grow with your business.
Integration: Check if the ERP solution can integrate with your other systems. This will help enhance its capabilities.
User-friendliness: Choose an ERP solution that is easy to use and navigate. This will reduce the need for extended training.
Support and training: Ensure the vendor provides adequate support and training to your team. This will make the implementation process smooth and increase the adoption rate.
Security: Verify the vendor's security protocols to ensure the safety of your business data. It could include 2FA, encryption, and disaster recovery options.
On-Premise vs. Cloud ERP Dubai: Which is Better?
There are two types of ERP systems in Dubai: on-premise and cloud. You need to choose the right one per your business needs. Let's understand the difference between the two. 
| | |
| --- | --- |
| On-Premise ERP Solution in Dubai | Cloud-Based ERP Software in Dubai |
| Is installed on-site, on the company's own servers, and managed by the IT department | Is hosted off-site, on the vendor's servers, and accessed via the internet |
| Businesses have full control over the software, data, and infrastructure | Offers greater flexibility and scalability, as businesses can easily add or remove users and features |
| Require significant upfront investment in hardware, infrastructure, and IT staff | Has lower upfront costs |
| Upgrades and maintenance of the software are the responsibility of the business | The vendor is responsible for upgrades, maintenance, and security of the software |
| Requires you to visit the office to access the system | Can be accessed from anywhere using a web browser or its mobile app |
Tip: Analyze which model fits your business's long-term goals and budget before implementing one.
Wrapping Up
With the right ERP software in place, businesses in UAE can gain better control and visibility over their financial and operational data, improve decision-making, and ultimately drive growth and success.
We've listed the best ERP in Dubai to make it easier to pick the right one. Let us know in the comment section below if you've used any of these tools.