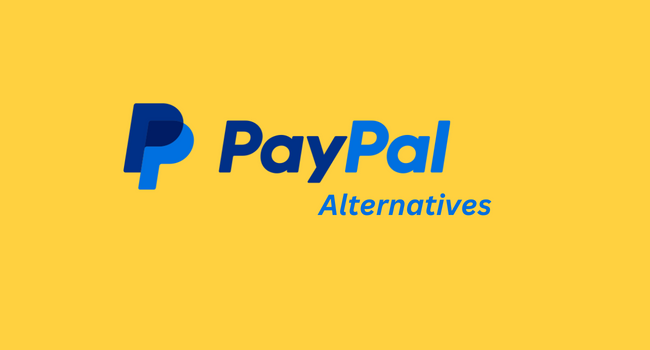 PayPal has long been a dominant player in the world of online payments, but with the rapid growth of e-commerce and digital transactions, several alternatives have emerged to challenge its position.
Whether you're a business owner looking for more cost-effective solutions or a customer searching for more versatile options, it's essential to know about the top alternatives to PayPal.
In this article, we will explore the top 10 best PayPal alternatives for secure online payments.
Best PayPal Alternatives
1. Stripe
Stripe is a powerful and popular online payment platform designed for businesses of all sizes. It supports various payment methods, including credit and debit cards, Apple Pay, Google Pay, and ACH transfers.
With its developer-friendly API, Stripe can be easily integrated into websites and mobile apps, making it a perfect choice for e-commerce businesses.
Key features of Stripe:
Transparent and competitive pricing
Advanced fraud protection and security measures
Subscription management and recurring billing options
Supports multi-currency transactions and payouts
Developer-friendly API and extensive documentation
2. Square
Square is both an online and offline payment solution, offering mobile and physical card readers for brick-and-mortar businesses, as well as e-commerce solutions for online retailers.
Square's user-friendly platform provides a comprehensive suite of tools for managing payments, inventory, and customer relations.
Key features of Square:
No monthly fees for basic services
Simple and flat-rate pricing for transactions
Customizable point-of-sale (POS) system
Invoicing, recurring payments, and online store integration
Robust reporting and analytics tools
3. Google Pay
Google Pay is a digital wallet and online payment system that allows users to make contactless payments in stores, online, and in-app purchases.
It's an excellent option for businesses looking to accept mobile payments from their customers.
Key features of Google Pay:
Free to use for both individuals and businesses
Seamless integration with Android devices and Google services
Multi-layered security and fraud protection
Supports loyalty cards and offers
Easy setup and user-friendly interface
4. Skrill
Skrill is an online payment and digital wallet service that enables users to send and receive money, make online payments, and shop securely.
It is particularly popular among international users and those in the gaming industry.
Key features of Skrill:
Supports over 40 currencies and 200 countries
Low-cost international money transfers
Prepaid Mastercard option for easy access to funds
Dedicated merchant services and payment gateway
Loyalty program for users
5. TransferWise (now Wise)
Wise, formerly known as TransferWise, is a cost-effective solution for international money transfers and multi-currency accounts.
Wise offers borderless accounts, which allow businesses and individuals to hold and manage multiple currencies in a single account, making it ideal for international transactions.
Key features of Wise:
Competitive exchange rates and transparent fees
Multi-currency account with a debit card
Integration with Xero for seamless accounting
Batch payments for multiple recipients
Supports over 50 currencies
6. Payoneer
Payoneer is a global payment platform that enables businesses and professionals to send and receive payments in multiple currencies.
It is particularly popular among freelancers and e-commerce platforms like Amazon and Airbnb. Businesses can create and send invoices to clients in their local currency, simplifying international transactions.
Key features of Payoneer:
Multi-currency account with a prepaid Mastercard
Low-cost international money transfers
Mass payment options for businesses
Integration with popular e-commerce platforms
Currency conversion and risk management tools
7. Apple Pay
Apple Pay is a mobile payment and digital wallet solution exclusive to Apple devices. It allows users to make secure, contactless payments using their iPhone, iPad, or Apple Watch. 
Although primarily used for in-store purchases, Apple Pay can also be integrated into e-commerce platforms for online transactions. There are no fees for personal transactions, but businesses will be charged a fee when receiving payments.
Apple Pay works seamlessly with other Apple services, including Apple Wallet, Safari, and iMessage. Apple Pay prioritizes user privacy, ensuring that your transaction details remain secure and confidential.
8. Amazon Pay
Amazon Pay is an online payment service that allows customers to use their existing Amazon account to make purchases on third-party websites, providing a seamless and user-friendly experience. 
With its familiar interface and user-friendly checkout process, Amazon Pay can help boost conversion rates for online sellers. Transaction fees are competitive, with a 2.9% + 30¢ fee for domestic transactions and a 3.9% + 30¢ fee for cross-border transactions.
Amazon Pay offers advanced fraud protection measures to safeguard both businesses and customers.
Users can also enable voice-based transactions through Amazon Alexa devices, providing additional convenience to customers.
9. Venmo
Venmo is a mobile payment app that allows users to send and receive money while also sharing transactions with friends through a social feed.
Venmo makes it easy to split bills and expenses with friends or pay others for goods and services.
The Venmo Debit Card allows users to spend their Venmo balance in-store and online wherever Mastercard is accepted.
Venmo offers business profiles, enabling small businesses and freelancers to accept payments and manage their transactions through the app.
10. Zelle
Zelle is a digital payment network supported by major U.S. banks, allowing users to send and receive money directly through their bank's app or website.
Zelle enables instant transfers between participating banks, making it a convenient option for quick transactions.
Zelle can be accessed through your existing banking app, so there's no need to download a separate application.
Zelle's integration with major banks ensures that transactions are protected by the same security measures employed by your financial institution.
Conclusion
As the online payment landscape continues to evolve, a variety of alternatives to PayPal have emerged to cater to different needs and preferences. 
From mobile payment solutions like Google Pay and Apple Pay to powerful platforms for businesses like Stripe and Square, there's a payment service out there to suit your specific requirements. 
Be sure to research the most up-to-date options and compare fees, features, and compatibility to find the best payment solution for your needs.
Also Read: