With phishing attacks accounting for 90% of data breaches, it's more vital now more than ever that you take on a proactive defensive approach against these types of attacks.
Otherwise, you'll be dealing with the damages to your systems in the aftermath of a data breach — not to mention the negative impact a cyber attack can leave on your reputation.
By getting the cyber essentials accreditation, you can establish security controls in place that will help protect your business from some of the most basic cyber attacks.
Getting certified will help you set up the right preventive cybersecurity initiatives and keep attackers from stealing your business-critical data.
If getting the cyber essentials certification is one of the proactive defence measures against cyber attacks that you would like to include in your security plan, then this post is for you.
Is it even important?
Cyber Essential is a government-backed scheme that highlights key technical security controls that you need to have in place to defend against the most common cyber threats.
When you get certified, you can display the logo on your marketing materials and your website — which helps you demonstrate your commitment to protecting the data of your customers.
After all, keeping your customers' sensitive data secure will aid in upholding the credibility and reputation of your company.
Getting cyber essentials will also aid in your marketing efforts or if you're adopting employee advocacy for your business since being certified shows your customers that you take data privacy and protection seriously.
That being said, getting cyber essentials will not only help you proactively defend against basic attacks, but it will also build and improve trust with your customers.
Although cyber essentials are not mandatory, some government contracts will require the certification, so getting accredited can help you attract bigger and more projects.
Assessing the health of your current cybersecurity
Establishing robust security measures begin with assessing your current cybersecurity health.
Are your firewalls functional? Do you even have firewalls, to begin with? Are you still using obsolete or outdated software?
Getting cyber essentials will help you answer these questions and improve the health of your current cybersecurity controls against common threats.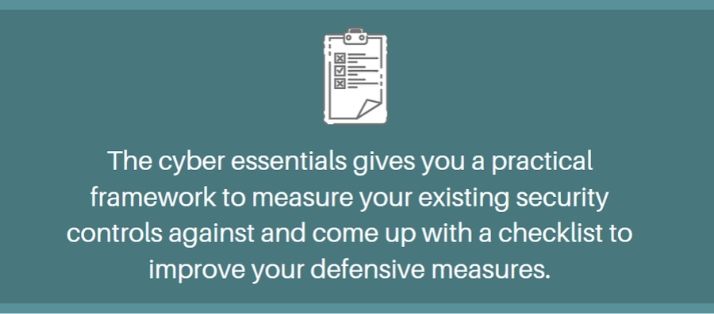 You have the option to conduct a self-assessment, or you can work with cyber essentials certifying body to manage the entire process — from the initial audit, recommended actions, down to the assessment completion and issuance of your certificate.
This kind of cybersecurity audit gives your business a practical framework to measure against since the cyber essentials help you come up with a security checklist — which, in turn, will improve your defensive measures.
Preventive measures
To establish the basic level of protection you need to defend against common internet-based attacks, the cyber essentials scheme outlines five controls that you need to have in place.
These controls are your firewalls, secure configurations, user access controls, malware protection, and patch management.
Having a good firewall setup for your private networks is crucial because it helps prevent unauthorized access.
For instance, setting up internet gateways and boundary firewalls allow you to determine users who have system access permissions using the internet and let you control where users can go.
Establishing secure configurations for your network devices and computers is also vital to help reduce your security vulnerabilities that hackers can easily exploit.
Plus, secure configurations will aid in preventing unauthorized actions from being carried out and ensure that each network device discloses only the minimum information required to the internet.
While having user access controls reduces the possibility of allowing open access to malicious threat actors, having malware protection will help protect your business-critical data from malicious software.
Properly patching or updating your software will also help reduce the risks of hackers taking advantage of your operating systems and third-party application vulnerabilities.
With the cyber essentials security checklist, you can take a proactive stance in securing your customer data and highly-sensitive business information by setting basic controls that can serve as your frontline protection against cyber threats.
The human factor in cybersecurity
The cyber essentials controls are fundamental to your cybersecurity measures, but keep in mind that they will only be as good as your employees and staff who use them.
Plus, the emerging Artificial Intelligence trends and their application in business can bring new apps and software to your system that your employees must learn to keep secure.
Your employees, however, will make mistakes. And to mitigate potential risks, you'll need to conduct staff security awareness training.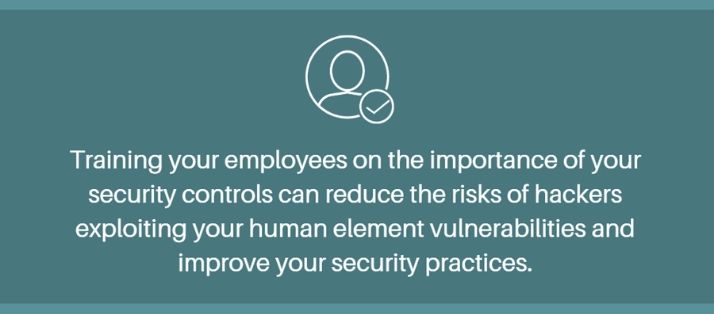 You can train your employees on basic security practices that will reinforce the controls outlined by the cyber essentials checklist — such as phishing attack simulations to prevent malware infections through email.
Conducting training that covers sessions based on your employees' role and functions is also vital to ensure knowledge alignment and application.
By training your employees on the importance of your security controls, you can reduce the risks of hackers exploiting your human element vulnerabilities and improve your security practices.
How are you protected?
The goal of the cyber essentials framework isn't to prevent attacks from happening 100%, but rather, address the prevalent basic internet-based threats to your cybersecurity.

These are attacks that include those that require little skill to carry out and use extensively available tools.
For instance, cyber essentials can help protect you from malicious hacking, phishing attacks, and password guessing.
The cyber essentials framework can also help you protect the integrity, confidentiality, and availability of data that is stored in your internet-connected devices such as your laptops, PCs, smartphones, and all other kinds of networking and server equipment.
With cyber essentials, you can reassure your customers that you are protecting their sensitive data and nurture trust with your existing and potential clients.

Plus, getting certified can show your customers that you value data privacy and protection, which can help you attract new business and build relationships with the IT suppliers you work with.
Are you proactively defending against cyberattacks?
Taking preventive security measures for your business will always be a better option than dealing with the aftermath of a cyberattack.
By getting the cyber essentials accreditation, you can audit your current cybersecurity health, establish the right controls, and reduce the risks of attacks.
If you learned from this post, please don't hesitate to click on the social sharing buttons. Cheers!