The future of field services will unfold many aspects that are yet ambiguous, one thing that is certainly redefining, transforming, and perhaps leading the field services is the Internet of Things.
IoT is very much intertwined into the future of field services. IoT's capacity to connect the Internet to the physical world via ubiquitous sensors can resolve various operational challenges related to the field services.
The capacity of IoT gets magnified by many folds in collaboration with mobile solutions and big data. Getting on board with IoT, mobile solutions and Big data can give a huge advantage to organizations.
Microsoft research states that the use of mobile solutions for managing field operations can show remarkable improvements like 65% improved customer service, 33% faster response to ad-hoc or unexpected events, 29% increased service requests, and 42% increased competition in services and products.
IoT and its allied technologies are seen as the road for progression in the field services industry. Also, the field service providers want to keep their service management costs down while increasing the efficiency of their workforce and improving their customer relationship.
It is hard to maintain this balance because often reducing costs hurts the relationships with customers or vice versa.
But IoT provides a way to reduce cost and improve efficiency by facilitating or taking care of four major aspects related to field service management.
1. Automation
IoT facilitates automation at a different level enabling organizations to have more control over their operations.
Processes get much faster, errors are minimized, and more accuracy and consistency can be achieved. If a field service delivery chain is considered, then automation has the power to replace various steps which leads to faster service delivery.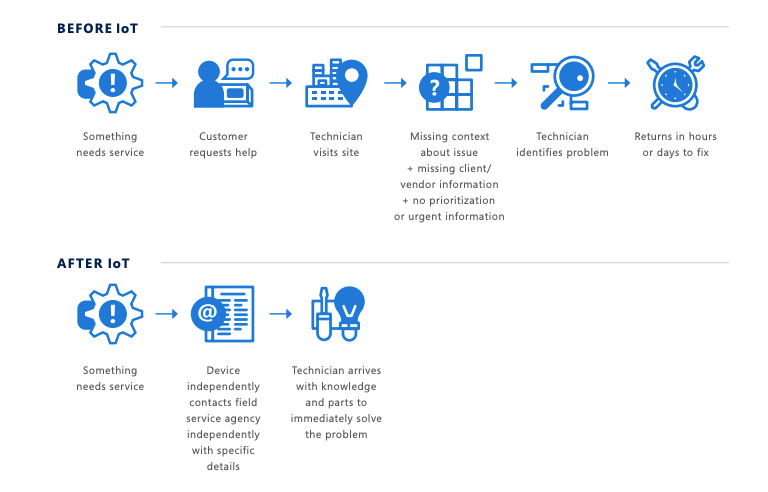 2. Inventory Management
Maintaining inventory stocks to readily meet the customers' requirement, often requires blocking the capital as the stocks lie ideal in the inventory.
But IoT can make inventory management a more real-time process as the IoT-connected devices can send a signal to warehouse managers or operation teams informing them about the requirement of new parts.
3. Reduced Follow-Up Visits
Salesforce connected manufacturing service report states that nearly 70% of field service agents need to make return visits. The need for return visits emerges for different reasons. 40% stated that they need to make return visits because they were not handy with the right part or tool.
35% said they do it because they fail to resolve the issue; for another 35% of technicians lack of customer information on-site is the prime reason for follow-up visits. 29% stated that they ran out of time, while 15% admitted that they didn't have the expertise to resolve the issue.
These data give a clear picture of the main problem areas in the field services management. IoT can impart self-diagnostic capabilities on devices, thus the service team can maintain a proactive approach.
With the data collected through IoT enabled devices, technicians can arrive on the job site equipped with exactly what they need, so that return visits can be avoided.
Besides, mobile solutions like automated scheduling and dispatching can ensure that a job gets assigned to the rightly skilled and nearest available technician so that services can be offered on-time.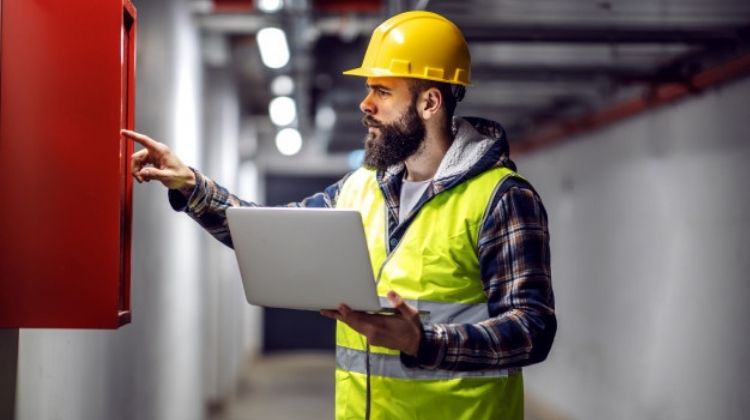 4. Preventive approach in service
A client always wants a quick turnaround once he has made a service request. What gratifies him, even more, is if the service provider can anticipate his needs, and provide him with proactive, predictive and if possible preventive services, so that he can avoid any sort of downtime.
IoT enabled mobile solutions, big data and cloud computing facilitates more proactive use of data and optimizes predictive maintenance.
Give Technicians the Tools They Need
By 2025, IoT is likely to showcase a total potential economic impact of $3.9 trillion to $11.1 trillion a year. (Source: "The Internet of Things: Mapping the Value Beyond the Hype," 2015, McKinsey Global Institute) 
As the service industry is migrating towards an IoT- driven reality, businesses need to stay contemporary by redefining their capacities in line with transitioning technologies like IoT, cloud computing, mobility, big data and AI.
But incorporating these technologies into field service management may sound overwhelming. What are the tools available, how to do the execution at the ground level, does the field service team need any training to adapt to these technologies.
These are a few apprehensions of the businesses who are clueless about how they can bring in automation, mobility, etc into their field operations?
It is necessary to incorporate the tech-transformation at the ground level, i.e to equip the technicians with the right tools so that they become future-ready and competitive as per the changing dynamics of the field service industry.
Organizations need an efficient and multi-functional field service management tool that can leverage technologies like automation, big data, AI, and cloud computing.
An FSM software can provide on-duty field technicians with mobile solutions empowering them to be more efficient by cutting down the major productivity leaks.
Also, most significantly it facilitates more control over data, be it clients' information, inventory insight, personal-service data, organizational data, or relevant data needed for the execution of the field operations.