SD cards provide one of the best data storage options for almost all electronic devices. It can be used in digital cameras, smartphones, and other devices to store photos and videos.
However, there can be situations where you permanently delete the photos from your SD card by accident, making it impossible for you to access them!
Do not panic in such situations. You must understand that the deleted photos are not permanently lost when they are erased from your SD card. They can be recovered until their storage space is overwritten with new data or they get corrupted.
Thus, here we are with some of the best methods which you can use to restore and recover photos that are permanently deleted from your SD Card.
How to Recover Deleted photos from an SD Card?
Note: Before you start executing any of the methods listed below, make sure that you have stopped using the SD Card.
If you continue using your SD Card after accidentally deleting the photos contained in it, you might overwrite the deleted photos and the chances of recovering lost pictures will become negligible.
Method 1: Recover Permanently Deleted Photos from the Internal Memory of your Smartphone.
If you were using your SD card on an Android or an iOS device when the photos were accidentally deleted, you can recover them from the recently deleted album. Using this method, you can retrieve lost photos without root.
Similarly, if your SD Card was connected to your PC via card reader, you can look for the deleted photos in the Recycle Bin and easily retrieve lost photos.
If you are unable to recover the deleted photos using this method, go to the next method.
Method 2: Restore Lost Photos from Backup.
If you have created a backup of all the photos, you can use it to recover any deleted photo on SD Card. In case you misplace your SD Card, a backup is the only option which can restore old photos.
Access the backup of all your photos and easily recover SD Card photos on your device. If you have not created a backup of photos on your SD Card before deleting them by mistake, go to the next method.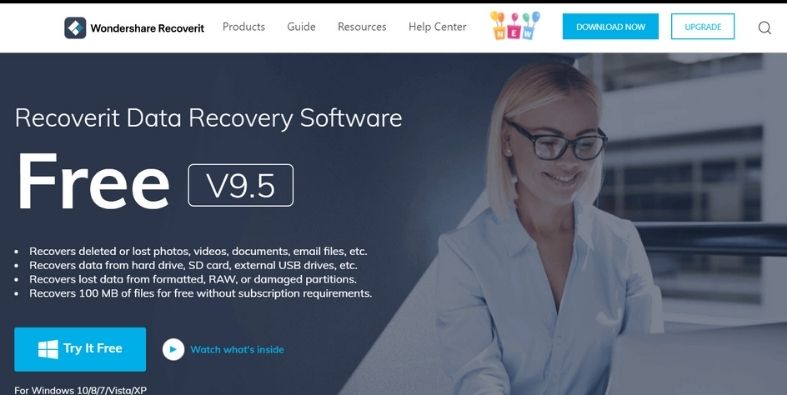 As we mentioned above, there are several Data Recovery Softwares available on the internet. Wondershare Recoverit is one of the latest software which can be used to recover permanently deleted photos from an SD Card.
Follow the steps listed below to retrieve lost photos from an SD card using Wondershare Recoverit Data Recovery.
Download and install the Wondershare Recoverit Data Recovery Software on your PC from its official website.
Connect your SD Card to the PC using a card reader.
Launch the software on your PC and select your SD card from which you wish to Recover Deleted photos.
Now, click on the 'Start' option to initiate the scan.
Once the scan is completed, a list containing all the recoverable photos and videos will be displayed on your screen. You can preview these photos and videos before you click on the 'Recover' option to get lost photos back on your PC.
Note: Do not save the recovered files in the same SD card from which you lost the data. This is because the recovered photos might get overwritten and you might lose them again.
Apart from Wondershare Recoverit, there are several other similar software such as Stellar Photo Recovery, Recuva, which you can use to recover any deleted photo on SD Card.
Features of Wondershare Recoverit include:
It has an easy-to-understand user interface due to which, users can quickly find their way around this software.
Apart from SD Cards, you can also recover data from hard drives, laptops, cam recorders, smartphones, etc. Thus, it is highly compatible.
It provides a quick scan as well as a Deep scan. The Quick scan can be used in situations where you try to recover data as soon as you have lost it. If your data did not show up in the Quick scan, make use of Deep scan.
Its users are assisted by 24×7 expert and technical support.
The developers claim that 'No matter how you lost your data files, we can get your data back in 3 steps.'
Apart from these, there are several other unparalleled features provided by Wondershare Recoverit which you can start using to recover lost data.
Conclusion:
These are some of the best methods which you can use to recover any deleted photos on an SD Card. We have given a special mention to Wondershare Recoverit, which provides with some of the latest and most efficient features which can be used to recover data.
If we have missed out on any such useful method to restore and recover lost photos, then do let us know about it in the comments section below.