We asked the fastest-growing small businesses in NYC about their marketing secrets and this is the one that came up more often than not… So what is HARO and how can you score free backlinks from it to increase your website's SEO in order to rank on the first page of Google? 
Before we get to the exciting part, let's first start with the basics.
What is HARO?
HARO or Help A Reporter Out is an online service by Cision, a public relations and marketing communications technology company. The service was founded in 2007 by entrepreneur and author Peter Shankman.
What it does is connect two worlds – the world of journalists and bloggers and the world of expert sources. This way, journalists can meet their deadlines and brands can have the opportunity to share their views and their stories.
HARO is extremely useful for brands if they want to hook up with the best media outlets. It is the easiest way to make their presence known in the media without breaking the bank.  
The majority of HARO users are reporters who are looking for experts they can quote in their stories. However, others also take advantage of this service for their content marketing needs and quality backlink building.
What is a Backlink?
A backlink is a link created on someone else's website that links back to your website. It demonstrates that your website is a reputable source as more people are talking about it online and linking back to you.
In this way, it helps you gain momentum on Google's search ranking, elevating your website so it can be seen on the first page of search results (that's the goal anyway!).
There are two types of backlinks – nofollow and dofollow. For the purposes of this article, we can ignore the first one because it doesn't provide the same value (although a nofollow link on a site with high traffic can serve to direct visitors to your site).
Let's focus on dofollow links! It's vital that these links to a trusted website include the focus keyword in the anchor text (this is the text in a hyperlink text), and are related to your site. We just have to avoid carelessly making backlinks or else search engines might de-index your website.
Now that we know what HARO is, let's learn how it works and how you can use it for getting those valuable backlinks.
1. Sign Up
The first thing you have to do is go to https://www.helpareporter.com and sign up. You can find the Sign Up button in the upper right-hand corner of the homepage.

You'll see there a form that will ask for your name, email, phone, country, company, password, and annual revenue. Just fill the fields with your information and click 'Sign Up'. You don't have to worry about anything, especially since HARO's basic subscription package is completely FREE!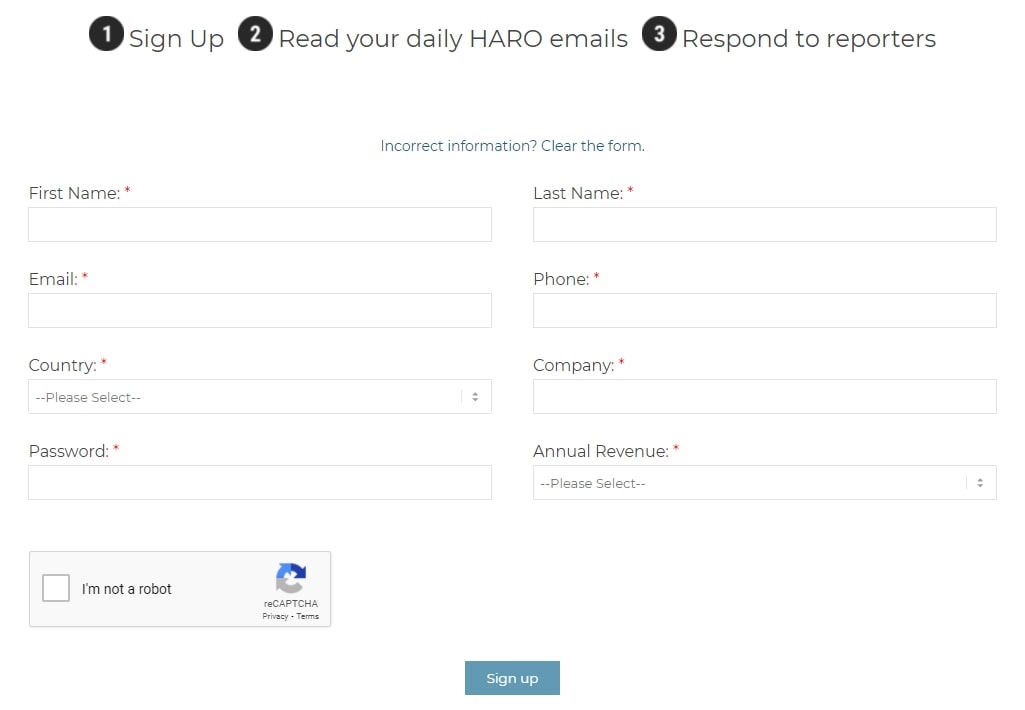 Quick Tip: If you have an email address that is NOT a GMAIL account, use that! This is better to sign up with as the HARO emails come through faster to other accounts compared to Gmail. You can also try to set up your work email on your laptop's mail system.
2. Get Emails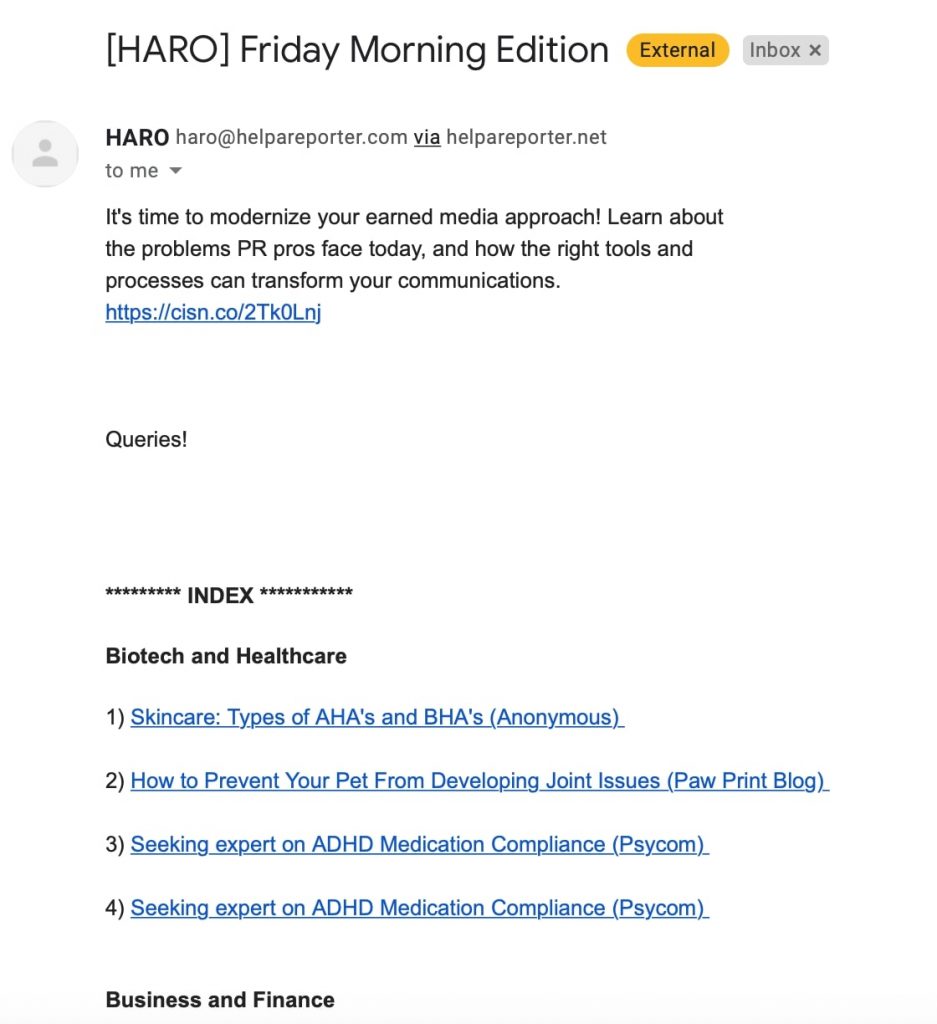 Once you sign up, you'll start receiving emails right away. These emails contain varying requests from different journalists. They come 3 times a day every weekday – 5:35 AM (EST), 12:35 PM (EST), and 5:35 PM (EST).
Click on any of the requests to see the complete information. They contain the query, requirements, deadline, and anonymous email address. Here's an example:
9) Summary: Small Business Owners Needed: "7 Things I Wish I Knew When Starting a Business"
Category: Business and Finance
Email: query-bi4a@helpareporter.net
Media Outlet: Go Site
Deadline: 5:00 PM PST – 12 November

Query:
We're looking for knowledgeable small business owners to provide a quote for the following prompt:
Describe something that you wish you had known when starting a business
Your quote will be included in a piece to help aspiring business owners jump-start their business venture. The post will look something like this example: https://www.carrentals.com/blog/bizcation-guide/
Please keep the quote to two sentences maximum, and feel free to use the following topics for inspiration:
* Personal/professional growth * Work-life balance * Small business marketing * Small business growth * Ideation * Hiring / Human Resources * Work Culture * Focus / Determination * Getting Started
Thank you for your participation!
Requirements:
* Small business owners / entrepreneurs
Make sure to check your HARO emails daily and respond to a lead fast. However, if you fail to do so, don't stress. Just delete the missed emails and move on. There's always going to be another email anyway. Moreover, there's usually around 20-100 requests anyway PER EMAIL. So, there's always going to be an opportunity.
3. Check website domain rating (DR)
As tempting as it may be, you don't have to reply to all the requests you receive or you'll potentially be wasting your time. Focus on the best leads. One way to do that is to check the requester's website domain rating.
This will tell you how likely their site is to be valued by Google. Using the example above, you will find the website in the "Media Outlet" section. In this request, it's 'Media Outlet: Go Site'.
Sometimes, the media outlet will be 'Anonymous'. It's up to you whether you want to reach out to these requests. It's a gamble in terms of your time – the website might not have a good DR or it might be HUGE like Forbes. In some cases, outlets don't want to be spammed which is why they choose not to identify themselves.
A Domain Rating is a metric developed by Ahrefs to indicate the strength of the total backlink profile of your target website. The metric ranges from 1-100 with 1 being the lowest and 100 being the highest.
To check for DR, go to https://ahrefs.com/website-authority-checker. Just paste the URL into the bar and click "Check website authority."

Quick tip: You only want to spend your time replying to requests for websites with DR 40+.
4. Respond to the best leads
Once you have chosen the requests that are worth your time, reply to them. Send them an email like the one below. You MUST include EVERYTHING that's in bold (obviously, they need to be edited to reflect your own information or that of the person on whose behalf you are writing):
AN EXAMPLE HARO OUTREACH EMAIL written on behalf of a client:
Hi,
This comment is from X (input details of the person you may be writing on behalf of here).
Learn how to get good at letting go of the things that others can take care of – and trust that they can. Delegation is the greatest secret of any successful CEO. The better you are at delegating, the more you can do to grow and expand your business.
Hire people you trust, take the time to teach them well and know that they will be just fine. When I started my business, I really could have saved myself a lot of time and headaches if only I had given up a bit more control earlier on in the process.
Since I have started doing this, I'm able to observe everyone from a distance and we are now thriving! If you are thinking of starting a business, this is an essential tip to follow and something to start practicing from the get go – why wouldn't you want to speed up your expansion and growth?
I am available to provide more information if needed.
Please let me know if you will be using my comments. My / My client's attribution details are below:
X
THE RESPONSE AS A GAINED LINK: DR 73
Hi,
Thank you for responding to our recent HARO query. After hearing from hundreds of small business owners, we published a list of 10 things entrepreneurs will want to know before starting a business, and you were featured!
Our team was looking for unique, meaningful, and genuine quotes to add value to small business owners' journeys. We then selected those that we believed would be most helpful or encouraging for our audience.
I hope you enjoy reading the full article here!
Would you like to share this piece on your site or social channels? If so, I'd be happy to send over a custom intro for your site, embed codes, or social graphics.
This is the only information they took from the outreach email: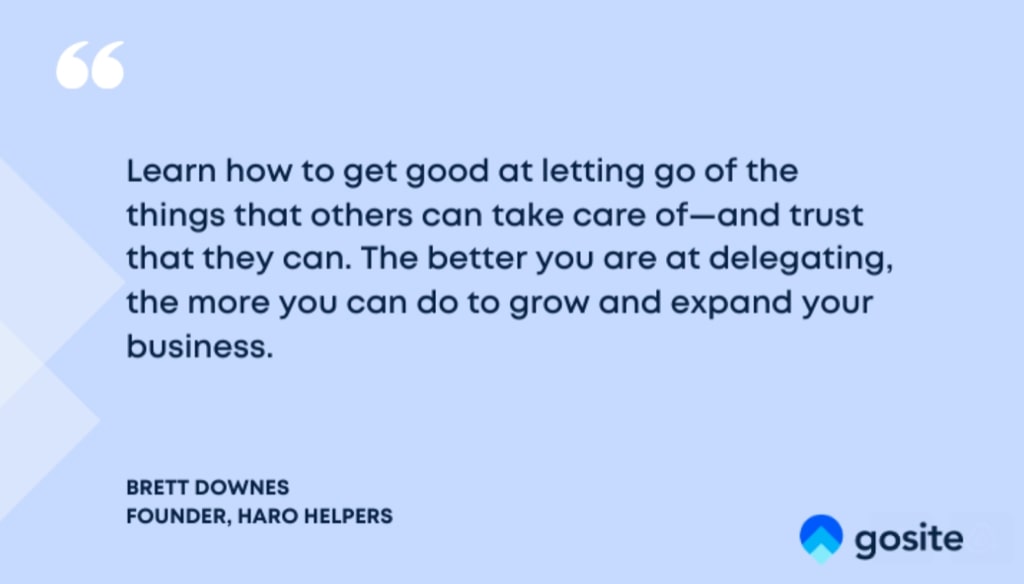 This just goes to show that the shorter and snappier the info is in the outreach, the better it is for the journalist (which makes outreach easier and more effective).
5. Wait Patiently
The email above was a successful link. However, it can take 4-8 weeks to hear back from journalists as they write articles much later than when they reach out. Often, you won't ever hear back.
The rate for how many outreaches get successful backlinks is only 7-10%, so it does take time and effort. Also, sometimes, you will get a backlink but they won't let you know. Fortunately, there are ways of searching where your website has been mentioned with or without links.
One option is setting up a Google alert for your name. This allows you to receive email notifications when journalists put your name in their stories. Another way is to subscribe to the journalists' feeds.
Don't forget to send them a thank you note when they have mentioned you, and share the article on your website, social media, and other platforms.
Every year, HARO sends out over 50,000 journalist queries from various media outlets. Some of these outlets are highly authoritative ones like Chicago Tribune, Mashable, The New York Times, TIME, and The Wall Street Journal.
The service also has access to around 75,000 journalists and bloggers. It reaches over 1 million sources, too! So, you can see how HARO is a reliable tool to use when it comes to creating content and backlinks. It gives you more visibility online so that you can get all those clicks!