Usually, the small business owners are not so 'concerned' about web security as they can't judge its significance for their businesses. Thus, there are no dedicated funds and resources that can safeguard their digital presence.
As a website owner, you have dedicated long hours by constantly hard working on writing, designing and promoting your website as well as its associated content. You own a thriving business as your website helps in generating leads which can eventually end up being your highest revenue generator.
Imagine out of nowhere, you lose the control on your website and the hard work put in by you. This is a common scenario these days and thus it becomes important to audit your website for various categories of threat. 
How VTMScan Vulnerability Scanner Helps You?
Using VTMScan, you scan for every vulnerability that might arise on your website. By regularly scanning your website, you ensure that there are no issues on your site and you can run your business without any hindrance.
VTMScan is a complete advanced vulnerability scanner that examines various vulnerabilities for any upcoming threats and dangers in the future.
To secure your site, VTMScan offers following set of features-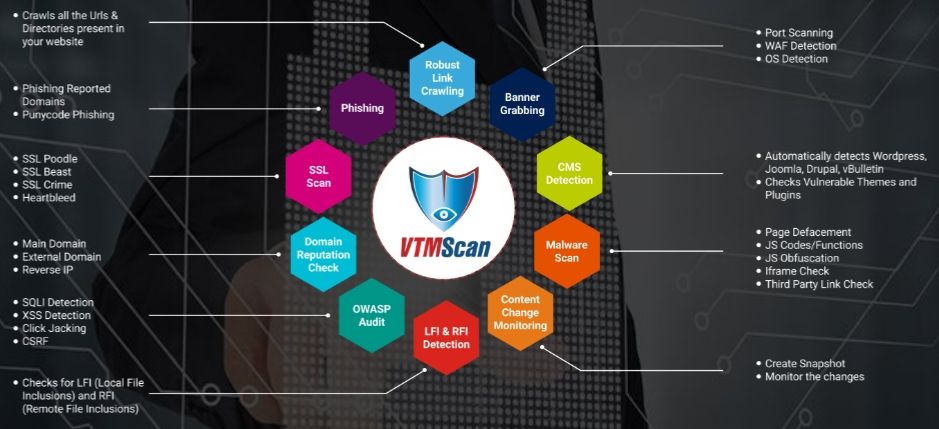 OWASP Top-10
VTMScan identifies the vulnerabilities released by OWASP (Open Web Application Security Project). VTMScan performs scanning for Cross-site Scripting, SQL injection, etc. and then report these vulnerabilities along with the recommendations to cure these issues.
Also Read: Be Safe from Cyberthreats by using VPN
Content Change Monitoring
Under content change monitoring, VTMScan scans every page of the website and detects any changes that might have occurred. Every change is observed and then returned to the user with the change percentages in all the respective pages.
Prior to scanning, it generates snapshots of all the webpage and then each page is scanned for any modifications or changes. This feature can be of great help to you as you can check for any changes that might have been done on your website without your consent.
Phishing
VTMScan helps in protecting and safeguarding your website as web applications by looking for similar domains. It detects any Punycode phishing attacks.
It also checks your web applications for any URL hijacking and it can take either of the forms-
Common misspellings or using foreign languages
Misspellings like typographical errors
Swapping letters in the URL
Use of different domain names
Also Read: Advantages of Using Anti Phishing Software in Business Enterprises
Domain Reputation Check
VTMScan performs domain reputation check across popular domain databases such as- Google, SURBL, Malware Patrol, Clean-MX and Phishtank.
All these repositories contain an in-house database having the IP address and domains that might be extracted for malware, spamming and other phishing-related activities. 
Mail Server IP Check Across 58 RBL Repositories
RBL or Real-time Blackhole Lists have the IP addresses of all those owners that have refused to halt the spam growth. RBLs list these IP addresses based on information collected from several ISPs and identifies all those users who're responsible for the growth of these spams. VTMScan carries out checking of mail servers IPs in 58 such RBL repositories.
Robust Link Crawling
Link crawling defines the processing of capturing all the URLs for a website. Using this feature, VTMScan understands how many webpages are currently existing your website and what do these webpages relate to. You can perform cross-checking of your webpages for identifying whether they're legitimate or not.
Under link crawling, VTMScan performs the following set of tasks-
Crawling links from various sources
Checking for admin and directory busters
Checking for directory access
Banner Grabbing
Banner grabbing is a method of collecting information pertaining to the user website like- web server information, header information and open ports. An intruder can use banner grabbing for finding the network hosts that run on different application versions and OS by using the most common exploits.
With VTMScan in use, it checks banner scanning for tasks like- port scanning, determining operating systems and detecting web application firewalls (WAF).
SSL Scan
VTMScan performs validate checking for VTMScan validates checking for SSL Poodle, BEAST, CRIME, Heartbleed, DROWN. Under SSL Scans, VTMScan performs the following list of checks-
NULL Cipher is being used or is less than 128 bits
The domain using an invalid security certificate
Domain using an expired security certificate
Domain using security that is going to expire soon
LFI and RFI Detection
Local File Intrusion (LFI)
Local File Intrusion is a process where the file or script has been injected on a server with the help of a web browser, thus allowing traversals in the local directories to be injected in absence of "sanitized' pages. This attack might be the reason behind the disclosure of any user-critical information
Remote File Intrusion (RFI)
Remote File Intrusion is an attack that explores for vulnerabilities in a web application to include a script on the web browser. The web-intruder might be looking to exploit the functionalities in an application for uploading malware using varied domains.
Businesses today spend a lot of money on securing their website as their major portion of business revenue is online-generated. If there are any shortcomings in your website, it has a direct implication on your data loss leading ultimately to a decreased brand value.
Online threats are constant, but if you as a website owner have taken the right steps, then you can avert these risks. A healthy website performs exceptionally well provided you've taken good care of it and scanned it regularly.
Additional Resources:
How To Protect Your Organization's Data And Its Bottom Line
Top 15 Best CyberSecurity Software tools in 2020