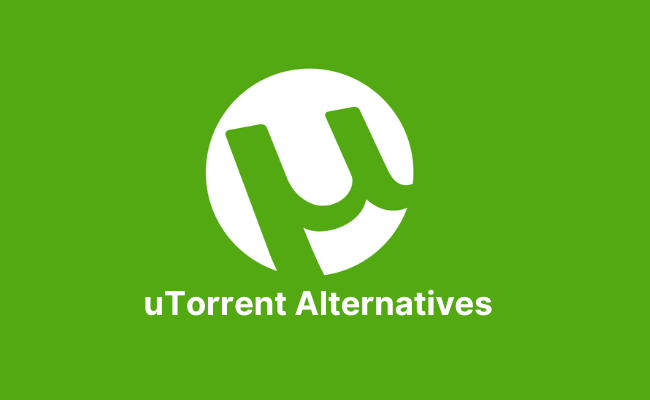 Torrenting is a popular way of downloading large files, such as movies, music, and software. While uTorrent is one of the most widely used torrent clients, many alternative torrent clients offer different features and user experiences.
If you're looking for an alternative to uTorrent, you've come to the right place. This article will highlight 15 of the best uTorrent alternatives you can use to download torrent files. 
Whether you're looking for a more feature-rich torrent client or a simpler, more user-friendly option, there's something here for everyone.
We've taken into account the speed, security, and ease of use of each torrent client, so you can make an informed decision about which one is right for you. So, let's dive in and discover the 15 best uTorrent alternatives to download torrent files.
Best uTorrent Alternatives to Download Torrent Files
1. BitTorrent
BitTorrent is a peer-to-peer file-sharing protocol designed for distributing large amounts of data over the internet. It allows users to upload and download files in small parts from other users rather than from a central server.
This decentralized approach helps distribute the load, making transfers faster and more resilient. BitTorrent is often used for sharing large files such as movies, games, and software.
It has become a popular way of sharing files due to its efficiency and speed, as well as its ability to handle large amounts of data without putting a strain on a single server. While BitTorrent has many legitimate uses, it is also used for illegal file sharing.
2. Vuze
Vuze is a torrent client that offers a user-friendly interface and a range of features to simplify the downloading process. As an alternative to uTorrent, it provides a neat and simple interface, tools such as an HD video player, bandwidth management, and RSS updates.
Furthermore, Vuze supports magnet links and is considered a robust option for users seeking a resource-intensive and feature-rich platform. While its complexity may challenge new users, Vuze is a highly recommended alternative to uTorrent for 2023.
3. BitComet
BitComet is a free and powerful torrent client that supports various BitTorrent protocols, including Magnet Link, HTTP Seeding, and DHT network. It features intelligent disk caching and a Long-Term Seeding function to enhance the torrent downloading process.
BitComet is designed to provide users with a seamless experience while downloading large files and offers a reliable solution for those seeking a feature-rich torrent client. With its speed, efficiency, and advanced features, BitComet is popular among torrent users.
4. Deluge
A deluge is a reliable option for those seeking a simple and secure torrent client. Deluge is a free, open-source torrent client based on the BitTorrent source code, similar to the older version of uTorrent.
It has a neat interface, although it may appear cluttered compared to other alternatives like qBittorrent. Deluge is free from malware, adware, and advertisements, making it a safe choice for users.
While it offers limited features, it can be enhanced through plugins, which provide additional functionality such as encryption, peer exchange, UPnP, speed limit, password protection, and bandwidth management.
5. tTorrent
tTorrent is a free torrent client for Android devices. It provides users with a fast and efficient way to download torrent files on their mobile devices.
tTorrent supports torrent files with large sizes and offers advanced features such as Wi-Fi-only mode, magnet link support, and customizable download and upload speeds. The app also offers a simple and user-friendly interface, making it easy for users to navigate and manage their torrents.
In addition, tTorrent has built in proxy support and allows users to choose between downloading torrents sequentially or simultaneously. With its speed, convenience, and advanced features, tTorrent is a popular choice among torrent users on Android devices.
6. FrostWire
Frostwire is a user-friendly torrent client ideal for both beginners and experienced users. This lightweight client is ad-free, making it a convenient download option.
Frostwire offers a range of features, including a built-in search engine, support for magnet links, a media player, and the ability to import files from iTunes.
The client also provides bandwidth management tools to help users control the speed and efficiency of their downloads. With its easy-to-use interface and robust feature set, Frostwire is popular among torrent users.
7. Transmission
Transmission is a reliable and efficient cross-platform BitTorrent client. With its lightweight and streamlined design, it requires minimal CPU resources. It provides a user-friendly and straightforward interface.
The transmission offers comprehensive functionality, including control over transfer speed, download location, and seeding time. Additionally, it provides advanced features such as tracker management and torrent prioritization.
In summary, Transmission is a versatile BitTorrent client that provides a great experience for both novice and advanced users.
8. Tribler
Tribler is an open-source, decentralized P2P Torrent client that stands as a strong alternative to uTorrent. This client operates ad-free and free to use, allowing users to watch videos while downloading.
The unique feature of Tribler is its built-in, extendable search engine, eliminating the need to visit websites for torrents. Additionally, its P2P search engine ensures that it cannot be taken down.
Users who upload content earn bandwidth tokens, and when they accumulate enough, they receive improved downloading speeds while downloading anonymously.
9. Boxopus
Boxopus is a viable alternative to uTorrent, offering compatibility with major platforms. It offers a unique feature of saving downloads directly to Dropbox, making it an ideal choice for users seeking to save space on their computers.
However, it is worth noting that some users have reported instances of Dropbox banning their accounts. Boxopus provides a solution in such cases by allowing users to download the files from their servers.
10. qBittorrent
qBittorrent is a highly capable open-source torrent client that offers a seamless transition for users looking to switch from uTorrent.
With its user-friendly interface and lightweight structure, this free-to-use platform offers high performance without consuming large amounts of RAM or disk space.
Furthermore, qBittorrent offers advanced features such as torrent searching, bandwidth control for individual downloads, and flexible filtering options.
11. Halite
Halite is a highly recommended alternative to uTorrent, particularly for Windows 10 users. This torrent client boasts a lightweight, user-friendly design, making it an ideal choice for those seeking an efficient and straightforward torrenting experience.
The client's simple interface is also free of ads, ensuring a smooth and uninterrupted experience. Furthermore, Halite provides fast download speeds, ensuring users experience no issues while downloading.
Overall, Halite is a reliable and effective substitute for uTorrent and promises a seamless torrenting experience.
12. BitSpirit
BitSpirit is a powerful torrent client that offers a range of features to help you manage your downloads effectively. With low CPU and memory utilization, you can easily manage your download and transfer speed limits to achieve optimal speeds.
It also features an advanced disk cache environment and trackerless support, making it a solid choice for those looking for an effective way to manage their torrent downloads. Despite its strengths, there is still room for improvement and further development in the future.
13. LibreTorrent
LibreTorrent is a free and open-source torrent client for Windows, MacOS, and Linux. It offers a user-friendly interface and is known for its low system requirements. It has customizable speed limits, automatic shutdown, and a download scheduler.
Additionally, it supports IP filtering, magnet links, and DHT (Distributed Hash Table) protocol. LibreTorrent also prioritizes privacy, as it does not collect any user data.
In conclusion, LibreTorrent is a lightweight and efficient torrent client that is a great alternative to commercial clients.
14. BiglyBT
BiglyBT is a feature-rich and open-source torrent client that provides users various capabilities, including ad-free torrent downloading and remote control through an app.
This torrent client offers advanced features, such as Swarm Merging, Swarm Discoveries, and WebTorrent support, that allow faster and more efficient torrent downloads and access to related content.
BiglyBT integrates with I2P for anonymous torrenting and detects VPNs for better functionality. The client offers a comprehensive set of settings and options, making it a highly customizable and user-friendly choice for torrent enthusiasts.
15. PicoTorrent
PicoTorrent is a free, open-source torrent client that provides a minimalist and fast downloading experience. The client has a low memory footprint and is written in C++, making it an ideal option for users who require a fast and lightweight torrent client.
PicoTorrent supports IPv4 and IPv6, as well as encrypted connections, making it a secure option for users. Additionally, PicoTorrent offers a simple and easy-to-use interface with essential features such as DHT, UPnP, and magnet link support.
Whether you are a casual user or a power user, PicoTorrent is a great alternative to popular torrent clients and provides a seamless downloading experience.
Conclusion
There are numerous alternatives to uTorrent that offer similar or improved features for downloading torrent files.
Whether you're looking for a more user-friendly interface, additional security options, or extra customization, the list of 15 best uTorrent alternatives provides various options.
Whether a casual torrent user or a power user, one of these uTorrent alternatives will meet your needs and provide a seamless torrenting experience; research and compare each option to determine the best fit for you.
Also Read: