Just like your bookshelf or your refrigerator your computer is also having limited space and it can only be well utilized when we keep cleaning junk from it.
To do this you need to identify that from where exactly you are getting junk on your computer and what are the effective ways to delete junk files and what practices you should develop to keep this junk away from your computer.
Here is the complete guide to delete junk files which will help you to protect your computer from Junk files and how you can keep your computer spacious.
What are junk files:
To win over junk files first we should know that what are the junk files and from where do they come.
Junk is nothing but everything which is no more required. It may include temporary files which are automatically created or downloaded or the files which are created by us or downloaded but are of no use now.
Where you can find junk files on your computer:
There can be multiple locations where you can find junk files on your computer depending on the method, they got accumulated here are some main places where you can find such files.
If we talk typically about junk files, then they can be browser caches or temporary files on the disk.
In downloads folder we often find files which we have downloaded for one-time use but they are still there on the disk.
Leftovers of uninstalled programs can also be considered as junk.
If you have more than one copy of the same file, then it can also be considered as junk.
How to clean Junk files from system:
So far you might have understood that what are the junk files and from where do they come so now let's find out how we can wipe them from our computer.
Broadly there are two ways to remove unnecessary junk files from computer. one is manual and the other one is using a third-party software.
Also Read: Biometric Authentication: Is It Really Secure?
Delete junk files manually
We have already discussed where you can find junk files, so it is a better way to remove it from the place they exist. You can use disk cleaner for this purpose and you can also delete files from temp folder.
Delete junk files using Disk clean up wizard
Luckily windows computers are having disk clean up wizard which works perfectly to remove junk files from your computer here is how it works.
Right click on the drive from which you want to clean junk files. Start with C: drive because most of the junk files rest there.
Go to properties of C: drive and then click on Disk clean up given on the General tab.

On a new window which will open in front of you choose type of temporary files you want to remove from your computer.
Ideally you should choose all type of files and click OK to delete junk files
This will start cleanup process and after a couple of minutes you will find that all the junk files on your computer are deleted if they were getting accumulated from a long time then you will be surprised to see that disk cleanup will help you to free up GBs of space.
Deleting files from temp folder:
You can access temp folder by typing %Temp% in windows search box. When you will hit enter it will take you to a folder where you can find your junk files you can delete them by selecting all of them. Explorer may ask you to skip some files you can skip them and proceed further for deletion.
Number of files and time to run clean up wizard completely depends on the number of junk files accumulated on your system.
Delete junk files using a third-party software
Let's proceed for the simplest way to remove unwanted files from your computer which is using a third-party software.
There are many third-party software which claims to delete junk from your computer but if you want an all in one software to delete junk and to optimize the disk as well then you should choose disk analyze pro from Systweak software. The software is not only useful to clear junk from your computer, but it also helps you to optimize your disk to make more space here is how it works.
You can download Disk space management software and install it to delete junk files.
On the first scan it shows you all type of files present on your computer and categorized them according to type. Which makes it easier for you to find files which are of no use for you now.
The application is having dedicated section to find and delete junk files from your computer in this section you can also choose what type of junk files you want to remove from your computer.
This software tool can also delete junk files on mac and clean junk files android also.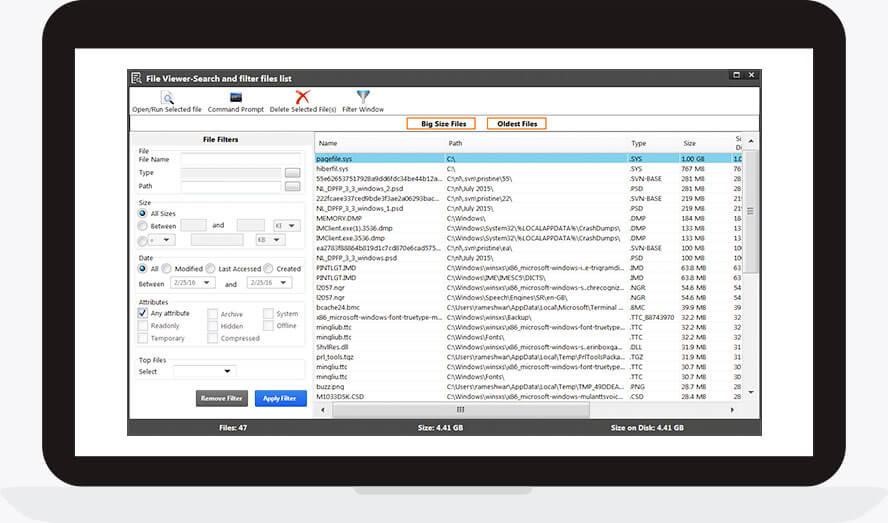 This is how you can delete junk files in windows 7,8,10 etc. Time to time you should keep deleting files which you do not use anymore. Manual process of doing this is time consuming and involves a little tech knowledge so it is strongly recommended to use a third-party software for this purpose.