Engagement is one of the most important factors in Facebook's ranking algorithm. With billions of content shared daily on Facebook, getting your target audience to engage with your posts is more difficult than ever.
Of course, you could always push your posts through ads or try to outsmart the algorithm in some ways, but real, organic post engagement is one thing money can hardly buy. And the first step towards driving engagement is to post content your audience love. But finding inspiration to create interesting content can be quite a challenge.
Super Creative Facebook Post Ideas to Drive Engagement
Facebook engagement encompasses actions, reactions, and interactions people have with your posts like likes, shares, comments, etc. As a metric, It seeks to measure the level of relevance and involvement people have with your posts.
Hence it is even more important to know how to make your business-related posts more engaging. Below mentioned are the 10 Creative Facebook Post Ideas to Drive Engagement.
Stories are a great way to make your point while holding the attention of your fans. Everyone loves a good story. Stories are perfect because they have a personal ring to them and your fans can relate, that's why 500 million people use Facebook stories daily.
Your stories don't need to be elaborate. Just share informal stories about your life and business. You can also find out your audience's needs and struggles and share posts around them.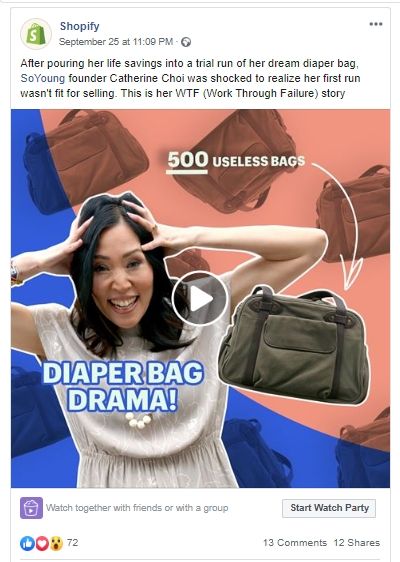 People need to feel that they are spoken to on a personal level. Assured of your empathy and understanding, they will engage by reacting and opening up about their own similar experiences in the comments.
Also Read: 9 Hidden YouTube Features You Must Know
2) Appreciate and Reward Fans
Making posts appreciating your customers is one sure way to drive engagement and build trust and credibility. Your customers will likely share the posts on their own walls. This means more exposure for your brand.
Rewarding fans with giveaways is another way to encourage engagement. You can post challenges and invite your audience to participate by reacting and leaving comments. The best comments get rewarded.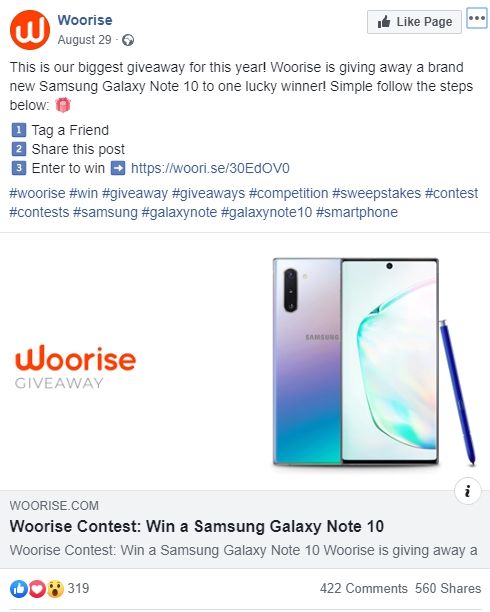 Using popular hashtags can be a fun way to get your posts to trend. The throwback Thursday hashtag (#TBT) is a typical example. You can post old pictures of how your brand started with this hashtag. People love history and may be interested in your brand's journey.
Another example is the woman crush Wednesday hashtag (#WCW). You can use this to appreciate your female fans, especially if your brand is dedicated solely to women. They will feel good and definitely share the posts for their friends to see.
4) Post Trending Topics
Posts on trending topics are often ranked higher in News Feed. They are topical and timely, and many people discuss and want to hear opinions on them. By making posts around such topics, you are sure to get reactions from people.
Trending topics don't necessarily have to be the 'big' issues. You can find out topics your audience will likely be interested in and share content on them. Get your fans directly involved by asking them to share their opinions in the comments section.
People sometimes wonder how much effort and time is put in behind the scenes by their favorite brands. By posting photos and videos of your team at work, you connect with your audience on a human level and make them eager to engage. Also, you can incorporate text and/or voice descriptions into the videos and photos.
Your customers may have questions about some of the steps and processes in the posts and responding promptly to their comments will project you as someone who cares for transparency and customer satisfaction.
Also Read: How to Use Tumblr as A Marketing Tool
Launching a new product? Sharing reviews of products or services about to hit the market can create some buzz and excitement. If the product is an improvement of an existing one, you can highlight differences between the old and new products.
For new creations, share sneak peeks into the development process. That way, you increase anticipation for when the product finally launches.
Notice how the big brands rarely launch their products without some fanfare? When the product finally hits the market, social media goes agog with discussions.
7) Make Posts of Your Products in Use
Sharing photos of your products on supermarket shelves is good, but over time people may get bored and their engagement on such posts may decline. To drive more engagement, share photos and videos of your products in use. These will serve as how-to guides and may give your followers ideas on how to use the product.
8) Ask Audience Opinions
According to a recent Facebook data study, question posts garner the most engagement after videos. People are quick to respond to questions because they often have a direct and personal tone. Your followers feel valued and are willing to engage when you seek their opinions on your products and services through polls and surveys.
You can also ask questions that are not related to your business. On a Friday, for instance, ask people how they intend to spend their weekends. You can post a beautiful photo of a resort alongside. People love it when you're not all about sales and will engage just for the fun of it.
Awards and recognitions are always exciting. They serve as excellent social proof and help to reassure prospects that they are dealing with a trusted brand. Sharing your awards on your Facebook page will help to boost the reputation of your brand and show that you're a master in your field.
10) Write Creative Descriptions for Your Link Posts
As a brand, you'll often include links to your website in your posts. Most of your audience is on Facebook for fun and maybe averse to clicking on links that will direct them away from the platform. Indeed, link posts generate the least engagement according to the data study referred to above.
To get more people to click on your links, don't just post the links and leave it at that. Give a short clear description of what your audience should expect when they click on the link. Remember to be honest. People will click on your links if your descriptions are convincing.
Conclusion
The ideas above are far from exhaustive, but they are enough to guide you towards crafting posts that would drive the most engagement. Try them out and feel free to shake things up. Remember, the proof is in the reactions, comments, and shares!