With countless event cancellations due to COVID-19, companies today have started adopting work from home policy more than ever.
Even though this change in the working environment might be dramatic for many since we are accustomed to working from offices, the show must go on!
Any business is incomplete without presentations. Today, while you start your pitch, your audience is no longer present in front of you.
Webinars and online meetings are the new normal. Your audience can be sitting two time zones away as well.
Creating online presentations which are effective poses an array of challenges for the presenters. When it comes to truly get your message across your online meeting, you'd have to do more than just deliver a random presentation.
In online meetings, engagement is the key player. Unlike in-person presentations where being faster, bigger and louder might do the trick for you, it doesn't translate to online meetings.
One should have a thorough understanding of how to keep their viewers engaged while also keeping a check on presentation delivery medium and technology.
Right adjustments if done to your presentation's design and delivery can do wonders for your business goals. Online meeting presentations are all about increasing your visibility.
Since you're not present in the hall physically, it is imperative that your presentation should be able to compensate for your faceless voice.
Here are the few tips that you can leverage to create amazing presentations for your online meetings:
1) Slide Visuals are Extremely Important:
You can benefit hugely from presentation graphics. In online presentations, slides visuals are vital for evoking feelings, initiating action and promoting understanding of the content.
One should understand that it is more important than ever to include attractive visuals in your presentations. Your slides are not just words. Your viewers will only remember a fragment of content you deliver.
Since the human brain is more receptive to visuals, the audience will remember more when they can see and visualize themselves.
In other words, the goal in hand is to improve the audience's grasping power of the presentation content and what the speaker is saying.
This can be accomplished by inculcating functional graphics which further refines your slides and helps your audience impart knowledge through schemata and structures.
Also Read: Free Design Tools to Help Tech Entrepreneurs Create their own Branding
2) Use Templates: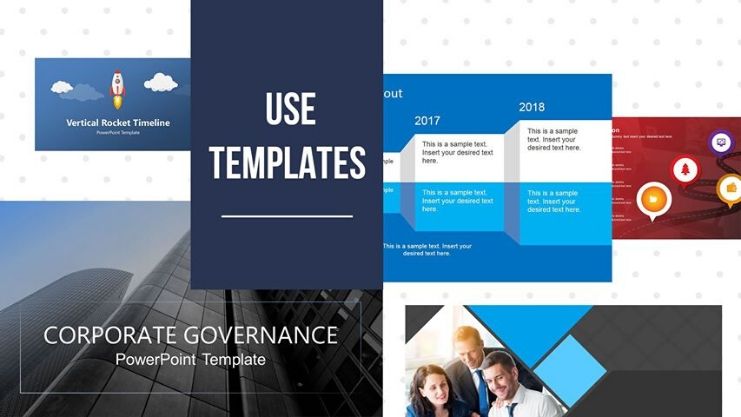 One can make use of dedicated PowerPoint templates which can help you create amazing online presentations shortly and concisely. These templates can be downloaded and included seamlessly in your presentations.
Readymade PowerPoint templates assist a presentation with a rich visual aid, these also help you represent data in an attractive and easy to digest manner.
Moreover, you can get access to the perfect layout as per your presentation topic type. When you have a variety of layout options available for your presentation, a presentation can specifically be made as per the viewer's compatibility.
For instance, if you're an entrepreneur creating a presentation for your business, you can easily customize the ready to use templates and can include your company's logo & brand aesthetics in the slides.
While creating a presentation, PowerPoint templates ensure higher design consistency and also quick customization is available at all points of time.
Also Read: Essential Tools to Drive Your Business Growth
3) Animate the Text-Heavy Pages: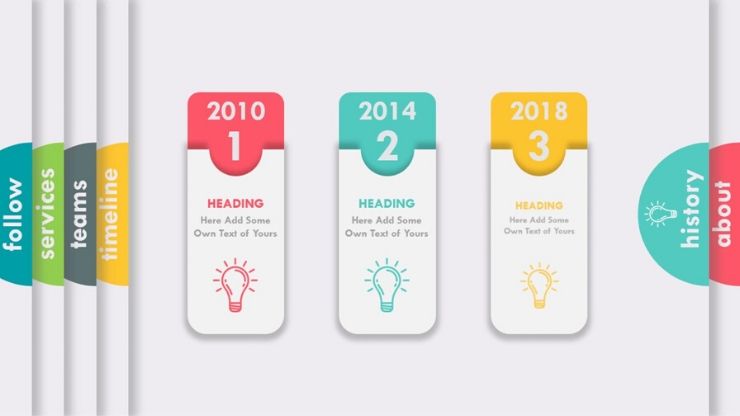 It is intelligible that you can't cut short all the text just to make your slides attractive for the audience. Especially in business presentations, there often comes a time when you've to present findings of a study, reports or data within a presentation.
Animations can be a great way of breaking the monotony. However, these should be used very carefully. It is recommended that simple animations such as appear, fade, wipe and zoom should be used in a minimalistic fashion and nothing fancy.
You should first understand your data, its key points, and then understand where your audience will be focussing on in the slides. You can fade down the support information, use motion paths to your advantage, and help your story significantly.
If your presentation involves a project timeline, do include a timeline template and animate the most sophisticated snippets of information. Animating the text-heavy pages can help your audience digest the information better and stay engaged.
Also Read: Best Adobe After Effects Alternatives & Similar Software's
4) Summarize Key Points in the End: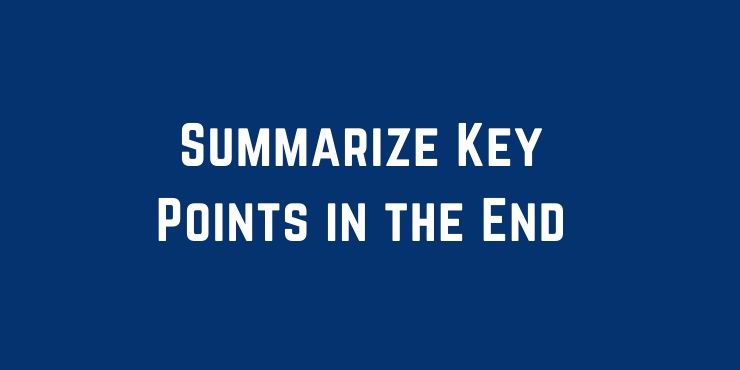 A must for online meetings, pitches, & webinars, you should summarize information for your audience. Summarizing helps your audience in unimaginable ways.
It helps them identify the main points and key takeaways from your presentation. This makes sure that they walk away retaining most of the points you just delivered and initiate a call to action.
For summarizing, you should create an out of the box slide which sticks strictly to the presentation's core message. You should eliminate any information which doesn't attune or immediately supports the core message.
A strong slide outline with the contrasting background can be your best pick for the summary slide. Include text and charts to reinforce not repeat what you said earlier in the presentation. You can even leverage visuals to highlight the key takeaway and message on the slide.
Conclusion:
The best advice is to leverage the tools in hand to communicate in unique ways. Today, with every passing day, everything is going digital and the current crisis is making us all adapt to new communication formats and teaching methods.
Virtual gatherings are the new normal of 21stcentury. In the absence of facial expressions and your actual presence, presentation skills need to be adapted to make sure that participants are enjoying the presentation and processing the information at the same time.