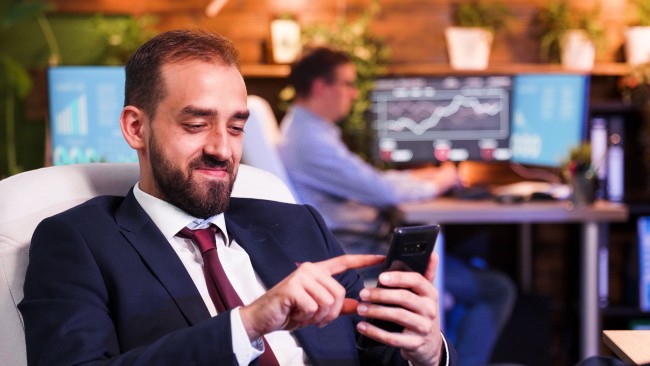 Every modern business needs to have a suite of software and applications for its employees to use to be successful in the long run.
The reason behind this is the apps and software allow everyone to operate more efficiently and carry out their tasks on time. Not to mention, different types of software can make a lot of functions much easier or even automated.
For instance, you can send a customized email to everyone on your email list by using software rather than having to type out thousands of emails.
To help you out, here are some types of apps and software that your business should consider using to be more competitive.
1. Communication and Collaboration
The most basic tools every business needs are for communication and collaboration. These allow your employees to stay in touch and work together whether they are at the office, off-site, working from home, or at a meeting with a client, among other things. 
Slack is an amazing tool that your business can use for communication. Designed specifically for businesses, your team can organize communications into different channels and keep everything running smoothly.
For all kinds of collaboration, you can use the virtual data room by going to www.firmex.com to allow your employees to share private and confidential information without having to worry about security. 
2. Accounting and Bookkeeping
Accounting is a crucial part of every business. Without the right accounting software, you will have a lot of trouble running the business sooner or later. 
By using world-famous apps like QuickBooks, Xero, or Freshbooks, you can take care of all of your accounting needs. Whether it's about taxes, invoices, accounting entireties, or analytics for better decision-making, these tools can help you out.
3. Inventory
Managing your inventory can be quite a challenge, especially if you have multiple locations and online stores. If you are not able to keep track of your inventory properly, you are opening the door to fraud and theft.
By using apps like Shopventory or Stitch Labs, you can keep proper track of your inventory. By doing this, you can also make better procurement decisions and save costs on holding inventory.
4. Reporting and Analytics
In a modern business, data analytics can be the key to making smart decisions and having a competitive edge in the market. 
By using reporting and data analytics tools for your business, you can combine data sources and automate business operations to optimize the overall performance of your organization. 
For this, you can use apps like IFTTT or SumAll. They can help you answer the big questions that come up while running the business.
5. Employee Management
Managing your employees is another challenging aspect of every business. Whether you have a handful of employees or 60, keeping track of everyone can be complicated. If they are working on different shifts, then assigning each person a schedule for the week can be a nightmare.
That's where employee management tools come in. You can use tools like Deputy or Homebase to take care of the schedules. They can also take into account your labor costs by looking at historical information or the data you input. 
Along with the schedules, you can also see how much each day will cost in terms of labor.