Although the mobile phone market has changed a lot in the last two years, what does not change is that Apple continues to dominate, with the top position, the most premium segment of devices. Above 800 dollars, Apple has the absolute majority.
Since the launch of the first iPhone, Apple has established itself as a premium range in the mobile phone segment. The iPhones have marked a social status, since they are much more widespread, they are still the premium mobile phone.
And we do not say it, but the figures provided by the Counterpoint Research's Market Monitor group. Above 800 euros, iPhones are the most sold phones with a market share of 79%. Now, how are the other manufacturers? Then, we leave the graph that shows the position of Samsung and Apple in the terminals of 600 to 800 dollars, as well as the market of 400 to 600 dollars.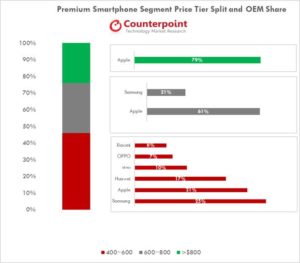 Also Read: Huawei has sold more than 200 million mobile phones in 2018
As you can see, Apple has a strong presence from $ 400, but up to $ 800, there are other players, such as Huawei and Samsung, who are also very present. In fact, we recently learned that, for the first time in seven years, the second place of the manufacturer that more phones sold was no longer Apple, but Huawei, a company that is trying to sneak onto that podium of terminals above the 600 euros.
What happens if we divide by markets? The iPhone is the most popular premium terminal in the United States, Africa, Western Europe, the Middle East, Asia Pacific and China. However, and within this premium range, in Central, Eastern and Latin America, as well as a good part of India, Samsung is the most popular company.
And, as we say, there are brands that are looking, to position themselves in the premium segment, in addition they are offering very interesting and premium features, below the $ 800 barrier.
Also Read: Nokia 9 With Five Rear Cameras Revealed In Leaked Picture
Source: Counterpointresearch.com