Google's search results are getting robust by the day – talk about answer boxes, knowledge panels, local results, expandable related questions, and more. With vast ways to differentiate your business from the rest, working for top spots is well worth the effort. A study by SmartInsights revealed a 36.4% clickthrough rate for the first results, 12.5% for the second result, and 9.5% for the third result by Google position. The rate continues to decline, up to 2.2% for the 10th result on the first page.
But it is always a challenge for businesses to rank on the top spots of search results. Since Google keeps shifting the way it views content, it has only gotten tougher as the years go by. Ineffective search engine optimization can do more harm than good; that's why the importance of working with the best SEO Consultant to get the best result can never be overemphasized.
According to Dallas SEO Geek consulting, many SEO Agencies perform robotic work, usually following the same pattern for every client. While very few SEO Agencies, on the other hand, pays one on one attention to its clients, keeping an eye on all the work to be done.
That being said, you should note that even the best SEO experts aren't created equal. So, you'll need to take the time to understand their packages.
Buying SEO packages – which are different SEO solutions coupled together – is usually a time- and cost-effective way of optimizing your site. But with various agencies providing packages at varying costs, it can be hard to know which firm to work with.
To help you in the right direction, Here is what SEO Agencies do to improve their client SERP Rankings.
Technical Audit
This is where the experts look into the technical aspect of your site's SEO to determine its health as well as problem areas. Before the expert starts the optimization process, they will perform a technical audit to ensure that all your issues are addressed.
The process includes analyzing both on-page and off-page elements to make sure there aren't any technical impediments to your success. The technical audit takes care of aspects like indexing, hosting, mobile-readiness, page loading speed, target keywords, site content, outside references, backlinks, and so on.
Also Read: Top 3 Tips for International SEO You Need to Know
Keyword research
This is a practice SEO experts use to identify and research alternative search terms that users key into search engines while searching for a similar subject. The professionals research additional keywords that they utilize to obtain a better ranking on Google.
Once they identify a niche keyword, they use job-specific tools to discover similar keywords. These insights are what help the experts design a highly effective content strategy as well as the broader marketing strategy to improve a site. Keyword research also involves competitor analysis, customer surveys, and language use.
SEO copywriting
Simply put, SEO copywriting is quality writing. It is a specialized form of online writing that includes keywords and keyphrases to help online content rank on top of search engine results page (SERPs) and also drive traffic. SEO copywriting involves more than integrating key phrases into the content.
Search engines want to see authoritative content that not only addresses the pain points of your readers but also stands out from the internet noise. Many aspects influence how a page ranks. This table from Search Engine Land highlights such elements – and those on the right focus on the quality of the content.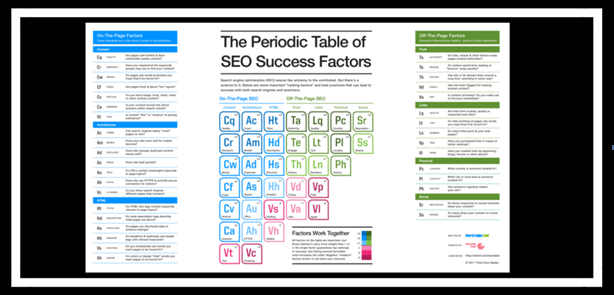 Link and citation building
Citation is an online mention of your company's name, address, and phone number (NAP). It plays a critical role in putting your business out there, helping improve your visibility, rankings, and trustworthiness. Citation is one of the most popular link building tactics, leading at 76%, following by content marketing, press releases and guest posts at 58%, 24% and 21% according to Bright Local research.
In fact, studies show that 90% of experts ranked accurate citations as Very Important or Critical to local search ranking. A digital agency may provide link building as part of their package, which includes syndicating articles, writing guest posts, social networking, and bookmaking, analyzing competitor's link and analyzing your current link profile.
Training
SEO is an ongoing process. As such, the digital agency needs to include training. Training allows the expert to educate and empower you with the knowledge to analyze Google statistics, utilize content management systems, and optimize your platform. The kind of training offered should be based on your level of proficiency, so much so that by the end of the package, you are confident enough to make necessary changes to your SEO campaigns.
More services
The above packages are adequate to set things in motion. However, if the digital agency offers a dedicated SEO consultant as well as other specialized solutions like SEO website design, Social media marketing, and Google place pages optimization, then that's a big plus.